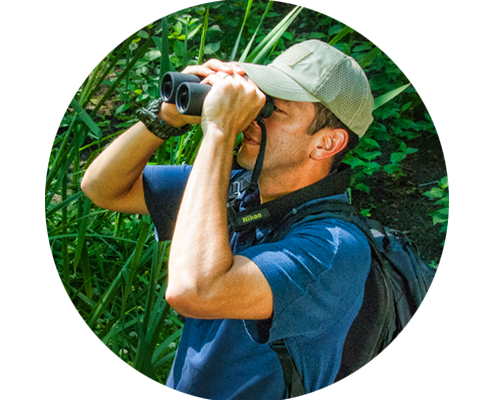 Much like any optic, Binoculars can be a tough category to shop for.  They range in price from $20 to thousands of dollars, so we can understand how daunting it is to decipher what is considered a "good" starting point.  In our experience and opinion, a good pair of entry level binoculars will cost the user just around $200.  And when we say "good," we are referring to a product that will last you for years.  Sure, there are plenty of binoculars under this price point, but as with any category: you definitely get what you pay for!
For this review, we chose two binoculars by two of our most popular manufacturers.  These models were the only ones tested for this article, and do not represent the myriad of choices in the $200 price range.  However, they are both an excellent choice for this starting point, and we have no problems recommending either model.  So let's take a look at what we came up with…
The Nikon Prostaff 7s And The Vortex Crossfire
We chose both of these models in the 10x42mm option, since this is a fairly common magnification and objective size for both shooters, wildlife observers, and sports fans.  The 10 power is a weak enough magnification that there is still minimal vibration transferred from the user to the optic, yet it is strong enough for a birder to get nice and close to their subject, if that subject is within 50 meters or so.  Both of these models are also newer to the market, with the Crossfires becoming available in mid 2015, and the ProStaffs releasing in the first weeks of 2016.
Nikon Prostaff 7s 10x42mm: Unboxing and First Impressions
New for 2016 is the Nikon Prostaff 7s.  Back in the Spring of 2014, I personally had the pleasure of working at the NRA Show in Indianapolis as a Retail Partner with Nikon Sport Optics.  Having already been in the retail side of the industry for around 4 years at that point, I was very familiar with the Nikon Sport Optics line.  However, a very common discussion I had most of the weekend was how attendees didn't even know that Nikon had a Sport Optics division!
As was expected, the Prostaff felt really solid straight out of the box.  The rubber armor is noticeably tacky, which is how all rubber armoring should feel.  This material and checkered pattern allows the user to get a great grip on the optic, whether it's wet or cold.  The twist up eyecups felt extremely solid.  There are 4 eyecup settings:  turned all the way in (for users with eyeglasses); then 3 more heights for regular use.  While turning the eyecups, you can feel the 3 different height settings, and they also provide an audible clicking sound for each setting.  The clicks easily ensure that the eyecups will always be at the exact same height.
The Nikon includes hard plastic lens covers.  The ocular (eye piece) covers fit fairly loose to the eyecups, but the accordion piece that hold the eyepiece covers together does provide some friction, which helps the covers stay in place.  The objective (front lens) covers were of the same hard plastic material, and fit into the inside part of the objective barrel.  The tackiness of the armor will hold these in place, yet we did experience the covers popping out rather easily and unintentionally.  If you do not thread the neck strap through the tabs on the front covers, there could be an issue of these popping out and being easily misplaced, or even lost in the field.   The neck strap included to carry the optics was not padded, but it would be good for a few hours of use.  If you're intending to hike around all day with an optic like this, we always recommend upgrading to a binocular harness.  The Nikon ProStaff Bino Harness is a great choice for an added accessory!
Vortex Crossfire 10x42mm: Unboxing and First Impressions
Though a newer manufacturer to the market than Nikon, Vortex Optics has been making quality products for some time now.  They are a reputable manufacturer that we count on to make a couple of our OPMOD products: the Vortex OPMOD SPARC II Red Dot Sight, as well as the Vortex OPMOD StrikeFire II Red/Green Dot w/Cantilever Mount.  Both of these products are without a doubt some of our best selling optics.  Vortex also has one of the best warranties in the market, with their VIP Warranty.  Though most manufacturers will only cover their products in the event of defects in materials or workmanship, Vortex will replace or repair their products as long as the damage is not deliberate.  No receipt needed, and the warranty is good on any Vortex product, no matter who bought it, for the life of the product.
The first thing we noticed when unboxing the Vortex Crossfire was the quality of the included accessories.  The carrying case had a plastic buckle enclosure, and also had plastic D-rings sewn into the side to use the included nylon carrying strap.  It also included a padded, lightweight neck strap, which can be used all day long.  Also, the included lens covers were very impressive.  Both the ocular (eyepiece) and objective (front) covers are made from flexible, soft rubber, and stretch around both ends of the binocular.  The Vortex objective covers tether around the outside portion of the binocular tube.  This is a great design, and ensures that these covers are not misplaced or lost.
The rubber armoring on the Crossfire was not as tacky as the Nikon, but it still provided plenty of grip.  The material used also felt very dense, so it will definitely protect against bumps and dings experienced while hiking or tracking your game.  There are large indentations on the bottom of each barrel, and they provide an excellent reference point for the user to know where their thumbs should go.  Though the eyecups didn't have the audible clicks that the Nikon had, they still went all the way in and out with great fluidity.  This allows the user to set the eyecups at their most comfortable setting.
Field Test
With all that out of the way, we can now get into the meat and potatoes of the reviews!
Overall feel of focusing mechanism
Both models have a focus knob that turns around 1.5 times.  The diopter adjustment on both models are on the right eye, and they felt identical.  The Nikon seemed to have a slightly finer focus, but this was only slightly noticeable in our field test.  While focusing in on our test chart, the Nikon seemed to stay in focus for a longer period while turning the knob, and the Vortex seemed to lose focus while adjusting their knob the same amount.  However, both models were extremely clear when in focus.
Testing the focus and clarity
We went out and tested these glasses by viewing a sheet of paper with the font in different point sizes. The paper included both words and numbers for the testers to focus on.
At 50 feet, all 3 testers were able to read up to the 16pt line, though the sight picture was noticeably shaky.  Both models have Tripod ports on the front hinge, and can be used with any tripod as long as a tripod adapter is available.  The shakiness we experienced happens on all optics, so it certainly had nothing to do with the optics themselves.
At 100 feet, all 3 testers were able to read the 20pt text and numbers.  Beyond that, the 10 power might have been too much magnification, as it was much harder to get a steady picture.  Both models were very crisp at this distance, but the Vortex was a little harder to keep in focus once the target had been acquired.  The Nikon model was easily focused, and still had leeway in the knob to provide more precise clarity.
I personally used both products to look down to my street corner from my driveway, which is almost 1/4 of a mile.  At this distance, I was able to read the license plate on a car parked at the corner, as well as the house number on the residence at the end of the street.  I did have to steady myself on the back of my pickup truck, but both optics were considerably clear at that distance.
I also used a pine tree about 1/8 of a mile from my location as a target, and with both optics, I was able to count the pine cones on a specified branch.  This was quite impressive.  At this same distance, I was able to follow a couple of birds hopping from branch to branch in the same tree.  From my location, without the binoculars, they appeared to be Crows.  However, when looking through either optic, I was able to identify these birds as Common Grackles.  These birds are much more colorful than a Crow, and there iridescent plumage was noticeable since I was able to get really close with the 10x magnification.  Both optics performed exceptionally well for this purpose.
Overall Findings
Let me just start by saying that both products worked extremely well as options in this price range.  They were virtually identical in specifications, as can be seen in the specification table below.  Both provided exceptional clarity, and both felt very well built.
| | | |
| --- | --- | --- |
| | Nikon ProStaff 7s 10x42mm | Vortex Crossfire 10x42mm |
| MSRP | $199.95 | $229.00 |
| Focusing System | Central Focus | Central Focus |
| Eye cups | Twist-up | Twist-up |
| Magnification | 10 x | 10 x |
| Objective Diameter | 42 mm | 42 mm |
| Angular Field of View (Real) | 6.2 ° | 6.2 ° |
| FOV at 1000 yds | 324 ft | 325 ft |
| Exit Pupil | 4.2 mm | 4.3mm |
| Eye Relief | 15.5 mm | 15 mm |
| Size (Length x Width) | 6.4×5 inches | 6×5.1 inches |
| Weight | 22.7 oz | 23.3 oz |
| Waterproof/Fogproof | Yes | Yes |
| Coatings | Fully Multi-Coated Eco-glass Lenses | Fully Multi-Coated Lenses |
| Diopter | Single – right eye | Single – right eye |
| Tripod Adaptibility | Yes – tripod port in front hinge | Yes – tripod port in front hinge |
The Nikon Prostaff had very tacky rubber armor coating, making this model very easy to hold onto in any condition.  Though the included neck strap was not padded, it could certainly be used for a few hours of carrying.  If a more comfortable strap is needed, remember to add the Nikon ProStaff Bino Harness  to your order!
The Vortex Crossfire includes a premium neck strap, and the armoring felt very solid.  The strap would provide no problems with carrying all day long, but we also carry the Vortex Binocular Harness Strap VTHARNESS, which we always recommend for anything other than casual use.
Overall, the optical quality of both models seem identical to the naked eye. We do not have access to all of the fancy laboratory equipment to test these products "scientifically," but we feel the best way to test these products was via a "layman." Though all 3 testers have at least an intermediate level of optics knowledge, we're certainly not field test "experts."  However, we have no problems recommending either model to anyone looking for a great pair of binoculars at an excellent price!
Related Posts