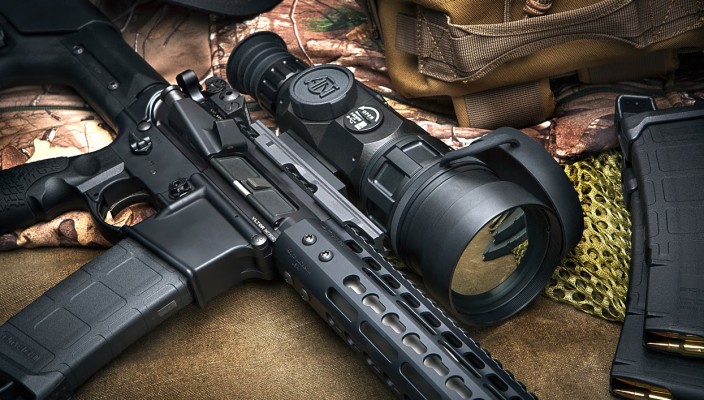 Thanks to Hollywood, everyone knows what "Thermal Vision" is right? Thermal Vision is how the Predator always gets his man and it can only be defeated by covering yourself in mud (assuming your name is Dutch). In the real world though, we call it Thermal Imaging and it isn't so easy to hide from. Thermal imagers detect variations in infrared energy and since all objects emit infrared energy as a function of their temperature, they can be a very useful tool whether you are trying to find someone who is lost or hunt down a pack of invasive feral hogs. Here are some exciting thermal imaging products that are new to the market.
FLIR sets the bar in the thermal industry and this time they did so by lowering the price barrier. The FLIR Scout TK is a pocket sized monocular that delivers the quality you expect from FLIR at a price you wouldn't have believed possible even a year or two ago. The Scout TK can detect a man up to 100 yards away, has multiple color palette displays, and can capture pictures or videos. Perfect for in the tree stand or when you are out on the boat, the Scout TK brings thermal vision into your life at an affordable price.
ATN also has some exciting news for anyone who has been saving up for their first thermal and it is called the Thor HD. A weapon mounted thermal scope for less than $2,500 would have been a pipedream a few years ago, but today it is a reality.  Packed with all the same features as the Gen II X-sight, the Thor HD offers a lot for a game changing price. The range estimation tool and the Recoil Activated Video capture were two features of the new Obsidian II Core that I really liked, besides the price of course. ATN is looking to make big waves with the Obsidian II Core and I think the Thor HD will be their vanguard.
Armasight impressed everyone with the Predator last year, so maybe some of you thought they'd take it easy this year. Not even close. Since they already have the Q14, a thermal monocular smaller than a PVS 14, they must have decided they need a thermal clip on to match. The Apollo Mini gives you the ability to convert a day scope into a thermal scope without all the size and weight of a traditional clip on unit. Just because it is small, doesn't mean it is lacking features. The Apollo Mini is equipped with a digital compass and inclinometer which allows it estimate range to target. The unit also has a wireless remote and DVR compatibility, just like the full size Apollo units. The biggest thing about the Apollo Mini is the price point but when compared to the value that the unit offers, it makes sense.
Thermal imagers are increasing in performance and decreasing in size and cost every year. There are options available for almost every application and budget, which makes it hard to find a valid reason not to own one. If you aren't sure what the best options for you are then send over an email and we can narrow down your choices. If you're still worried about the Predator, try hiding behind glass or under water (both reflect infrared energy).
If it emits infrared energy, thermal can see it.
Related Posts
« The $200 Binocular Challenge! Two Great Entry Level Binoculars Lost the Battle, But Won the Gear War? »