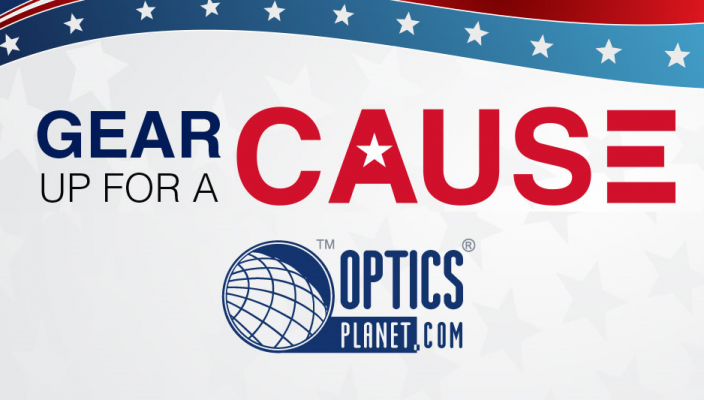 Gear Up for a Cause 2016 was a resounding success!  This was OpticsPlanet Inc's second year in a row running the cause-based campaign, and although it only ran two weeks shorter than last year's event, we were able to exceed last year's donation by $2,000!  We are honored to be able to assist active military and veterans through our gift of $27,000 to the Hope For The Warriors®. We are also thankful for the 10 corporate sponsors who agreed to donate FIVE times that of the standard donation.  Campaigns like Gear Up for a Cause would not yield as great of a donation without the generosity of these companies.  However, the real heroes of this campaign were OpticsPlanet customers!  Raising funds for such a notable charity would be impossible without people placing orders, so we are very appreciative of our repeat customers, as well as the shopper checking out our website for just a thing or two.  Every order placed between May 6th and June 19th generated a donation, and every customer can feel great about a portion of their order going to such an amazing cause!
Quite a bit of planning goes into these types of events, and we are always surprised by how many of our vendors are willing to help.  We'd like to give our heartfelt appreciation to Bushnell, Crimson Trace, EOTech, Leupold, Nikon, Pulsar, Steiner, Streamlight, Trijicon, and Vortex.  Without their pledge to make such generous donations, we would have been well below the amount that we raised.
Hope For the Warriors
When we decided to continue to run the Gear up For a Cause campaign, we wanted to me sure that the charity that was chosen was one of honor, integrity, and respect.  Hope For the Warriors topped our list quickly, as they are a charity that we could trust to meet our needs.
Hope For The Warriors® is a not-for-profit organization incorporated in North Carolina in 2006 aboard Marine Corps Base Camp Lejeune as they witnessed, firsthand, the effects of war on their families and communities. They provide a full cycle of care to restore self, family, and hope to post-9/11 service members, their families, and families of the fallen. Their mission is to help those touched by military service to succeed at home by restoring their sense of self, family, and hope. Nationally, Hope For The Warriors® provides comprehensive support programs for service members, veterans, and military families that are focused on transition, health and wellness, peer engagement, and connections to community resources.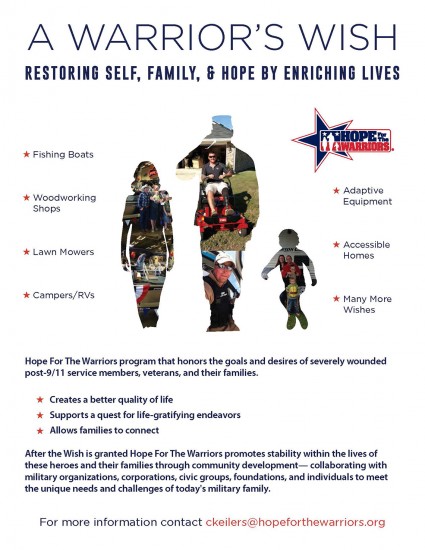 OpticsPlanet Inc. Strives to Continue Charitable Campaigns
Over our 16 years in business, OpticsPlanet Inc. has run multiple cause-based campaigns with the intention of assisting our first responders as well as our active and former military.  Every Christmas season our employees leave toys in our main lobby for the Toys for Tots drive.  Our Gear Up for a Cause campaign from last year raised $25,000 towards the Fisher House Foundation, which provides housing for ill, injured, and diseased service members and their families when they need it most. The Foundation has drastically grown in its mission to provide military families with the housing they need within the vicinity of a VA hospital.  Even our annual Summer and Holiday parties have an underlying theme in which a charity is chosen for proceeds to be sent to.
OpticsPlanet Inc. thanks Hope for the Warriors; our Customers; and all of our corporate sponsors who made this campaign such a success!  OpticsPlanet Inc. appreciates the assistance our customers provide when running these events, and we look forward to many more to come in the future!
Related Posts
« Our Brilliance Awards are BACK! Vote on the 2016 Nominees! Five Must Have Products for your New Handgun | Pistol »