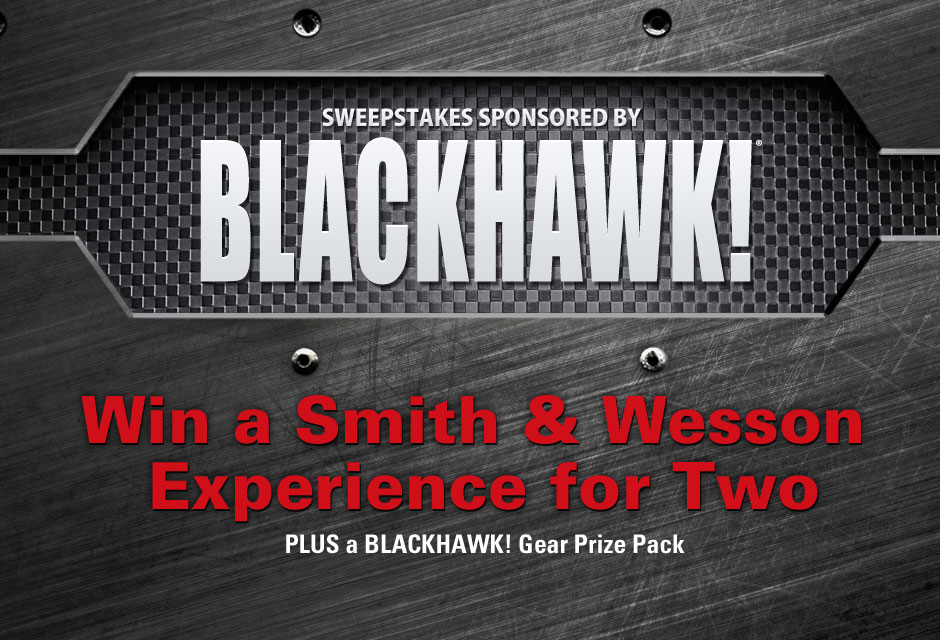 We're at it again here at OpticsPlanet giving away some outstanding prizes and gear.  This time it's a Smith & Wesson Experience for Two.  Entering is easy, just visit our BLACKHAWK! Sweepstake page and enter your e-mail address for your chance to not only win the Smith & Wesson Experience for Two, but also a BLACKHAWK! Prize Pack worth over $700.  Better hurry though, because this awesome sweepstakes ends on Friday October 18, 2013.
One lucky winner and a guest will win this Smith & Wesson Experience for Two, where they will be flown out to the historic S&W facility in Springfield, MA.  This all-inclusive trip will feature a guided behind-the-scenes tour of the factory where they will get to witness just how the famous Smith & Wesson firearms are made and also get to meet the workers who make them.  They will also receive an exclusive shooting experience where a certified S&W instructor will train them just how to fire one of their iconic pistols.
The trip alone would be enough to make me want to enter, but we have sweetened the deal up even more by giving the winner this awesome BLACKHAWK! Prize Pack, which puts the cherry on top of the sundae.  The following BLACKHAWK! products are included in in this sweet prize pack:
Pro Training Bag
Sportster Shooters Bag
3 Day Assault Backpack
Discreet SOCOM Pistol Case
Advanced Field Operator Watch
Two Double Mag Cases
Two Universal BDU Belts
Two CQC SERPA Holsters
You could be the lucky winner that takes home the prizes but you have to enter in order to win. Like I mentioned before, this BLACKHAWK! Prize Pack is worth over $700.  This isn't you're your average kid's toy stuff either. It is top of the line BLACKHAWK! merchandise. BLACKHAWK! specializes in holsters, bags & backpacks, tactical apparel, pouches and more, so you know that each of these products will survive anything you put it through out in the field. Plus, all of that is on top of the awesome Smith & Wesson Experience for Two, which will be a great way to test out all your new gear.  So, I guess the only question is, what are you waiting for?  Sign up today on our BLACKHAWK! Sweepstakes page before it's too late! No purchase necessary for participation.
Latest posts by Will Schueneman
(see all)
Related Posts
« Clean Your Brass Cases with Lyman Save on Steiner Predator Xtreme Scopes »