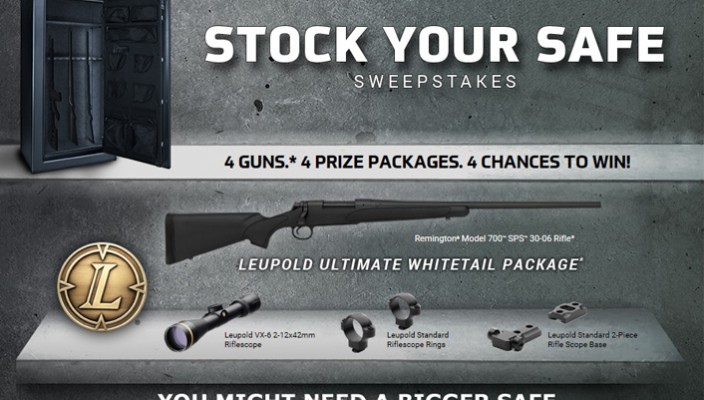 There is no feeling like that little four letter word that causes butterflies in your stomach, sweaty palms and has the ability to make one have a loss for words. FREE! What other word comes close?   Just reading it puts a huge smile on my face. I feel it is my duty to spread the feeling of FREE to others. The only way to spread this feeling of FREE is by introducing OpticsPlanet's Stock Your Safe Sweepstakes.  
Each prize package has been tailored to anyone from the amateur shooter, competitive shooter, hunter, or even someone just looking to protect their home. At this moment you should feel a slight flutter in your stomach. If so, don't fight it!
This sweepstakes is comprised of four mini campaigns. Please keep in mind each prize package will only be available for a short period of time.
The Leupold Ultimate Whitehall Package:
                This package has a run date of  10/13/2015-11/2/2015 and is valued at $2514. The combination of the Remington Model 700 SPS 308 Rifle and other included accessories in this package will help turn the least experienced rifle user into an accurate shooter. This package also includes:
The Bushnell Trophy Hunting Package:
With run dates of 11/3/2015-11/23/2015 and valued at $2221, Savage Arms Weather Warrior 300 Win Mag Rifle heads this package.  For the sporting shooter, Savages detail of safety is sure to impress you with its' Accuracy Technology. This package also includes:
The Vortex Range Master Package:
This package is running 11/24/2015-12/14/2015 and  valued at $2596, includes an Armalite M-15 13" 3-Gun Rifle. This M-15 is Armalite's flagship competition rifle. This package also includes:
The Crimson Trace Personal Defense Package:
 This package is running 12/15/2015-1/4/2016 and is valued at $1566. If you are looking to replace your everyday pistol, the Springfield XD-S 3.3" Single Stack 9mm can do just that. Although slightly smaller in size, this 9mm is just as powerful as a full size pistol and will meet your concealed carry concerns. This package also includes:
But wait, there is more! What if you had the opportunity to win all four prize packages? It is possible. There is no restriction on how many packages someone can win.  You can be one of four people to win a package or be the only person to win all four packages.
Is it safe to assume your mouth being open is a sign that you are at a loss for words?  Yeah, free has a tendency of doing that to you.
In the meantime, click HERE and enter to win! Good luck!
Latest posts by Guest Author
(see all)
Related Posts
« Budget Answer to Your Medium-Long Range Scope Needs Vote & Win with the 2015 Brilliance Awards & Sweepstakes! »