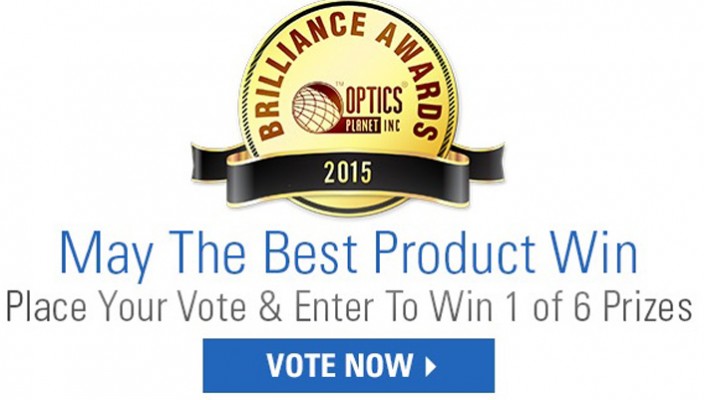 It is time for the 2015 Brilliance Awards & Sweepstakes!  Many brands have been nominated but only a few brands are deserving of the Brilliance Award seal. Voting for the awards has already started. So, why should you, the consumer be concerned? Simply put: It is all about YOU!
YOU determine what brands are best in category and YOU determine which how-to guides are best suited to help others. Used by the people and chosen by the people. Take the opportunity to show your appreciation for your favorite brands while also informing other OpticsPlanet.com customers of top products to purchase and try.
After voting you will be entered to win in the 2015 Brilliance Awards Sweepstakes. No purchase is necessary to win. Become a lucky winner to receive one of five $50 eGift certificates or one $100 eGift certificate.
The 2015 Brilliance Awards nominees includes popular brands: Bushnell, OPMOD, Armasight, and Leupold just to name a few.
This year the number of categories have increased and they include your favorite:
Binoculars
Flashlights
Sunglasses
Reticles
How-to guides
Apparel and many more.
Last year's 2014 Brilliance Award for product of the year went to Nikon. The 5-star user rated Nikon M-223 1.5-6x24mm Riflescope was an accessory favorite for many OpticsPlanet customers. Vote now to see who will be given that seal this year.
Voting is fast and simple. All you need to do is click the 2015 Brilliance Awards & Sweepstakes link below. You will be directed to select your favorite brand in a category. After selecting your nominees, enter your email and hit the "Vote & Enter" button.
That's it, that's all. What are you waiting for? Click HERE and VOTE! Feel free to share the link with others. Voting ends October 30th, 2015.
Latest posts by Guest Author
(see all)
Related Posts
« 4 Prize Packages, 4 Chances to Win! With Stock Your Safe Sweepstakes 5.11 Ridgeline-Tactical Pant Awesomeness »