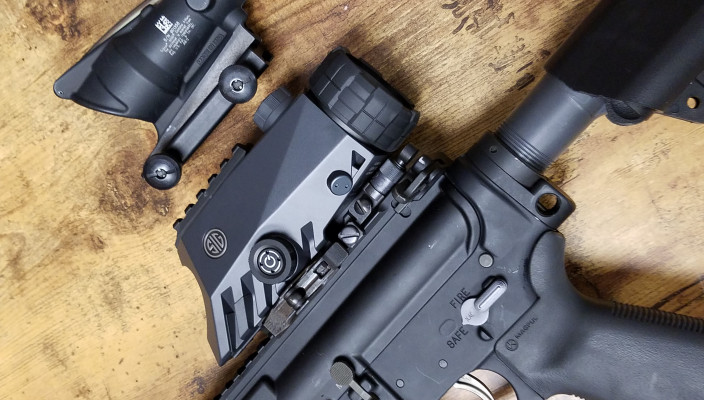 Prismatic sights like the Sig Bravo4 offer a rugged, fixed power, illuminated optic in a compact package that pairs exceptionally well with ARs. While there are lots of options for the entry level budget, the premium side has long been ruled by the ACOG. But now a challenger has entered the ring.
Sig Bravo4 Overview
The Sig Bravo4 4×30 is a 4x magnification prism sight with a 30mm objective lens. Like others in its class, it is a robust design with an integrated mount that is ready to go from the box to your AR. The reticle features drop compensation marks (5.56/7.62 or 300BLK) and windage hold points. The illumination has both daytime visible and night vision settings. You can even mount an accessory like a mini red dot on top.
What sets this optic apart is the details. The MegaView prism system yields a 10 degree field of view, 42% wider than current battle sights and the Low Dispersion glass provides a distortion-free image with edge-to-edge clarity. The magnesium housing that encases the glass offers durability and protection without extra weight. The reticle illumination is even motion activated, powering up when it detects movement and powering down when it does not, extending your battery life.
Bravo4 4×30 Specs
Eye Relief: 2.2 inches                                                      Field of View: 53ft @ 100 yds
Weight: 14.8 oz                                                                 Overall Length: 6.25 inches
Height: 3 inches                                                                 Mount Length: 3.4 inches
Width: 2 inches                                                                 Optical Center: 1.535"
Adjustment Click Value: ½ MOA                                 W/E Adjustment Range: 68 MOA
Waterproof: IPX-8 (400 mbar or 13ft)                         Battery: CR2
Magnification: 4x                                                              Objective lens diameter: 30mm
First Impression
While the optic may look bulky, the second you take it from the box you notice that it is not the boat anchor you were expecting. It is well balanced and once you have it mounted on a rifle you won't ponder the weight again.
The eyepiece is quite large so getting a cover to fit it is unlikely. But that large eyepiece is worth it for the generous eyebox it provides. Once I adjusted the diopter for a crisp reticle, I didn't need to touch it again. The reticle was very usable, offering meaningful hold points without feeling cluttered or too thick to use on distant targets. The illumination can be seen in bright conditions but I prefer to leave the illumination off most of the time.
My only critiques are of the quick detach mount. It stands out from the rest of the optic, looking almost like it was an afterthought. Also I wish there was an adapter to cantilever the optic more. While the optic clears back up iron sights, you sacrifice potential eye relief and need to have your nose on the charging handle.
Summary
While this may not be an "ACOG killer" for most, Sig made a great first attempt at this optic segment and there is lots of potential here for the Bravo4. Having a wider field of view helps with engaging moving targets and providing a more complete picture of the situation downrange. The generous eyebox also helps with speedy target acquisition while the ballistic reticle assists in first round hits on target regardless of distance. Small tweaks, like upgrading the mount or even getting 3rd party mounting options, would go a long way to making this a strong contender. A little skeletonizing of the current body would help as well, although that's mostly for aesthetics. Bottom line, if you are looking for a high quality, hard use optic for your AR then the Sig Bravo4 is definitely an option to consider.
Related Posts