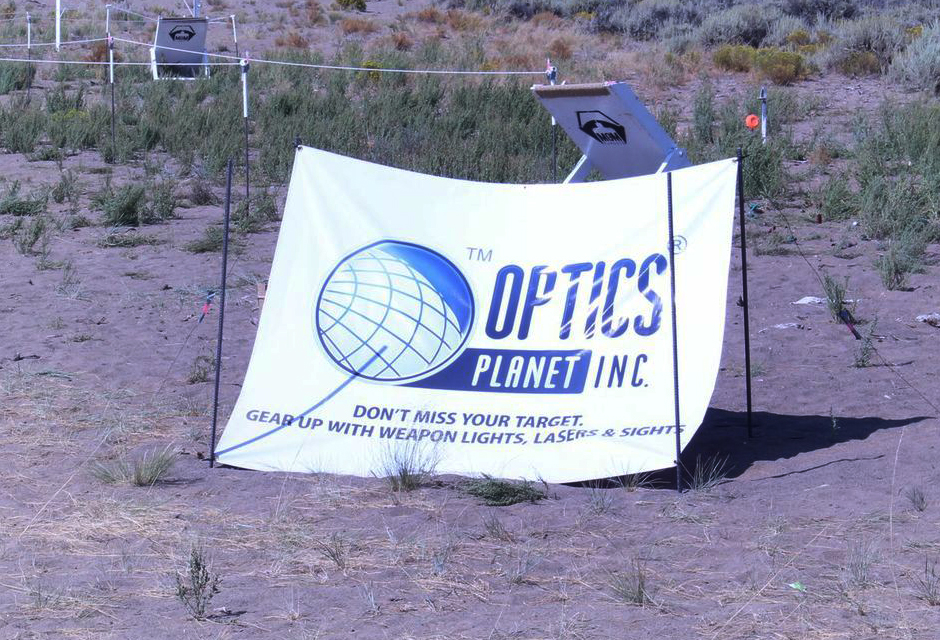 Recently, the crew from OpticsPlanet headed over to Crimson Trace's Midnight 3-Gun Invitation – several days of fun and friendly competition. A few of the guys even got to participate in side courses, and OpticsPlanet sponsored one of the tracks, the "Heat Stroke." Kelly was one of the lucky marksmen that got to attend. Below is his recap from the first day of shooting. Be sure to stay tuned for more!
Guest Blogger: Kelly B
The Crimson Trace CEO said it best at the media and sponsors dinner for the second annual Midnight 3 Gun Invitational: "There are only two rules here, 1. Stay safe and 2. Have fun." And with that, things were underway. After a beautiful 45 minute bus ride through central Oregon, we arrived at COSSA, the area's premiere outdoor shooting range. The term massive would be an understatement – this facility has everything. From 1000 yard rifle ranges, to multi-room shoot houses; it was instantly clear why Crimson Trace chose this as the location for their premiere shooting event.
After a brief but informative shooters meeting, led by Chris Cerrino (whom you may know from the History Channel program Top Shot), the sun set on central Oregon and the competition was underway.
Our very first stage was actually the last in the competition, Stage 9 – better known as Kill the Engine. Upon seeing an abandoned car downrange, the shooters knew they were in for quite a treat. Turns out, the very first task on this stage was to engage three close range paper targets with a supplied SCAR rifle, and then launch a 40mm grenade at the vehicle. For numerous reasons I'm sure you can understand, competitors were using chalk training projectiles instead of the real thing, but nevertheless competitors relished the opportunity to fire this weapon.
After several competitors, it was finally time for OpticsPlanet's resident marksman Steve to run the course. He quickly engaged the paper targets and nailed the car (which received a nice round of applause from the sizable crowd watching his performance).  He then proceeded to nail 8 paper targets and 8 steel plates with his pistol, and finished off nailing the last 8 clays with his trusty shotgun. After his very well executed round, Steve explained to fellow shooters that his shotgun was a gift from when he was 12 years old. "How many rounds have gone through that thing?" asked a fellow competitor. The response? "Probably close to 14 billion". Certainly some hyperbole, but watching the way he executed with the firearm, there is no doubt a history between the two.
With stage 9 complete, we made our way over to stage 1, or "heat stroke". This just so happened to be the OpticsPlanet sponsored stage, and it was quite a thrill to see our name lit up on the range. It means a lot to be a part of this great event, as OpticsPlanet is always seeking ways to become more engaged with persons sharing the same passion we have for shooting sports.
Heat Stroke involved a mix of clays, steel and four 150 yard rifle shots using a Flir clip-on thermal unit. Some competitors struggled a bit with the rifle, but all in all it became clear that we were in great company, with muzzles blasting, brass flying and targets ringing faster than the Range Officer could yell "shooter ready?" This strong showing from our group continued on for two more stages, with the very last shot ringing out at 4:15am.
Needless to say, it was an exhausting first day. Everyone is very excited for tomorrow though, as it's Media Day, and we'll have the opportunity to try out new gear from companies such as Leupold, Flir, Colt, Hornady, OTIS and many more. Stay tuned for coverage on all we see then, as well as a recap from night two of the Midnight 3 Gun Invitational.
Kelly is an amateur marksman, outdoorsman, and Crimson Trace enthusiast, especially after this event!
Related Posts
« Free Up Your Hands With the SureFire 2211 LED WristLight Day/Night Shooting with Armasight Clip-On Night Vision Scopes »