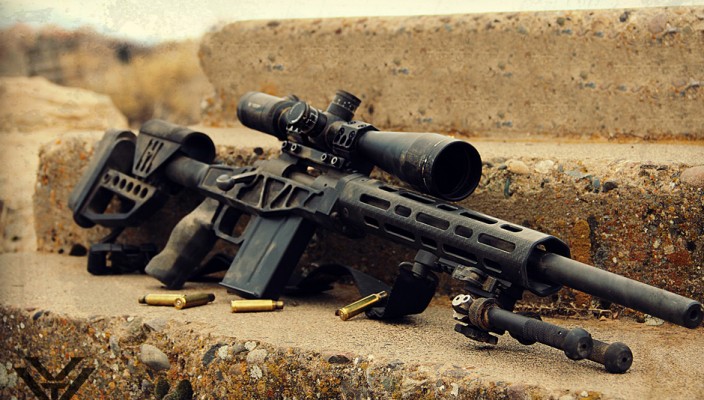 There are not many things that can replace the pure awesomeness of being able to reach out and hit a target at far distances. I want you to step back and think about how amazing it is that you can not only see your target clear as day but also hit it with extreme accuracy. It makes you start to believe that anything you can think of is possible. The guys at Vortex Optics aim to make those shooting dreams a reality with their Viper PST line of rifle scopes.
I have had the opportunity to shoot an AR with the Viper PST 1-4x24MM. This scope not only feels solid but it would be my first choice if I was going to get into 3-Gun. The quality of the glass, as well as the weatherproof and fog proof features, allow this optic to perform in the widest range of conditions. I have to say, the illuminated reticle is pretty awesome and it gives the shooter lightning fast shot placement.
The long range rifle scopes by Vortex are some of the highest quality options around and have been getting nothing but great reviews from shooters. Our very own blogger Alex P. has a thing or two to say about these scopes. "Being a long range shooter and a beyond avid hunter I have been looking for a scope that blends the best of both worlds, and it has always been a challenge. This year I am building a 1000yrd bolt action custom rifle and pitting it against an AR-10 .308 heavy barrel, as an ultimate comparison of platforms and cartridges. Extremely great optics are required for such shots, and the Vortex Viper PST 6-24×50 FFP is going to more than likely serve as the benchmark constant in this personal experiment/build. The quality and clarity of the Vortex Viper PST scopes is amazing and their commitment to perfection on every single product ensures I will have given both platforms the same equal opportunity to compete. Combined with the outstanding value from Vortex I will be able to install two of the exact same scopes for the same price as one scope from their closest competitors allowing me to run the guns side by side, during identical conditions. These factors come together to make Vortex the company to look to when looking for a scope to meet various needs."
You don't have to be slinging lead out past a half mile to appreciate the awesome features that the whole Viper PST line offers. Vortex provides the option of picking up some of the long range scopes with a first focal plane or second focal plane reticle. A first focal plane scope enables the shooter to accurately judge range or holdover points due to the reticle growing and shrinking based on magnification. You'll be pleased to know that both the first focal plane and second focal plane scopes in the Vortex Viper PST line give you huge 30mm main tubes for tons of elevation adjustment. Along with quick exposed turrets and the included zero-stop, these scopes are sure to make any tactical or target shooter happy.
Whether you need a rifle scope for a duty rifle, 3-Gun Competitions or effectively engaging targets past a half mile, the Viper PST  line of optics by Vortex gives you that little edge needed for quicker and more accurate shot placement. It's time to take action by turning those shots of your dreams into a reality. Once you get one of these scopes mounted on your rifle, you'll truly notice the Vortex difference. I know our blogger Alex can't wait to get his hands on one of these for his long range rifle build. With the help of an  XLR Industries precision rifle chassis (like the first rifle picture above) and a Vortex Viper PST rifle scope, one thousand yard shots are no longer a problem.
Long range shooting is tough and so is picking out the right rifle scope. What rifle would you mount a Vortex Viper PST scope on?
Related Posts
« The 4 Pocket Essentials for Every Day Carry See All You Can: New Steiner Optics »