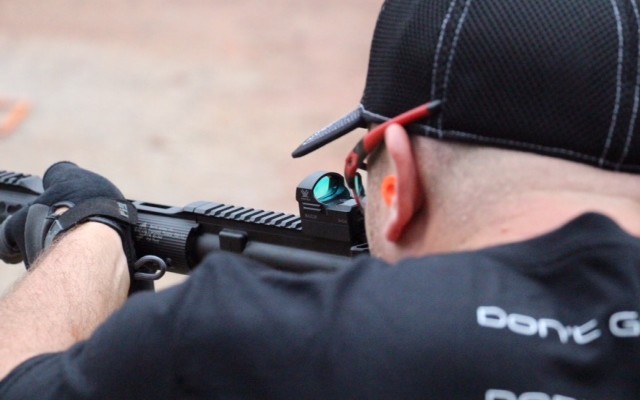 I recently had the opportunity to run the new Vortex Razor MRDS as a primary and offset sighting system. The 3 MOA Razor Red Dot was equally up to the task in both roles. In the primary role it sat atop a 9mm PCC (pistol caliber carbine) and was used in the Southern Pistol ProAm in Atlanta, Georgia. The dot was bright, plenty accurate and retained zero without fail for the preparation and during the match. By itself it sits very low in the factory mount which was a plus for me as most other red dot sights sit high with nowhere to go but up. Ultimately it gives the end user the option to determine the appropriate height for their application.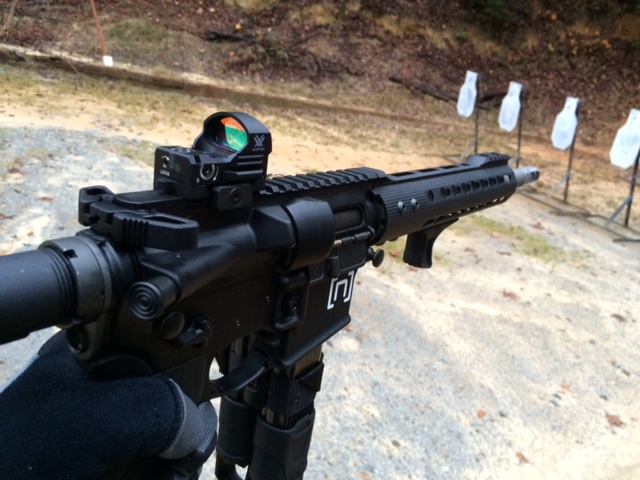 Zeroing the optic was easy and intuitive. The adjustment dials are marked for direction and the clicks are tactile. Surprisingly the lock screws had no impact or shift in the set adjustment, which in my experience in a new thing. Most of the time there is noticeable zero shift when they are locked and I for the most part avoid using them. On the range I had no problems making 50yd first round hits on 8" steel plates offhand and did so on the bonus plate in the match with great success. The dot is adjustable for brightness and crisp even when turned up in sunshine or down in low light settings.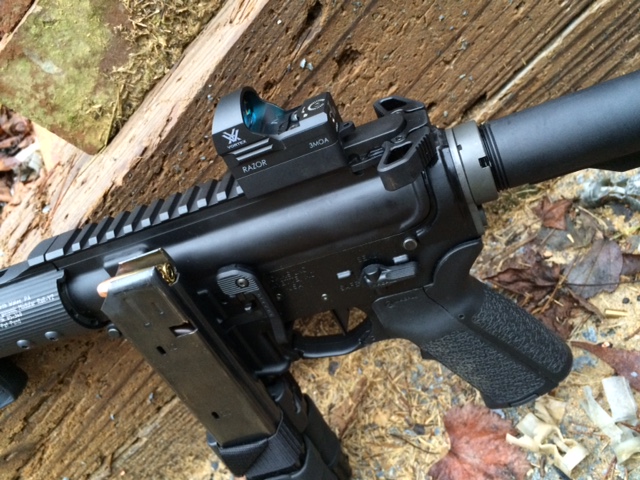 I then switched gears and mounted it as a secondary offset sight system for a Midnight 3 Gun match in Texas a week later on a 16" competition 5.56 rifle. The demands of this match were a lot different as the temp shifted; the humidity rose and the sun went down. Every target was a Zombie headshot only on paper with stiff penalties for misses and after getting it zeroed I was pretty confident after the ProAm that this sight wouldn't be an issue. The little red dot was up to the task and performed admirably which is no surprise since it wears the Vortex name on the side. I had no problem making accurate hits on 5"x5" scoring zones on demand.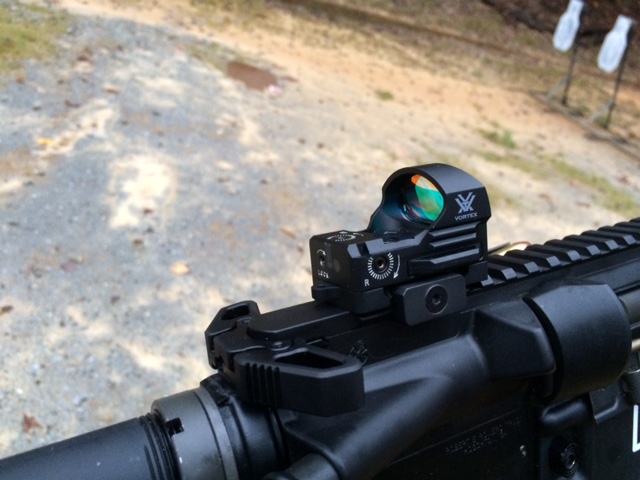 Some other cool features is the wide lens which gives you a great field of view and the amazing clarity from edge to edge of the lens housing. I found out the battery life is phenomenal as well after leaving it on after the first stage and not turning off till the rifle was back in the safe 24hrs later and came to find out the battery life was good for up to a year on the highest setting.
I give this little Razor Red Dot two big thumbs up and highly recommend it to anyone looking for a Primary or Secondary Red Dot system they can trust with a Lifetime warranty and from a name well trusted in the industry.
Latest posts by Rob Romero
(see all)
Related Posts
« Surefire XC1 -Best Compact Weapon Light? Minimalist Rifle Red Dot- Trijicon RM09 »