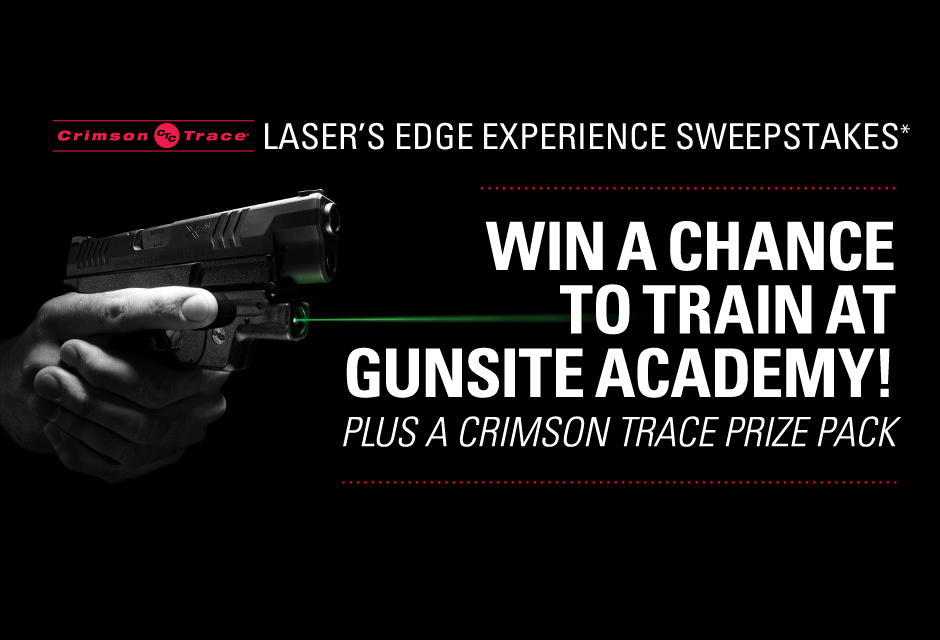 I've already gone on about all of the awesome stuff that Crimson Trace has brought us over the years. Here's a brand new one for you: The Laser's Edge Experience Sweepstakes, brought to you by Crimson Trace!
One lucky winner and an extremely lucky friend will win a trip for two to the world-renowned Gunsite Academy in Paulden, Arizona. You'll have five days to practice your shooting skills, learn valuable lessons, and have a great time doing it on the 250 Pistol Course, also known as "The Gunsite Experience." Not only is the trip all-inclusive, but you'll also walk away with a sweet Crimson Trace prize package. I'm already jealous.
Shooters around the world know the Gunsite Academy as one of the top training facilities for law enforcement, military, and civilians alike. Everyone can benefit from good teaching and shooting practices, and at Gunsite Academy, you will excel on the range while learning invaluable skills to help you defend yourself. Founded in 1976, Gunsite Academy has spent the last 37 years drawing in some of the top instructors in the nation to pass on their knowledge to those lucky enough to pass through their doors. That could include you!
Crimson Trace is proud to offer this sweepstakes in conjunction with OpticsPlanet. They know the benefit of proper training, as well as where to get it. In fact, the Crimson Trace Laser's Edge DVD was filmed at the Gunsite Academy. If you're one of the 200,000 OpticsPlanet customers that received this DVD with your order over the past few months, you'll recognize many of the locations. If you win – you'll get to experience the real thing! And let's not forget the Crimson Trace prize package you'll take home, which includes:
Not only will the winner get a chance to perfect their shooting skills, but they'll also go home with the tools to help them succeed even more! Practice makes perfect, after all – and is there anything more fun and relaxing than spending a day at the range?
Head on over to the Laser's Edge Experience Sweepstakes page for your chance to enter. The contest ends December 1st, so act now!
Related Posts
« OPMOD Brings You A New Gun Cleaning Mat! Brand New Zeiss OPMOD Rifle Scopes Arrive »