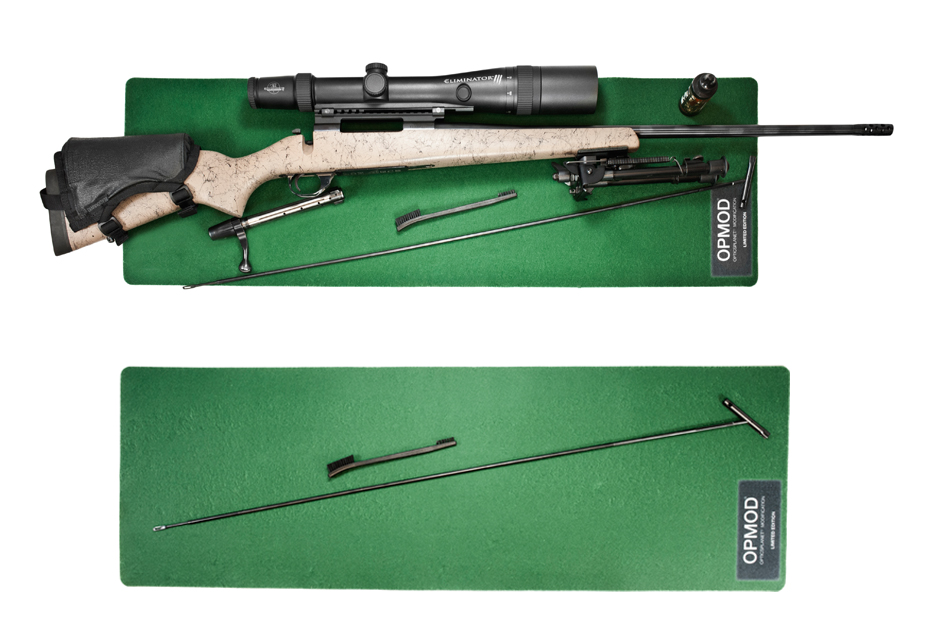 If there's one thing I hate, it's a dirty work bench. That's why I'm thrilled that OPMOD has released the new GCM 1.0 Gun Cleaning Mat!
These things are perfect if you do any kind of work on your firearms. These mats have a soft felt top to prevent scratches – and if you've ever nicked the finish on your hardware, you'll know what I'm talking about when I say a soft work surface is paramount. Unroll one of these guys on your bench and you'll have peace of mind knowing that you're not going to be damaging your gun.
As a side note, and perhaps I'm in the minority here, but I really like the green color. My biggest fear when I'm working on my firearm is losing a small piece – but the green surface of the OPMOD GCM provides contrast for the metallic pieces to stand out. The guys at OPMOD really thought of everything here.
But there's more to these gun cleaning mats just below the surface – literally. Flip the mat over and you've got an absorbent bottom that will soak up any grease and oil that might happen to leak. The patented Zorb-Tech anti-flow technology will absorb it all, leaving your work bench clean and minimizing clean up. What happens with all that dirt and grime, you might ask? Thankfully, OPMOD thought of that, too. Toss the thing in the washing machine and forget about it. The less time I spend washing things, the better!
When the day's done, and your piece is tricked out and ready for the hunt, roll up your OPMOD GCM Gun Mat for storage. If time goes on and you find that the mat is a little big – and it is available in two sizes, after all – you can easily cut it down to size to fit your work bench. That way, you can even make it a permanent fixture if you so desire!
There's a lot to love about the OPMOD GCM 1.0 Gun Cleaning Mat. What gun will you work on first?
Related Posts
« Prep Made Easy with Tipton, Wheeler and Caldwell Win a Trip For Two With Crimson Trace's The Laser's Edge Experience Sweepstakes »