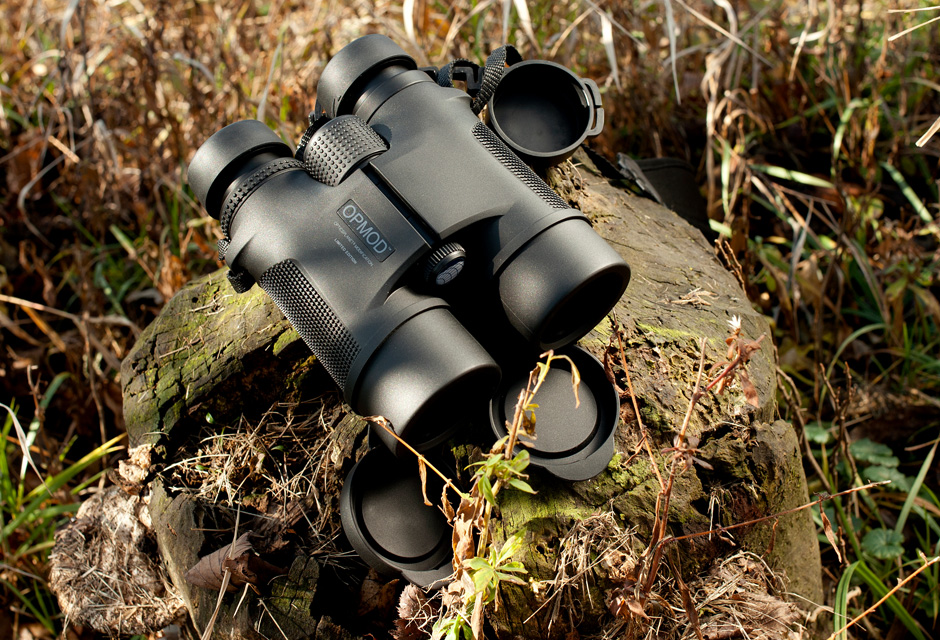 Two great products from one excellent company! Both the 10×42 OPMOD Binoculars, and the OPMOD MPASS 1.0 Limited Edition Spotting Scope were custom designed in house by Optics Planet. When Optics Planet asked what users wanted, they listened with open ears. The end result was an amazingly affordable spotting scope and binoculars. Trust me, these are two pieces of gear that every outdoorsman, camper, hunter, or wilderness lover needs to get a peek at!
Whenever I first pick up optics, or a gun I give it the good old "shake test", and let me tell you, the OPMOD 10×42 Binoculars, and the OPMOD MPASS 1.0 Limited Edition Spotting Scope both feel solid as a brick and definitely have the same durability. The smooth operating eye cups and focusing knobs, let you know everything is extremely solid and very well machined. Upon holding these products you will instantly want them added to your inventory.
The OPMOD 10×42 Binoculars have a very short focus point of about 10ft, this is perfect for birdwatchers and homeowners. A short focus point combined with great clarity, makes seeing objects up close and far away a non-issue. The Roof prism construction in the OPMOD 10×42 means that the ocular lens is in direct line with the objective lens. This roof prism design allows for the binoculars to be very compact and ergonomic. Fully coated phase roof prism and lenses provide a very crisp and clear image by aligning the different light spectrums.
The fully multicoated and nitrogen purged lenses of the 10×42 Binoculars by OPMOD will not fog up and are also waterproof. These essential elements are crucial to anyone operating outdoors where conditions can be unpredictable.
Additionally, in cold weather the gloves come out, the oversized center focusing knob is excellent for operation with light to heavy gloves. Keeping your hands warm is something I find very important when in the field, where limited movement is also critical. Frigid hands tend to shake which makes viewing your target difficult to near impossible to focus on.
So now that you have spotted that object off in the distance its time to get up close and personal with the OPMOD MPASS 1.0 Limited Edition Spotting Scope!
The OPMOD MPASS Limited Edition 1.0 Spotting Scope was designed by users and you can instantly tell. Built at 20-60×60; you will have no issue counting those tines or finding those holes at the end of the range! With incredible quality lenses the time of day and weather will not affect your ability to see clearly. Shooting or glassing, spending time on your spotting scope is directly linked to comfort. With an articulating collar around the tube of the scope, the user is able to rotate and adjust the scope to any position. Then OpticsPlanet went and angled the eye piece! This innovation makes going from shooting/sighting your gun to looking down your spotting scope extremely easy with a simple tilt of your head.
Individuals that wear glasses will love the very capable and adjustable moving eye cups of the OPMOD 10×42 Binoculars and OPMOD MPASS 1.0 Limited Edition Spotting Scope. After days of hunting and glassing in the dry cold air, sometimes my contacts just become too dry and bothersome, and I have to switch back to my glasses. With these large and highly adjustable eyecups I can simply place the eyecup(s) directly on the lenses of my glasses and I can see the same field of view with the same precision as the naked eye totally unaffected.
Lightweight, powerful, and crystal clear both the OPMOD 10×42 binoculars, and the OPMOD MPASS 1.0 Limited Edition Spotting Scope are an absolute must for any sportsman, heading out for a day, or an expedition where every ounce of gear adds up quickly and must perform every single time.
Related Posts
« Crimson Trace Going Green, What Laser Color Suits You? Awesome, Affordable Celestron Scopes »