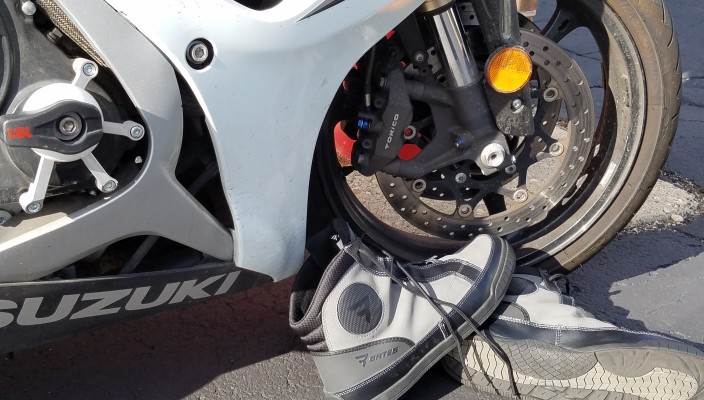 I'm proud to say I've never traded safety for style when riding a motorcycle, but many times have I been guilty of trading comfort for safety. Thanks to Bates Powersports footwear, I no longer need to make that choice. It's been 10 years in the making but I finally found a pair of riding boots that I enjoy wearing. I started with just a helmet and a jacket, then added gloves and riding pants over the years, I never could resign myself to wear proper footwear until now.
Most of the riding footwear I see seems to be designed for non-sportbike riders, which in my experience tend to feel clunky and are difficult to get on/off as well as being awkward to walk around in. Sportbike focused designs like the footwear by ICON motorsports or Joe Rocket seemed to be better in terms of comfort and appearance, but left room for improvement in the protective capabilities.
If you are like me, as in not a police officer, then there is a good chance that you have never heard of Bates Footwear. If you are an officer, or know one, then you are likely aware that Bates is the savior of feet for many of those who wear the blue uniform. Designs based on research and experience combined with innovative materials has helped Bates be a leading supplier of footwear for Police and Military.
But there are still plenty of applications for us civilians where Bates Footwear is an excellent choice. Their Strike Composite Toe Chelsea is a great slip on style boot for shoveling snow or when using the snow blower, even though it was designed with Firefighters in mind. In fact I was considering the Special Response Tactical Shoe as the prime candidate to replace my Adidas Sambas as riding shoes when I found out that Bates had just released a line specifically for powersports like motorcycles and ATVs.
Figuring it had been long enough since I had tried a shoe designed for riding, I might as well give it a go instead of continuing to ride with sub-par foot protection. It is a decision that I have not regretted for a single moment. I went with the Taser model since it had a more casual look than a technical one but still provided the safety that every rider should have. The side impact foam for ankle support and molded heel protection are likely things you won't appreciate until you need them but the hidden lacing system and oil/slip resistant outsole make a notable difference every time you go out riding.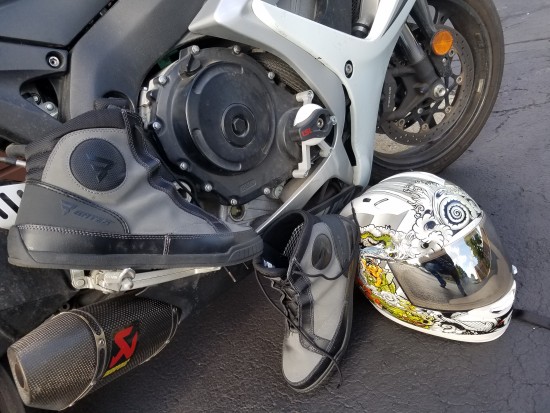 The first time I wore the Taser's to work, I brought a pair of shoes to change in to for the day. It was past noon before I realized I had never changed my footwear. The boots were simply that comfortable and had not drawn enough attention to themselves for anyone to question what I was wearing. When someone finally did ask me about my footwear, they were somewhat disappointed to hear that they were specifically for riding and not just cool looking casual footwear. Since I'm often riding from one location to another, instead of recreationally riding for extended periods of time, the ability to be comfortable off the bike and not stand out as peculiar footwear are features I greatly value in my riding boots.
For me, the greatest aspect of the Taser's was how easy it is to get them on and take them off. What is usually a five minute struggle for me became as simple as putting on my regular shoes. They are even easier than putting on my hiking boots! If you think that means they aren't secure when they are on, you would be wrong. They lace up tight and provide great support while still allowing flex for shifting.
So far I have put in several months of riding wearing these boots and they have held up to the abuse I've thrown their way, which is saying something. I haven't even felt the need to clean them which gives me more time to be out riding.
Whether you own a pair of dedicated powersports boots or not, you owe it to your feet to take a hard look at Bates Powersports footwear. They have several models to choose from so finding the boot that meets your style, budget, and needs should be easy. If you value quality footwear, then you should buy Bates. Chances are that they offer a piece of footwear you could use in your life. Show your feet some appreciation and get them a pair of Bates boots!
Related Posts
« ED and HD Optics on a Budget Our Brilliance Awards are BACK! Vote on the 2016 Nominees! »