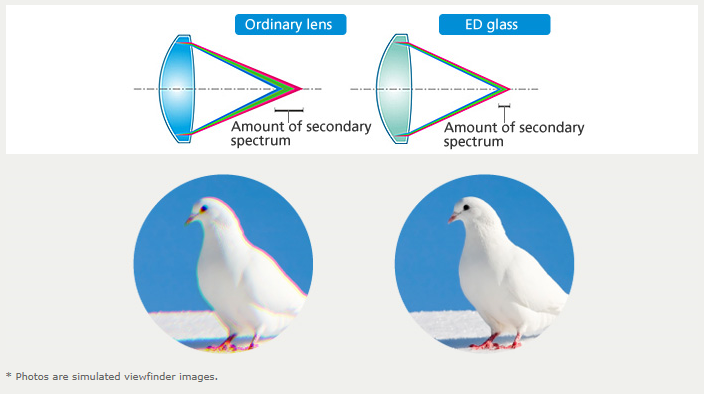 "How much do I have to spend to get a great optic?"  This is a very common question in our industry.  Considering our wide array of options in our spotting scope and binocular lines, we can see why it's so common.  What's the difference between a set of $50 and $500 binoculars?  It simply comes down to the quality of the materials used in the construction of the optic – what type of material the body is made of; what type of glass and prisms are used; and what type of coatings are used.  This article is going to focus a bit more on the latter two categories:  glass and coatings.
You may notice the terms ED or HD being used in higher end optics.  To make this as simple as possible, we'll give a quick primer:  ED stands for "extra-low dispersion," and may also be referred to as HD glass.  This glass almost always contains Fluorite, which cuts down on chromatic aberration and glare.  Chromatic aberration will happen at longer distances, and is an effect that causes "color fringing" towards the outside of the sight picture.  This fringing can make it difficult to count the points on a Buck, or even decipher the coloring of the feathers on a bird's wings or breast.  These ED/HD optics are exceptionally clear, but tend to be pretty pricey.  However, there are some manufacturers out there that make ED/HD optics at a fairly affordable price!
Inexpensive ED Spotting Scopes | Under $500
If you are in need of a Spotting Scope that is exceptionally clear over a few hundred yards, then a product with ED glass is always our recommendation.  There are plenty of premium manufacturers out there that sell an exceptionally clear optic with ED glass, HD coatings, and precision machining. However, where the product is made can cut costs for the manufacturer, and that means those savings can be passed down to the consumer. Here are some manufacturers that make reasonably priced spotting scopes:
Barska
The Barksa Naturescape line is a great starting point for ED glass. They are very affordable, and provide superior viewing compared to non-ED models in the same price range. These are the most affordable ED optics in sub-$500 range, but are worth every penny. If you're looking for a starting point in ED spotters, this is a great model to choose.
Celestron
Celestron's claim to fame is their Telescope line, but over the years they've made some great contributions to the wildlife viewing section of the market. They've recently released their Hummingbird line of ED micro-spotting scopes. They are geared for the bird/wildlife watcher, and are compact enough to fit almost anywhere in your bag! They also offer the Regal line, which is their full-size ED spotters. These models are still rather inexpensive, and provide the Celestron quality their fans have come to love.
Bushnell
The Legend Ultra HD line by Bushnell is one of our best sellers for ED optics in the $500 and under category. Bushnell has been making optics for over 65 years, and they are great at what they do. They offer a full size spotter just under $500, which is the clearest optic you can get at that price point. They also offer a compact model which is available in angled or straight eyepieces. I've personally used both models, and was blown away by their clarity.
Vanguard
The Vanguard Endeavor line is right at the under $500 price point, and comes in a 65mm and 82mm objective size. They are a full size spotting scope with amazing quality for the price. They are offered with a detachable eyepiece for better storage, which is unheard of in the price range!
Affordable HD Binoculars | Under $300
ED glass in a binocular is imperative for the novice to advanced bird watcher, as they provide much more clarity than non-ED versions. The same goes for a hunter who needs to properly identify the age range of a deer, or be able to count the points on that buck they've been tracking out in the woods. Any serious wildlife viewer should have ED field glasses in their pack.
Bushnell
The Bushnell Legend line also goes into binoculars, and they make them extremely affordable. They are available in the standard 8×42 and 10×42, but are also offered in a more compact 10×25, 8×36, and 10×36 size. Not only are these affordable, but they offer the most bang for the buck in this under $300 price range.
Hawke Sport Optics
Hawke Sport Optics was founded in the UK over 15 years ago, and the company established their US headquarters in Indiana in 2007. Their products are geared for the user with a budget, but they certainly make a product that will last for many years. They are the manufacturer with the most options in the affordable range we are discussing in this article. From the compact 8×25 Sapphire, to the 12×50 Endurance, Hawke has an amazing array of options in the sub $300 range!
Carson
Carson offers their 3D line at a great price, and they are a very popular brand in birding circles. I personally own a Carson monocular that is used out on Disc Golf courses, and I am very pleased with the performance over the last few years. Their ED binoculars are just as impressive, and they are available in standard magnification and objective sizes, from 8x32mm to a 10x50mm.
Vanguard
Vanguard also continues their ED optic line into the binocular category. The Endeavor series is incredibly popular with our customers due to the cost and design aspects. All of the Endeavor models have an open style hinge, so the user get can a full grip on the barrels of the binocular. A big difference in the Vanguard design is that they add another hinge towards the front of the barrels, providing more stability for clearer viewing. The standard Endeavor models are under our $300 price point, and the Endeavor II models just over that price. They are also available in the most popular magnification and sizes of 8x32mm through 10x42mm.
Budget Riflescopes with ED Glass | Under $400
There aren't all that many manufacturers making inexpensive riflescopes available with ED/HD glass, but the two brands that do have carried over their coatings and glass from their other optic lines. If you're needing a scope that is going to cut down on the glare of shooting out over the plains at sunset, or shooting up or down the side of a mountain, these are the models for you!
Vanguard
Using the same glass and coatings in their binoculars and spotters, Vanguard offers the Endeavor line of riflescopes as well. Perfect for any mid to big game hunter, they offer both Duplex and BDC (ballistic drop compensating) reticles in the standard sizes and powers of 3-9x40mm; 4-12x40mm; and if you're looking for a little more glass on the objective for a wider field of view, the 3.5-10x50mm would be the right choice!
Bushnell
Bushnell goes slightly further than many ED scope manufacturers in this price range, as they offer multiple models for different styles of firearms. They continue the Legend Ultra HD product into the riflescope market with the compact 1.75-5x32mm, which offers multiple reticle options for different weapons (shotgun/blackpowder, crossbow, and rifle). They also offer the standard 3-9x40mm with either their Multi-X or DOA 600 reticles; and 3-9x50mm magnification/objective size. They even offer a model geared towards the longer range shooter in the 4.5-14x44mm, with either their Multi-X or Mil-Dot reticles. Considering their long history of manufacturing optics, these inexpensive options are always an excellent buy.
Why so inexpensive?
So let's get straight to the point:  These optics are so inexpensive simply because they are made and/or assembled in Asia; most likely in China.  The truth is that these Asian countries have gotten considerably better at manufacturing these types of products, and a lot of the glass made for lenses are made in Asia already.  You will be paying much more out of pocket if you're looking for an American or European made ED optic, but this article is only referring to more affordable optics for the user with a lower budget.  Obviously the materials used will be subpar to a more expensive optic, and higher priced optics will typically have smoother mechanisms and superior materials.  You still get what you pay for!
If you're serious about wildlife viewing, or have the need for an affordable optic to bring to the range, all of the items mentioned above will not disappoint!  If you've got the money to spend, contact us so we can help you find the right optic in the higher price ranges.  The higher priced ED optics are made exceptionally well, and are guaranteed to last a very long time.
Related Posts
« Get Your Swing in Check! Sports Sensors Swing Speed Radar Bates Footwear: Don't Ride Without Them »