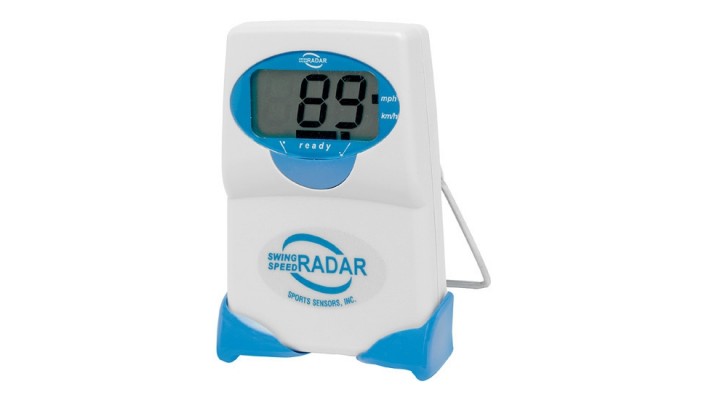 We sell plenty of Radar Guns here, and we get many questions about different brands and price points.  We also carry quite a few "sport related" radar accessories.  One of these accessories we decided to try out was the Sports Sensors Swing Speed Radar for Golf Swing and Baseball/Softball/Tennis/etc.
Sports Sensors Swing Speed Radar
The Sports Sensors Swing Speed Radar for Golf Swing and Baseball / Softball / Tennis / etc. is slightly different than a Sport Radar Gun.  Most radar devices are designed to pick up the speed of a ball as the ball approaches, or goes away from the device.  This product is designed to measure "swing speed," and is intended to help the user build muscle memory.  This is a skill that is hard to master without repetitive practice, and the Swing Speed Radar is exceptionally effective!
For golf use, the product has a built in stand so you can set it down next to your tee.  Obviously, you want the device facing the user, and out of the way of your club.  The device actually picks up fairly well, even from just a few feet away.  If you are using this for the other sports listed; Baseball / Softball / Tennis / etc., you will want to use a tripod to elevate the device to the proper height.  For Baseball / Softball, it's intended to be facing the batting tee and batter.  For tennis, it needs to be at a height where the user's racket can be picked up by the radar sensor.
How It Was Used
As I've mentioned in previous posts: I'm a Disc Golfer.  The mechanics of the sport are the same as any other game where a "swing" is involved.  I wanted to use the Swing Speed Radar to see if the sensor would pick up our arm speed, just like it should measure the speed of a bat, club, or racket.  We set the device up on the tripod at about chest height, and turned it at a 45 degree angle towards the thrower.  After a few test throws, we decided to give it a good test!
How Did It Work?
I tested this device after a league round at Bevier Park in Waukegan, IL.  My fellow disc golfers were very excited to try this device out.  We set up the tripod on a Basketball court adjacent to a Tennis court, and threw our discs into the fence bordering the Tennis court.  This ensured that we didn't have to chase our discs down after every throw, and some of the guys I asked to join me are able to throw a consistent, controlled 400 foot drive.  Obviously, it would have turned into a lot of work having to find those discs!
After getting it all set up and getting a few throws in, we simply had to set a spot to get the best reading.  We made sure that the thrower's forearm was at the same level as the Sensors on the radar, and made sure we marked a spot for the thrower to plant his foot.  When we got the kinks all worked out, the device started reading every throw!  The league at the time was a good mix of casual and serious disc golfers, so we were able to test it out on different skill levels.
After a few minutes, we were all able to get a consistent arm speed.  This is a practice drill that is guaranteed to improve your game for any sport.  Need to remember how fast you need to swing your 9 iron to drop your ball around 115 yards?  This will absolutely help you to build that muscle memory.  This is a great device to pack in your bag and use at the driving range.  I just don't see how this wouldn't help any level of player gain consistency in their game.
Other Products by Sports Sensors
A step up from the Swing Radar is their Sports Sensors Dual Mode Swing Speed Radar w/ Tempo Timer for Golf.  This device has the same detection for Swing Speed, but adds a Tempo Timer to help the user properly time their backswing.  Considering how useful the Sports Sensors Swing Speed Radar for Golf Swing and Baseball / Softball is, it's safe to assume this is a great product for any golfer.
A couple of other products available in their line are the Sports Sensors Paintball Rate of Fire Sensor w/ One Button Operation PBRROF365 and the Sports Sensors Baseball Glove Radar, 120MPH Max Speed 360S.  The Paintball model is pretty straight forward, and the baseball glove radar is excellent for players to work on their pitching, as well as their throw speed to first base.
The swing radar I used worked just as described, so it's safe to assume that the other Sports Sensors products are just as well made and reliable!  If you are looking to improve your game; or looking to help a youngster improve theirs, check out the Sports Sensors line of products!
Related Posts
« Kinetic Development Group (KDG) ED and HD Optics on a Budget »