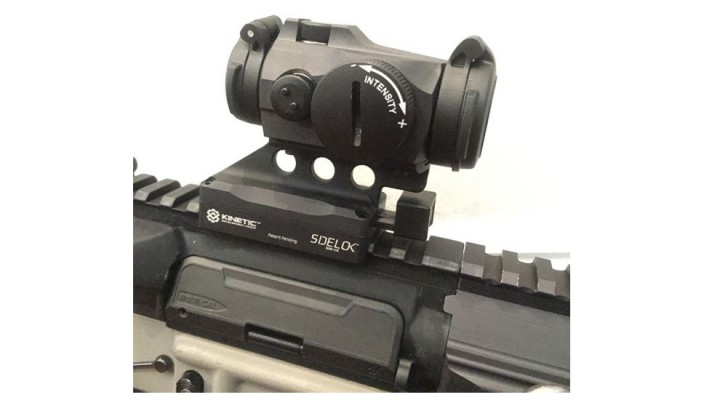 What is QD
Whether you have one gun or many, the ability to rapidly configure optics and accessories is a desirable feature. Needing to make those changes in the field, without proper tools, is what drives the Quick Disconnect (QD) capability of mounts. While this usually means a lever or knob design, Kinetic Development Group (KDG) is bringing something different to the QD scene. Take a look at their Sidelok mount system and how KDG is on pace to shake up the industry.
When you decide you want a QD mount, you quickly realize that not all mounts are created equal. Entry level designs require manual tension adjustment to fit the rail, which can lead to over tightening or complicate transferring between different platforms. Higher end designs feature an automatic tensioning mechanism to address those issues.
Sidelok
The KDG Sidelok also employs an automatic tensioning device but does so without a lever. Instead they use a "tab" that deploys the auto tensioning clamp when it is pressed against the notch of the picatinny rail during mounting. To remove the mount, you engage the button that extended out of the mount when it was placed on the rail. Just like the lever designs have locking tabs to prevent accidental manipulation, the Sidelok release has a locking tab that must be depressed in order to release the mount.
So now that we've established that the Sidelok is in the high end QD mount category, let's discuss what makes it different. The lack of a lever or knob creates a more streamline profile which decreases the chance of the mount snagging on gear or objects in the environment. The activation tab design is also ideal for one handed manipulation, since the mount tightens down automatically once it is placed on the rail. Taking it off is just as easy. While those features might not sound drastically different, they are instantly noticeable when you have a Sidelok mount in hand.
While Kinetic Development Group currently offers the Sidelok mounts for red dot sights such as the Aimpoint PRO/Comp M4, the Aimpoint Micro (or other optics with the same footprint), and the Trijicon MRO, they will shortly be releasing a riflescope mount that is built upon the Sidelok system but is packed with features such as adjustable/interchangeable rings and adjustable MOA. That mount, and a great breakdown on Kinetic Development Group in general, is showcased in this Hank Strange video from the NRA 2016 Annual Meeting.
If you watched the video, you'll notice that Nate Murr of KDG addressed one of the common concerns with any QD mount. The ability to return to zero is a claim that many mounts make but not all live up to the test. The Sidelok system has been put through its paces to ensure that, if you replace the mount exactly where you removed it from, your optic will still be on target.
Kinect and More
Maybe QD optics mounts aren't your thing. Maybe you like the QD mount you have. I get that. Kinetic Development Group is still a brand worth knowing. While there are other options for a QD optic mount, I don't know of anyone else with a QD MLOK rail section. KDG took their cam system that is in the Sidelok mounts and incorporated it into MLOK rail sections. They call is wonderful product the Kinect and it allows users to customize handguard mounted accessories with speed and consistency. Kinect gives you the ability to swap between different lights on one gun or transfer an offset mini red dot between two guns without needing tools or fine tuning clamps. Rapidly configure your gun from a home defense setup to a competition loadout and then back without breaking a sweat. That is pretty useful.
If you are fortunate enough to own a FNH SCAR, then I really hope you are familiar with Kinetic Development Group. Their SCAR Adaptable Stock (SAS) kit is a must have upgrade, at least in my opinion or anyone else who can't look at the factory stock without seeing boot memes. Maybe you can live with the stock as is but have been looking to upgrade the forend to something more versatile. The SCAR MREX gives you increased versatility while maintaining modularity and the sleek profile is downright attractive. Actually, that's true about all the parts KDG offers for the SCAR.
Regardless of whether you own a KDG product or if I've convinced you buy one, keep an eye on Kinetic Development Group. I love innovative designs and challenging the status quo, which makes KDG a brand that I am excited to follow as they grow.
Related Posts
« Get To Know Our Gear Up for a Cause 2016 Sponsors! Get Your Swing in Check! Sports Sensors Swing Speed Radar »