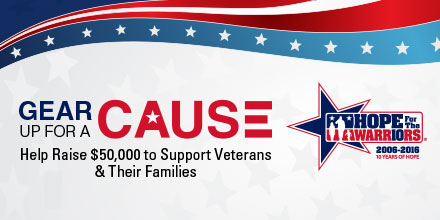 We're a week into our Second Annual Gear Up for a Cause charity drive, and you can read all about the charity we chose: Hope For The Warriors® here.
In case you didn't notice, we have 10 sponsors this year. So what does that mean? Well, if you purchase any products on OpticsPlanet by one of the campaign sponsors, the donation amount is FIVE times that of a purchase by any other manufacturer! Make sure your purchase goes further during the May 9th – June 16th campaign! Buy something from the following sponsors:
Crimson Trace
Crimson Trace is all about them lasers. Green. Red. IR. LaserGuard. LaserGrip. Whatever your preference is, these guys have it down to a science. Each laser is designed to specifically fit your firearm's make and model, ensuring you get the most out of your shooting experience. There's nothing quite like the feeling of hitting the target, especially multiple times in a row. Crimson Trace makes it happen with easy-to-use lasers. If you fancy a laser on your grip, they've got it. If you fancy a laser on your trigger guard, they've got that too. Get friendly with Crimson Trace through Facebook, Google+, Twitter, Youtube, Pinterest (yes, Pinterest), and Instagram.
EOTech is one of those brands that is constantly innovating ways to improve your hunting, law enforcement, military, competitive shooting experience. With holographic sights, thermal vision, and lights and lasers, EOTech takes your shooting world and turns it on its head. In addition to their contributions to the shooting world, EOTech is highly involved in the community with a Grant Assistance Program, which helps provide funding for city, county and state organizations; and LE Trade Up Program, which gives Law Enforcement the ability to trade in their old equipment for a new EOTech holographic sight.  Check out their Facebook, Twitter, Instagram, and their very cool Youtube videos!
Thanks to Fred Leupold, a German immigrant, Leupold has been around for over a century. With all the experience and dedication, Leupold creates high-quality, waterproof, and unchallenged rugged optics. Oh, you hunt? Oh, you go to the range? Oh, you're in the military? Oh, you like to golf? There's an optic designed and executed perfectly by Leupold. Ranging from binoculars, riflescopes, spotting scopes, rangefinders, and assorted mounting accessories, you're all set to get out there and improve your overall shooting and outdoor experience. Leupold is in several partnerships including: Cornell Lab of Ornithology, Paralyzed Veterans Association, and Archery Trade Association. (There are a ton more, but we really don't have the time, or space, to list them all.) Stay Connected with the good ol' boys of Leupold with the help of Facebook, Instagram, Twitter, and Youtube!
Nikon has a long history dating as far back as 1917, but was not officially named "Nikon" until 1946, marking the adoption for small-sized cameras. So, it's no wonder they know exactly what to include in their optics and equipment. Nikon, we're sure you've noticed, is all over the camera and sporting optics industry. They've also dived into the microscope and semiconductor/FPD lithography systems. Nikon provides excellent quality when dealing with photography, both the taking and printing of images, as well as giving clear, concise images while out in the field glassing. You know what we're going to say next? Social Media! Get closer with the brand behind the camera and optics with the help of Facebook, Twitter, Google+, Youtube, and Instagram!
Sellmark
Founded in 2000 by James Sellers as a full-service marketing firm, Sellmark Corporation is a leading manufacturer of outdoor lifestyle products headquartered in Mansfield, Texas. Sellmark's brands include: Sightmark, Pulsar, Firefield, 12 Survivors and Southern Crossbow.  Sellmark Corporation and its employees are committed to bringing the most innovative, highest quality and cost effective products to the ever-changing global marketplace. Sellmark's first priority is to provide its customers with the best value in consumer outdoor products by integrating the latest technologies, designs, operational excellence and marketing efforts. Focusing on underserved and growth categories allows Sellmark to increase market share in core strategic market positions, and permit for better production and marketing efficiencies.  You can also check them out on Facebook, Twitter, and Google+.
In 1947, in the face of demolished infrastructures and a collapsed economy, Karl Steiner started a one-man workshop in Bayreuth, Germany, obsessed with a single goal: creating optical products so functional, sturdy and uniformly flawless that nothing in the chaotic, mass-production post-war world could compare. These premium German optics are now available in 65 countries, prized by sportsmen and spectators, birders and mariners, aviators and explorers, and deployed by security and military forces around the globe. The research, development and production site in Bayreuth is arguably the most advanced optical facility on earth. As a member of the elite Beretta Group – the world's oldest weapons manufacturer – Steiner is stronger, more versatile, and more innovative than ever.  Follow them on Facebook and Youtube!
Over 40 years ago, NASA (yes, the NASA) needed a way to simulate sunlight outside the filtering of the atmosphere. Engineers set up in New Jersey and did just that. Later, these engineers became what is now known as Streamlight. Here's some other fun facts about Streamlight we're throwing at you: they have over 110 U.S. and foreign patents. They helped create the rating system for flashlights called ANSI (American National Standard Institute)/NEMA (National Electrical Manufacturers Association) to give you a professional and standardized way to compare flashlights. Basically, Streamlight is the straight-A student in lighting. They're the Grandfathers of lighting. They're just…awesome! Streamlight is also affiliated with various organizations including, but not limited to, COPS (Concerns of Police Survivors, Inc), NFFF (National Fallen Firefighters Foundation), and IHEA (International Hunter Education Association). They're no stranger to giving you great lighting solutions and giving back to the community. Check them out on their various social medias as well: Facebook, Twitter, Youtube.
With a mission to give you the best quality sights, Trijicon excels in the production of sighting systems for Military, Law Enforcement, and civilian usage. Their job is to get you seeing your target perfectly, whether for a firearm or archery. They've got your supply of reflex sights, iron sights, archery sights and magnified optics. Perfectly designed for different applications, Trijicon takes into account that you'll be hunting, at a range, or in the military. Perhaps you've ever heard of a couple of them: ACOG, AccuPoint, and VCOG, is just a sampling of what Trijicon has to offer. Are you all about that social media? You can catch up with Trijicon via Facebook, Twitter, and Youtube.
Bushnell has been the industry leader in high-performance sports optics for more than 65 years.  Their guiding principle is to provide the highest quality, most reliable and affordable sports optics products on the market, and they are great at that!  Some of our favorite products that have come into our office to try out have been Bushnell products.  Their products have consistently won design and performance awards, and their commitment to outstanding customer service and strong retailer partnerships is unmatched.  Bushnell is included in the Vista Outdoor brands, which also include a bunch of recognizable brands, such as: BLACKHAWK!, Weaver, Primos Hunting, Bolle, Camelbak, and many, many more!  Make sure to visit them at Facebook, Twitter, and Youtube!
Vortex is known as "The Force of Optics". What do they mean by that exactly? Well, they're the people you go to for a huge variety from riflescopes, red dots, rangefinders, binoculars, and spotting scopes. They're the people who have the same hobbies as you and have been out in the field. They're the ones who know just what you need and just what you don't. Vortex is a brand dedicated to giving you a great experience. Each product is handled with the attention and precision you expect. Being pre-inspected by the Vortex product experts, you're sure to get the most bang for your buck. If you're all about the social media, you can join the Vortex Nation by following Vortex on Twitter, Instagram, staying current with VortexNation.com, and liking their Facebook page or by watching new videos on Youtube.
We were able to get some great Sponsors this year for this amazing cause!  Make sure to get the most out of your donation, and shop from this year's Gear Up for a Cause sponsors.
Related Posts
« Grips: Fine Tune Your Foundation Kinetic Development Group (KDG) »