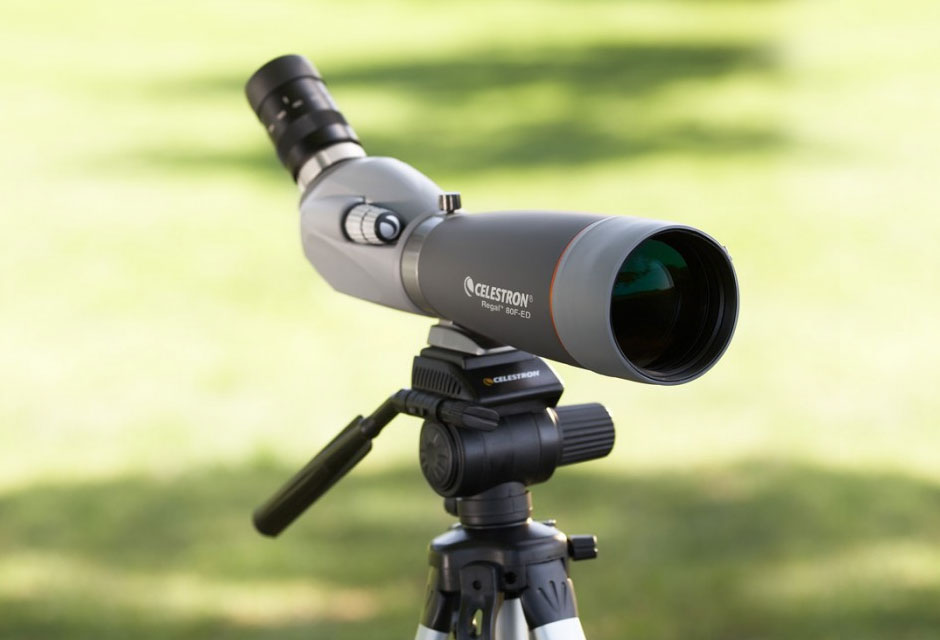 We've already discussed my love of Celestron. They are constantly evolving to meet the demands of a growing, changing market. I love their innovative nature, myself. Let's take a look at three awesome and affordable Celestron optics for all your birdwatching and stargazing needs!
Celestron Powerseeker 80EQ Refractor Telescope Package
If you're a beginner astronomer, the Celestron Powerseeker 80EQ Telescope is exactly where you want to start. Winner of the 2013 Brilliance Award for Best Beginner Telescope, this is an exclusive from OpticsPlanet. It includes the Celestron Motor Drive for motorizing your scope, as well as a ton of cool accessories to keep you busy for a long time. It's portable, it's powerful, and it makes a great gift for the stargazer in your life. Or maybe you can just keep it for yourself!
Celestron Ultima 80 Refractor 45 Degree Spotting Scope with Tripod.
Here's a sweet deal. A Celestron Ultima Spotting Scope and a Celestron Tripod? Yeah, I'll definitely take one of these. With an 80mm aperture, this powerful Ultima offers 50% brighter images than its 65mm cousins, but maintains a compact case. Along with these gorgeous optics, you'll get a 20-60x zoom eyepiece – what will you use it for? Nature hikes? Spotting that distant peak? It's easy to do when the eyepiece is angled. As Alex has mentioned before, an angled eyepiece is a much more natural viewing position. Set the whole package on the included tripod and you'll be scanning the land for hours! I find this to be a wonderful tool for observing nature, particularly in mountainous regions with good visibility.
Celestron C90 Mak Spotting Scope
Are you multifaceted and enjoy a variety of hobbies? The Celestron C90 Mak Spotting Scope with Tripod is the perfect combo scope for stargazing and birdwatching, as well as anything you might need a powerful scope for. This Makustov-style spotting scope features a big ol' 90mm objective lens, so dim objects can be clearly seen. Point this guy at the heavens and seek out stars, planets, and more. Or set it up in your backyard and take a look at the corpuscular critters roaming around. Either way, you're going to love this scope. Included is a 32mm eyepiece as well as an 8×21 Finderscope for honing in on your target. And of course, OpticsPlanet has included a tripod in this package.
So there you have it: three great scopes from Celestron. Tell us what you think of them! Any recommendations for first-time hobbyists?
Related Posts
« 10×42 OPMOD Binocular & the OPMOD MPASS 1.0 Limited Edition Spotting Scope 5.11 Concealed Carry – Get a Free Hat! »