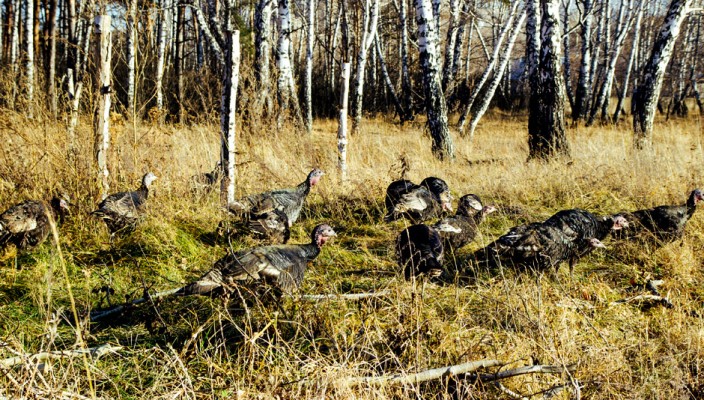 Hey guys, back here with another update for my Spring Turkey Season coming up. In case you can't tell, cabin fever is starting to hit me pretty hard and I'm itching to do some hunting! I have spent a good part of the last few weeks working on my calls and I'm pretty sure my dog and girlfriend are about to hunt me. I also realized that if I am going to hit it hard this year, I'd better be making sure all my gear is here before season starts. Therefore, I quit calling for a while and started thinking about the last few things I need to make this a successful spring.
As I mentioned in part one of this blog, I decided on giving up the blind this year and hitting the ground, getting more aggressive with my calling and stalking. I think this will provide a little more of a challenge, and that's something that I'm always looking for. I put a stalk on a deer this year by climbing out of the tree and covering tons of ground with my good old Matthews bow and closed the deal! I'm looking to challenge myself again this time with spring turkeys, and that means giving up my beloved cover.
I know this aggressive style means that I'm not always going to be able to find a nice tree or stump to lean into and will probably have to take a seat very quickly. I know this means that I might be stuck in rather uncomfortable positions due to the lack of back support and cushioning. In addition to this on the move style stalking/hunting, I realize I am going to need all my gear in a nice backpack/vest setup. Well, I think that this search has ended.  Every jellyhead hunter should look into the Tenzing Turkey Hunting Pack.
The Tenzing Turkey Hunting Pack with padded spring loaded chair is really cool. The pack has everything you could possibly need for a day out in the field with shell holders and pockets for just about all your gear for the day. What really makes this pack STAND out is the fact that there is a spring loaded stand that pops out the back like a bi-pod on a gun giving you spring loaded back support! This style of pack means I can give as much time as it takes to get that gobbler to come struttin' in!
Spring turkey hunting is usually booming with bugs, and it's evident as you watch the gobblers chow down on them like candy. That's why this year I'm going to be as covered as possible to protect against detection and bug bite irritation. A full size mesh face mask like the Primo Camouflage 6225 Face Mask is perfect – light weight and very breathable great for those warm spring days. The mask covers the entire head and has enough length to protect the front and back of the neck to my chest and shoulders. Stuffing the mask into my shirts will protect me against ticks and other horrible little biting insects.
Sitting in a pile of biting/stinging insects is no fun and will ruin a hunt very quickly. The same can be said for poison oak/ivy! That is exactly why a good pair of gloves is also needed. I found that the Primos Hunting Stretch- Fit Call Gloves w/Sure Grip and Extended Cuff not only will give you a little more help when it comes to hiding, but a good high cuffed glove will prevent plants/bugs getting on your hands and up your arms causing a potential body wide outbreak or reaction.
Finally, I will be upgrading the stock on my trustworthy bird slaying 870 to a Remington 195454 870 Shotgun Synthetic Stock, in Mossy Oak Obsession pattern with the thumbhole grip. The new grip means much more comfort and ease of handling when on the move. Also, I have noticed that the thumbhole really assists in those off-the-knee shots I find so common when knocking down a jellyhead! The Mossy Oak Obsession pattern is just about perfect for blending into that early spring foliage, and will get rid of the flash that may come off my classic beautiful wood stock.
So good luck this spring ladies and gents! Gear up now and make sure you got everything you need! If you have any questions or comments please let me know.
Related Posts
« Can You Hear them? Can You Call Them? Spring Turkey Time! The Importance of a Gun Belt »