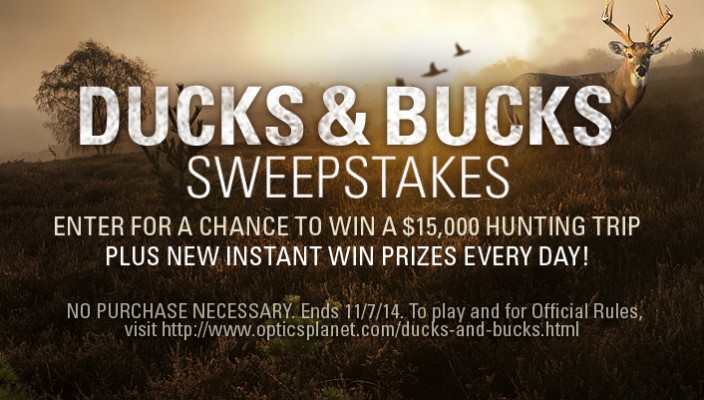 It may seem as though we're constantly giving away a bunch of awesome gear on the OpticsPlanet Facebook page. However generous our previous sweepstakes were, they are nothing compared to our ground-breaking "Ducks and Bucks" giveaway. EVERY single day until  11:59 PM, November 7th 2104, OpticsPlanet will be giving away a new prize. These prizes brought to you by Bushnell and Primos Hunting, range from everything from  a new riflescope to cleaning kits. The best part of this giveaway is the that when you participate in the interactive game, you'll instantly know that day if you won or not.
Of course there's a lot that can be said about the grand prize. The $15,000 all expenses paid, Wildlife Farms hunting retreat is the ultimate sportsmen experience. Nearly 2,000 acres of pristine land just outside of Little Rock Arkansas, Wildlife Farms is the ideal location for a wide range of hunting opportunities. No matter if you're in to hunting waterfowl or stalking whitetail is your thing, rest assured knowing the Wildlife Farms property has something for you.
Remember that the only way to enjoy everything that this monumental sweepstakes has to offer is enter. With any luck you could walk away a very happy hunter.
Enter Here: http://www.opticsplanet.com/ducks-and-bucks.html
Related Posts
« 4 Ways to Become A Firearm Fanboy Best Red Dot Sight Under $200 -Vortex OPMOD StrikeFire II »