HOW could this have happened? How did they do it? How did Vortex take the most desirable magnification range for an AR15 and cram it into an aircraft grade aluminum package for under four Benji's? This is the question that constantly woke me up in the middle of the night in a mixture of curiosity and excitement after getting to fondle the hell out of the Strike Eagle at SHOT Show 2015. Fast forward six months later and the teases that are Vortex Optics finally had one on my doorstep for further handling but this time it was attached to my .223 blaster.
For those of you not in the know, riflescopes with mag ranges like 1-6x, 1-7x, 1-8x and so on, almost always hit the "I need to hide this from my wife" price of $900 and up. Why? Put simply, it's really expensive to produce a scope that is a true 1x magnification but also have that medium range 6x power or more. As you can imagine, when the news broke that Vortex was going to release a 1-6x24mm scope for less than half the price of other manufacturers, guys from every nook and cranny of the internet lost their minds and rightfully so.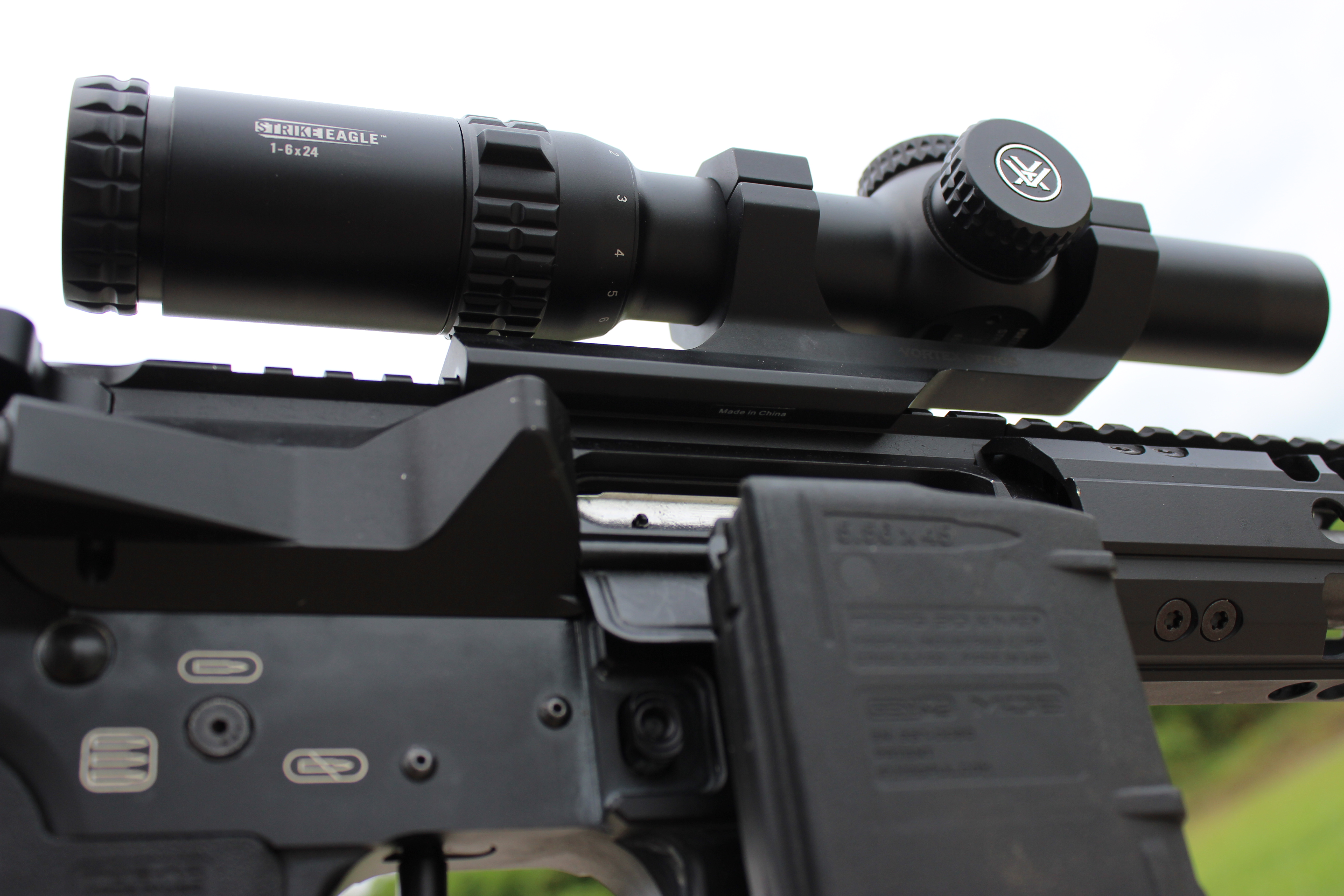 How did they do it and is it any good? The short answer is built it overseas and YES. Ready for the ramble? The reason why Vortex is able to keep the price point on this particular scope so low is that it is in fact either made entirely overseas or some/all of its components are manufactured overseas. Regardless of which method they use, I can guarantee you'll never think twice about the top notch quality of this scope. The manufacturing tolerances on all of their optics, along with this Strike Eagle, meet or exceed anything I've seen come out of the states. Before you start beating on your chest spouting "Murica" while wearing your American flag parachute pants, hear this!!!! Very few companies can or will produce 100% of products stateside. YES even the flag out in front of your house is most likely made across the pond. I'll give you a moment to let that sink in…..
Now that we're past that and you no longer think I'm a treasonist for even recommending (I'm getting there) a scope not entirely made in the U-S of A, the Strike Eagle is a solid "8". Ten being the best thing since sliced bread and one being a total hunk of junk that you can't even give away, an eight is pretty good.
What makes it an 8?
(Watch the video above)
–The fact it's a 1-6x. This mag range in my opinion is thee perfect setup for tactical/ competition shooting with your AR. On the low end you're able to shoot pretty fast and move from target to target a hair slower than a red dot. Crank that power ring to six and 300 to 450 yard targets are in clear view.
–The price…Duh. At $335 here, it's $70 more than that cheap toy that other company is making. The closest scope with the same quality level and mag range is many hundreds more.
–The Weight. At 17ish ounces it's on the lower weight side of the 1-6x riflescope spectrum.
–The reticle. It's illuminated with 11 brightness settings which are daylight visible. The reticle itself is what they call an AR-BDC, in others words it's built for your AR15 with bullet drop holdovers out to 600 yards. The one thing I'm a fan of is the large horseshoe for fast run and gun hosing of targets.
–Etched Reticle. Not only does it add strength to the reticle but you also get a sharp crisp reticle outline for longer range work.
–Capped Turrets. "Get you zero and never worry about it again", said no one with exposed turrets ever…All jokes aside, none of my scopes have exposed turrets because they're on rifles that get bumped and banged around. Vortex kept these capped because they know you're probably going to be doing the same thing. Big Plus!
–Waterproof, Fogproof, Shockproof. I did some early foggy morning shooting with this scope and a bunch of rifle 3-Gun barrel dumps and the scope never skipped a beat. Didn't get the chance to go swimming with it, but I assume after the other tests it'd do just fine.
–Smooth as glass. All of the knobs, turret clicks, eyepiece and power ring are surprisingly smooth to the turn/twist.
–VIP Lifetime Warranty. I have a feeling after just over two months of semi hard use and way too much canoodling (yes you read that right) the Strike Eagle is probably going to outlast the AR it's cinched down on. HOWEVER if I'm completely wrong and it gets run over, spontaneously combusts or any other dastardly destructive acts deem it "broken" then it's off to Vortex to get fixed or replaced for free. It's a warranty that leaves you feeling all warm and fuzzy inside.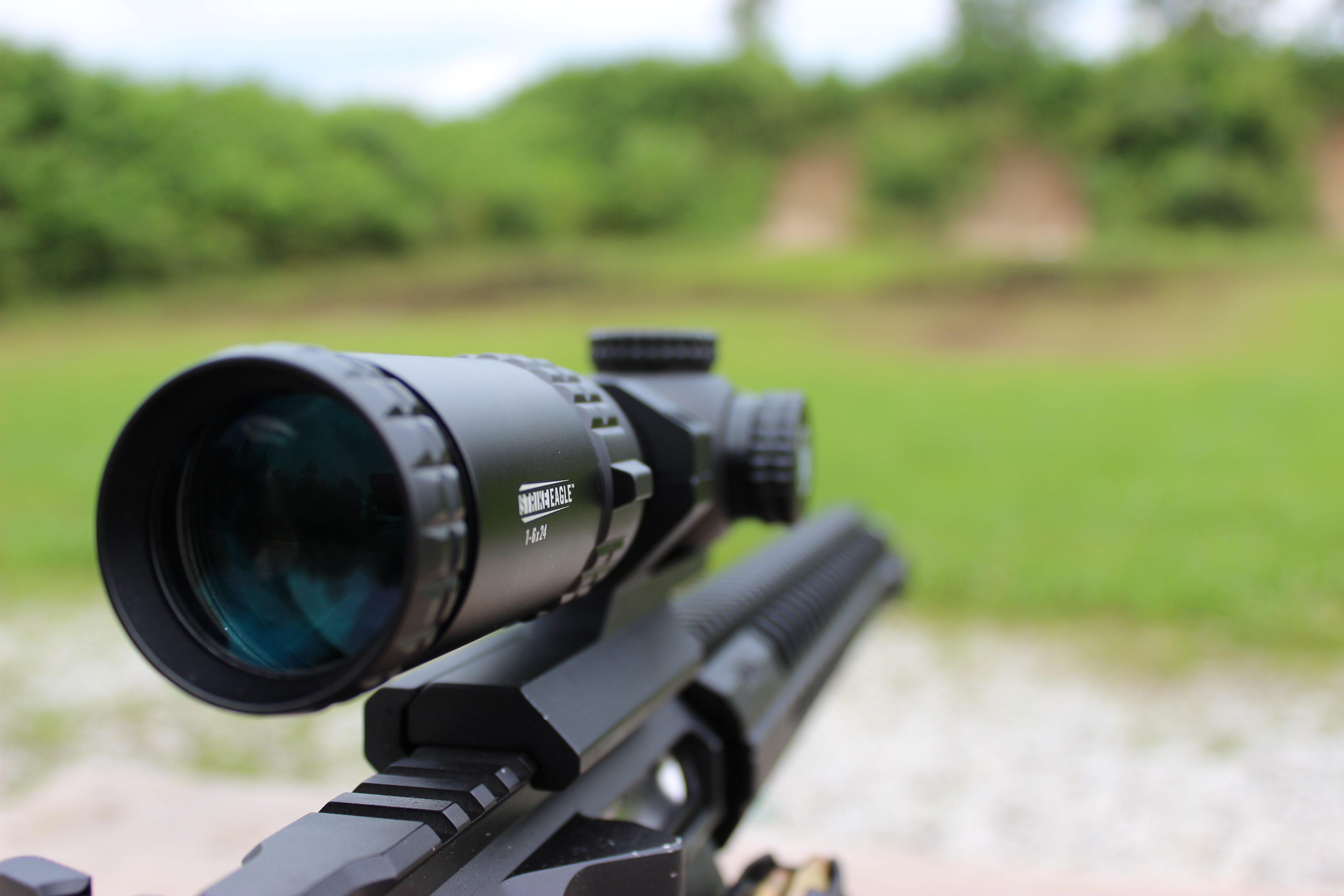 What makes it not a 10?
-The reticle. For what I'm doing, 3-Gun, it's just not as precise as I'd like. Don't get me wrong I'll have this on my backup rifle but my primary rifle I like/need/want a small 1 MOA center dot. Heck your usage may differ and the "T" crosshair may be all that you need. Different strokes for different folks.
-1/2 MOA Adjustments. Most of the people that buy this scope are not going to need to shoot a quarter at 200 yards. If ultra-precision is your forte, you may want to spend a few extra bucks and get the Vortex Razor Hd GenII 1-6x. While ½ MOA adjustment clicks on the windage are "OK" for dialing in your zero, those of us shooting hand loads and match grade ammo need ¼ MOA clicks.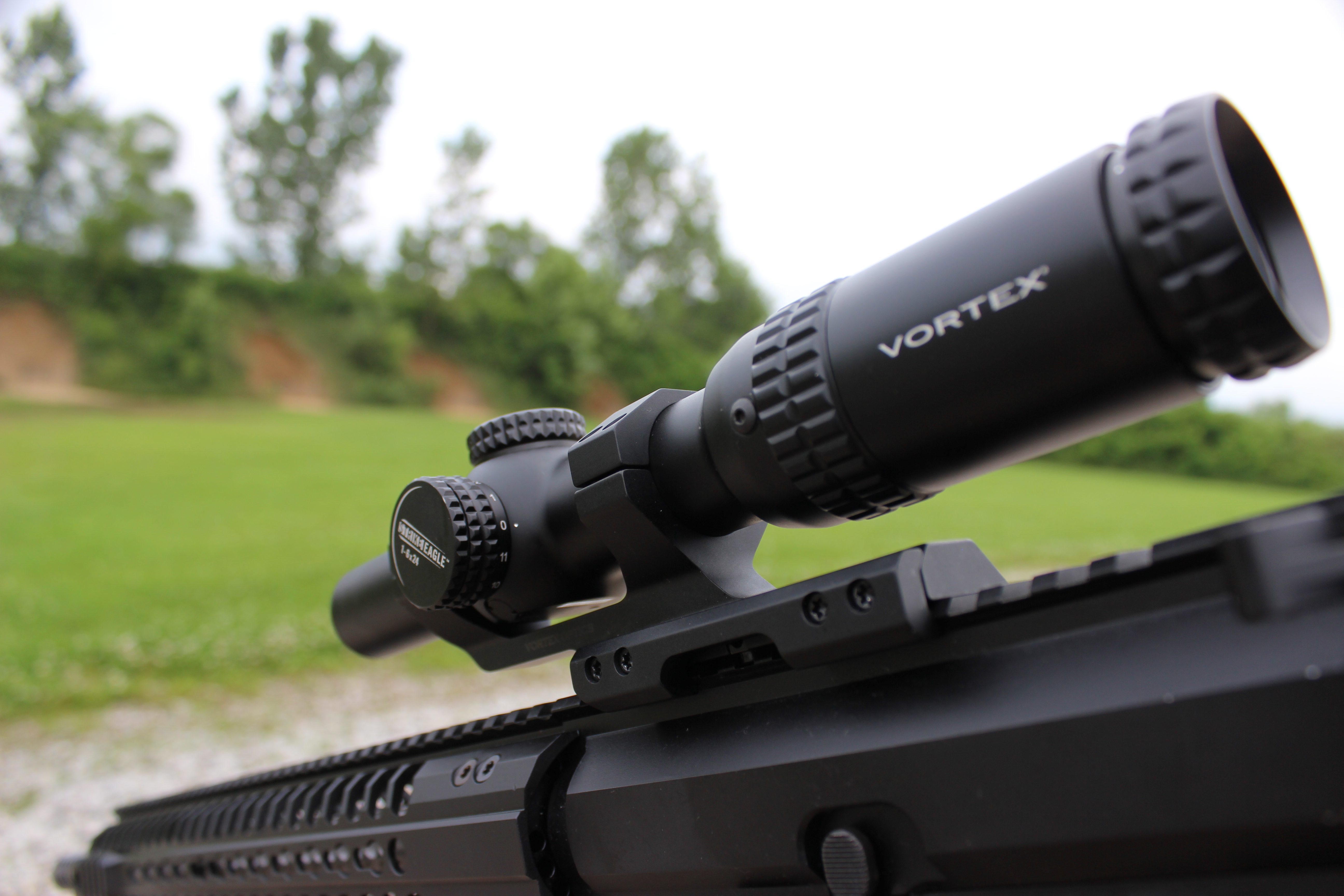 The Verdict
I hate to disappoint but this scope is not a 10/10 but an 8 which with the price considered is pretty damn good. I mean c'mon a 10 might look good on paper, but usually doesn't pan out to be "that" great and usually doesn't treat you as well as you brag about to your buddies at the range. The Strike Eagle is rare in that it's an 8 that all of your pew pew pals want but doesn't leave you broke and quite matter of factly, it's a cheap date. It's the one you'll be glad you brought home and is most definitely going to be with you for a long time. We're talking about riflescopes still………right?
Related Posts
« Heat Up your Summer with Nikon Glass Vortex Optics Talon 8×42 Binocular Review »