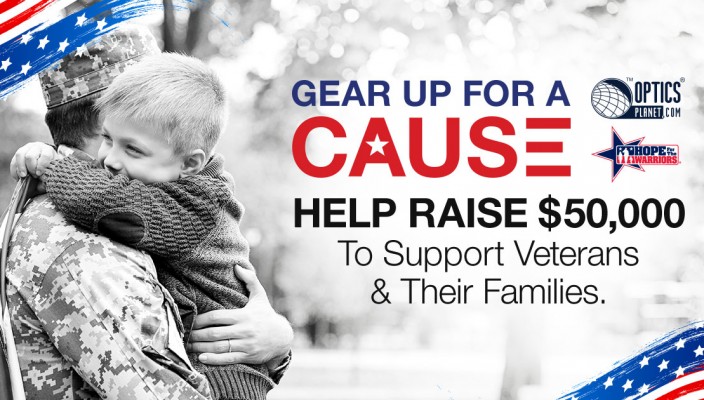 GUFAC – Gear Up for a Cause
Once more, the time has come to give back. OpticsPlanet is implementing our Gear Up for a Cause campaign for the third year in a row. We need your help to show our support for the Hope For The Warriors® charity. We have doubled our donation goal from last year, attempting to raise $50,000 in just a six week campaign. Starting now, a portion of every sale will contribute to Gear Up for a Cause and benefit Hope For The Warriors®.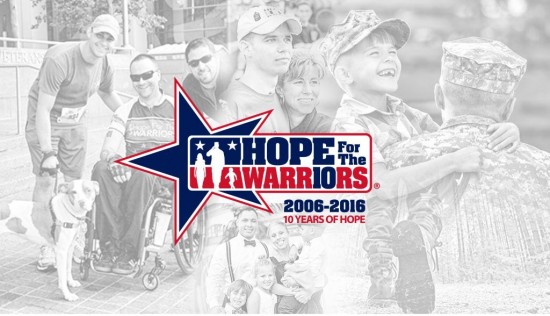 It couldn't be easier. Each time you place an order at OpticsPlanet.com, from now until June 18th, a portion of the net proceeds will go towards our charitable donation to Hope For The Warriors®. In support of your contribution, each of our campaign partners will donate up to five times the amount of their sales proceeds. Together we can make an impact and support our nation's heroes. Further details can be found here.
Many of our OpticsPlanet customers are active and retired military, while countless more are friends and family of service members. That is why we repeatedly run our Gear Up for a Cause campaign and what lead us to working with Hope For The Warriors®. For 6 weeks, our customers can take advantage of special discounts, limited deals, and exclusive items to show their appreciation and give back through a renowned charity like Hope For The Warriors®. Sign up for the OpticsPlanet newsletter (located at the bottom of the site, above "Information") to ensure you don't miss any of these opportunities.
Gearing Up For Hope
Choosing Hope For The Warriors® was easy because they are an outstanding not-for-profit organization that has been looking after service members and their families since 2006. They made their start at Camp Lejeune in North Carolina and since then have grown well beyond that Marine Corps base. Witnessing firsthand the effects of conflict upon service members and their families, Hope For The Warriors® dedicated themselves to serving those who have served. By providing a full cycle of care, Hope For The Warriors® restores a sense of self, family, and hope to those who need it most.

Their mission is to help warriors and their families succeed in their lives post service. Hope For The Warriors® provides national, comprehensive support programs for active military, veterans, and their families. These programs are focused on facilitating transitioning, maintaining health and wellness, encouraging peer engagement, and providing connections to community resources.

Hope For The Warriors® has accomplished countless goals in their over a decade support of service members and as such has been deemed a 4 star charity by Charity Navigator for over 5 years. Their A Warriors Wish® grant, which provides opportunities for wounded veterans or their families to fulfill their dreams, is just one of the many facets of care and support that Hope For The Warriors® provides.
Campaign Partners
But Hope For The Warriors® can't and shouldn't do it alone. The more people we get involved, the more effective we can be, which is why we have recruited campaign partners like Bushnell, Crimson Trace, FLIR, Holosun, Leupold, Pulsar, Steiner, Streamlight, Surefire, Trijicon, and Vortex. Each one has committed to donating an amount equal to or greater than the standard order donation when any of their products are ordered during the campaign. Help us reach our donation goal by utilizing our campaign partners' pledge.
Your purchase and subsequent donation is going to support our service members and their families with Clinical resources, Transition services, Community Engagement and Development opportunities, and so much more. Together we can empower Hope For The Warriors® and give back to those who have sacrificed so much for us.
Don't miss out on this great campaign, we will be posting various deals and opportunities throughout the 6 week duration.
Gear for you, Hope for Them
Place an order before June 18th. Help us reach our goal. Make a difference.
Related Posts
« MultiVault: Security without Compromise 13C Gun Reviews: Nikon Black Force 1000 1-4X24 IL Speed Force Optic »