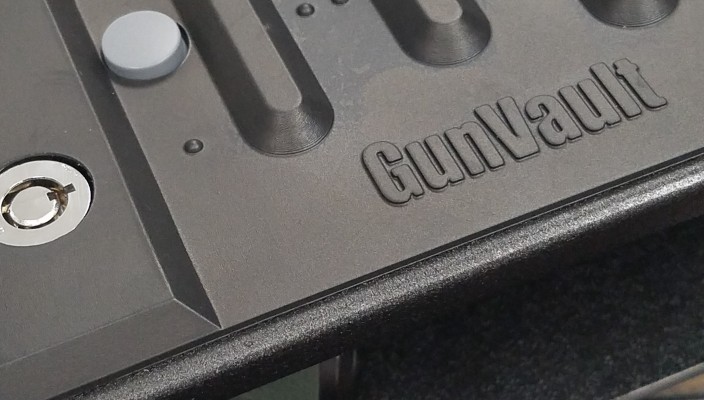 Whether you are a new firearm owner or an experienced one, you should have been taught that keeping your guns secure is a priority. What most people soon learn though is that finding a balance between secure and accessible can be tough. You want to be able to get to it when you need it but don't want unauthorized people to have access. Thankfully GunVault has you covered with the MultiVault.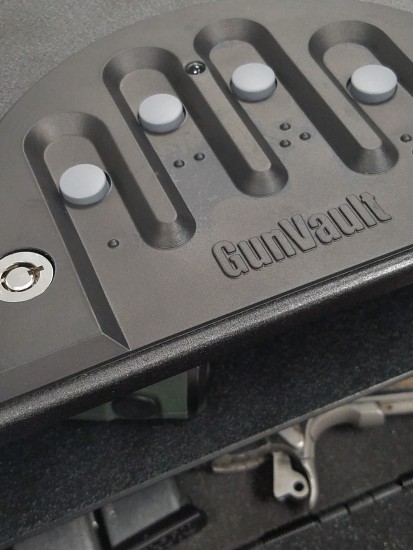 GunVault makes a variety of secure storage devices, each with several access options. I own a couple different safes already, but one is not meant for firearms and the other is large enough to secure long guns. Neither of which is close to my bed or designed for quick access so with those requirements in mind the model I have recently acquired is the GV 2000S aka the MultiVault Standard.
Built with 16 gauge steel, the MultiVault is an electronic lockbox for pistols and valuables. The steel box is foam lined and has a plastic shelf/divider that can be removed. The interior space is 6"x9"x12.75" which easily fits full size handguns as well as spare magazines, knives, or other valuables that you want to keep secure. The spring loaded door pops open whether you use the keypad or the override key and the safe can be bolted down with the included hardware or tethered with a security cable (available separately).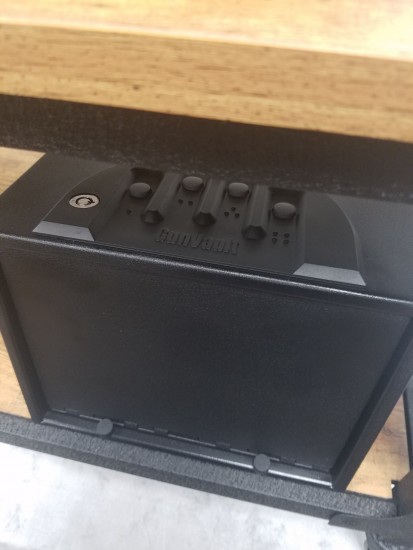 The MultiVault is available in a biometric lock configuration, but the standard configuration simply uses the "No-Eyes" keypad which is a four button keypad that has each button located at the fingertip of a hand print. While the key pad does not use numbers, you can create a code that is 3-6 entries. An entry could be a single button push, such as the pointer finger button, or by pushing two buttons simultaneously. This allows for over 12million possible access codes. Just make sure you remember the code you select.
The safe runs off a 9 volt battery and has both an audio and visual low battery indicator. To program your desired code, press the "learn" button located on the top of the inside of the box. Entering an invalid code triggers the "Tamper indicator", which can be checked by pressing down the middle and ring finger buttons for five seconds. The LED will glow Red if an invalid code has been entered or glow green if otherwise. Repeated invalid code entries will cause the keypad to lockout for 2 minutes and only the override key can open the safe in the meantime.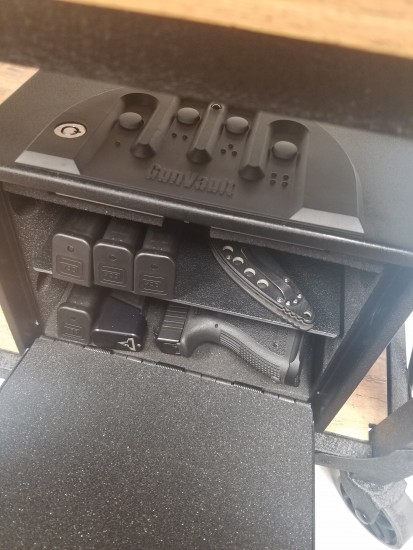 I put the MultiVault on the bottom shelf of my nightstand so I can simply roll over in bed to reach it. I didn't want to mount the safe to my nightstand so instead I chose to use a security cable. The "No-Eyes" keypad is much easier to work with in the dark than a traditional numerical keypad. I also chose to deactivate the keypad sounds as the tactile click is more than enough to indicate an entry. Since the shelf is easily removed, I chose not to put anything of substantial weight on it. I stored my firearm and spare magazines on the bottom while using the top space for a knife and some other valuables.
There is also a deluxe model available, which uses the "No-Eyes" keypad but offers some additional features such as an interior light, motion detector with alarm, and has an external AC power supply. All three models of the MultiVault are California DOJ approved.
While there are lots of options for responsible and secure firearm storage, I like that GunVault products don't force me to compromise accessibility for security. I also like the versatility of the MultiVault as it is large enough to fit any of my handguns along with extra magazines and other valuables. Add one to your home, you won't regret it.
Related Posts
« Leupold LTO-Tracker: Pocket Sized Efficiency Gear Up – for a Cause! 2017 »