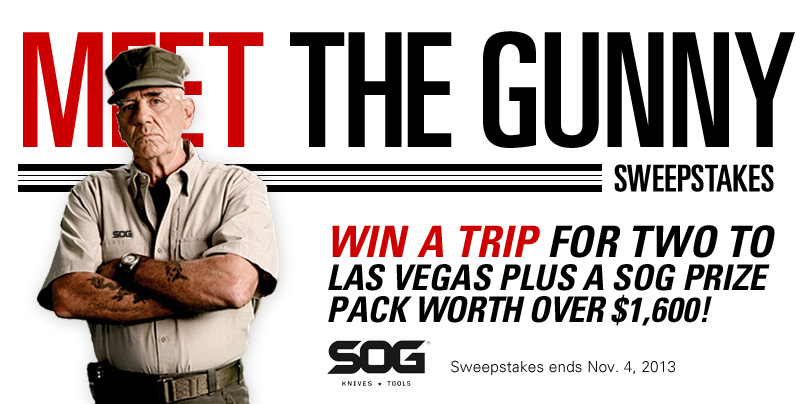 File this under the category of "Stuff I Really Wish They Would Let Me Sign Up For." OpticsPlanet has just launched their Meet the Gunny Sweepstakes, sponsored by SOG! Head over now to enter, and I'll tell you why you want to.
This sweepstakes has everything, but let's start with the good stuff. You know the Gunny, right? Featured in a number of big hit movies, as well as being a legendary drill sergeant, R. Lee Ermey ("The Gunny") is beloved by his fans. If you're one of them, you'll want to enter this sweepstakes. Should you win, you and a friend will be flown out to Las Vegas for a 3 night stay at the Mirage Hotel and Casino, where you'll get to have a meet and greet with the Gunny himself. What you discuss is totally up to you, but I know I'd probably ask him to yell at me at least once.
The prize package includes two round trip flights for you and an extremely lucky friend, plus the three night stay at the Mirage. Plus, you'll just get to be in Las Vegas – how cool is that? I'm not sure what the best part of this prize package is (yes I do – meeting the Gunny, of course!)
On top of this awesome trip, you'll go home with a massive SOG prize package worth $1,600! This includes a ton of great gear like knives, tools, and more. Here's a few of the highlights:
Plus a whole lot more. Check out the sweepstakes page for a full list, and be sure to enter for your chance to win! I'm really jealous of all of you who get to enter. Say hi to the Gunny for me, and as always, tell us who you would take with you in the comments or on our Facebook page!
Related Posts
« Hogue Knives from Allen Elishewitz Just A Few Days Left to Score Big with Nikon BDC Bonus Days »