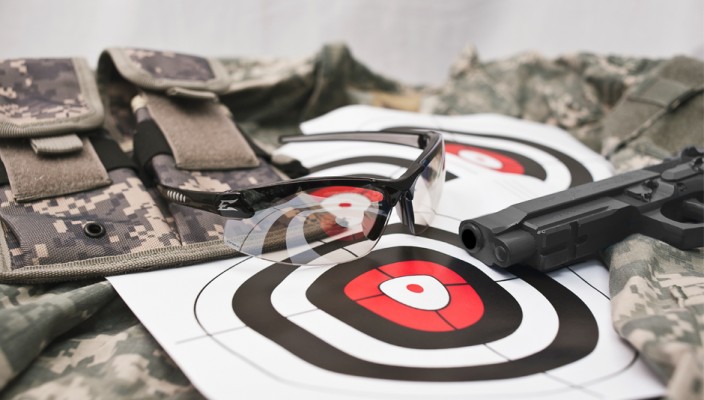 The human eye has more than two million moving parts and is one of the most sensitive parts of our body. Protect those precious round things that sit to the left and right of your nose with the OPMOD Edge ZRG+ shooting glasses. It is rare in life for the words "quality" and "affordable" being used to describe a piece of gear. I can tell you from firsthand experience that these glasses are high quality and definitely won't break the bank.
)
When it comes to shooting glasses, there are two important things that they have to do: protect your eyes and feel nice on your head. If you spend a lot of time at range then you're probably used to getting pelted with brass from every direction. The difference between "okay" glasses and glasses that are quality is whether or not they can take a direct hit from shrapnel. The OPMOD ZRG+ shooting glasses meet the ANSI Z87.1 2003 safety standards, meaning that the lenses can withstand a hit from a quarter inch steel ball traveling at 150 feet per second. It is safe to say that flying brass has met its match.
One of the problems with eyewear is finding glasses that fit our heads and face right. This is because no two people have the same face and head. Actually, this is one of the hardest things for eyewear companies to figure out! The guys at OPMOD and Edge did a lot of research and have come out with a pair of lenses that are so universal, they can fit almost any shape. This is extremely important if you're on the range as long as I am.
If you're an avid shooter or you love the outdoors, then you know that looking good is half the battle. I have taken these OPMOD ZRG+ shooting glasses with me everywhere. I've used these while mountain biking, hours at the gun range, cleaning my guns, and even working under my car and the glasses looked good no matter the scenario. I've grown so attached to them that I constantly worry when they fall or hit something, but every time they come away without a scratch. The anti-scratch coating on the ZRG+ glasses is no joke; I challenge you to scratch these during normal use.
If you're looking for shooting glasses, the basics are simple: fit and protection. The OPMOD Edge ZRG+ shooting glasses do just that, but give you added benefits like anti fog and an anti-scratch coating (plus they just look really good).  You would be hard pressed to find a pair of shooting glasses like this at this price. Let me know what you guys think of these awesome glasses!
Related Posts
« "Rolling, Rolling, Rolling Get those Walleyes Rolling" Walleye Run 2014! Stalked In Darkness: Preparing for Next Year »