Devin completed the third and final portion of his write-up on camping Mt. Rainier for us today, and he focused on the Brunton Get-Back Mini GPS.  This is a very simple, easy to use GPS unit that's fun to take camping.  I've used similar units in Northern Minnesota and found them to have more accurate readings than the GPS on my phone, especially when you're far from a major city.  From this GPS unit to the Vanguard Endeavor Binoculars and SureFire AZ2 Flashlightit seems Devin was very well prepared for his camping trip!
I've used a few of the GPS units we carry on OpticsPlanet.com on various camping trips and so far the Brunton Get-Back Mini has been my favorite. For starters this unit is nice and compact so it's easily packed and carried on a hike where every ounce of weight counts. It is approximately the size of a wrist watch but it's easily kept secure on your person with the help of its handy wrist lanyard.

I also like how easy the Get-Back is to use. I didn't even need the directions to get started though I double checked them to make sure I had in fact set my markers correctly. The screen is black and grey digital display and hitting the power button after the unit is powered on will toggle the backlight on/off. It has the ability to store 3 points in memory which will adjust direction when you move and the points you set are accurate to 12 feet in normal GPS mode.
The Get-Back also comes equipped with a built in digital compass which is kind of handy! I measured it's accuracy next to a trusty old liquid filled compass and as far as I could tell it appeared to be right on the money. Brunton warns that the signal to this unit can be occasianlly interrupted by dense tree cover or by atmospheric condition however I was hiking Rainier on an overcast day in thick fog for part of the hike and I didn't experience this problem. The Brunton Get-Back Mini GPS has a rechargeable battery that lasts 12 hours according to the manual and the on screen battery meter. I never tested this but I hiked with it for several hours on a single charge and it still had plenty of juice left. You can charge the unit through mini USB if you have an outlet adapter, with either your computer at home or a portable solar panel in the field.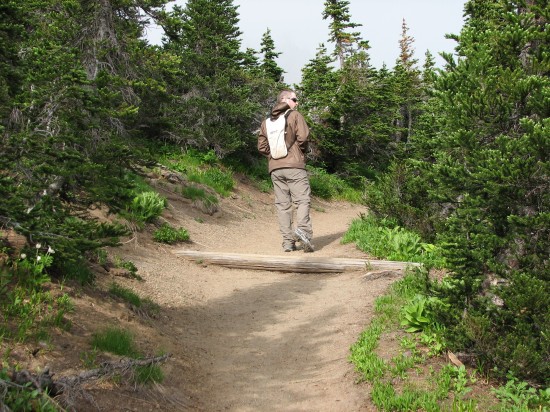 Don't get lost on the trails! Use a Brunton GPS to find your way!
I consider myself to be a bit more of an old fashioned outdoorsman. I prefer low tech solutions for camping and hiking since getting out in nature to me is to get a break from technology for a bit.  Brunton states in the user guide that this unit shouldn't be your only form of backcountry navigation and is no substitute for backcountry expertise and good common sense.  I do agree with that whole heartedly. However, this little GPS unit is a pretty cool product and definitely not just a toy or a gimmick. I would definitely recommend this to any technophile interested in a cool new gadget or to give one as a gift to that outdoorsman in your life or to someone you know who has a terrible sense of direction.
Brunton makes a handful of GPS units and compasses, each with its own intended use (such as the Brunton Summit Altimeter Barometer Compass, which is primarily for climbers who need to check the weather and get their bearings), but from everything Devin said it seems the Get-Back is perfect for hikers because of its small size, accuracy, ease of use and long battery life.  The next time you're on a camping trip you should consider picking one up for yourself!
Latest posts by OpticsPlanet
(see all)
Related Posts
« Hiking Mt. Rainier Part 2 – The SureFire AZ2 LED Flashlight Impresses! Get Started with Night Vision with the Armasight OPMOD GEN1M Monocular! »