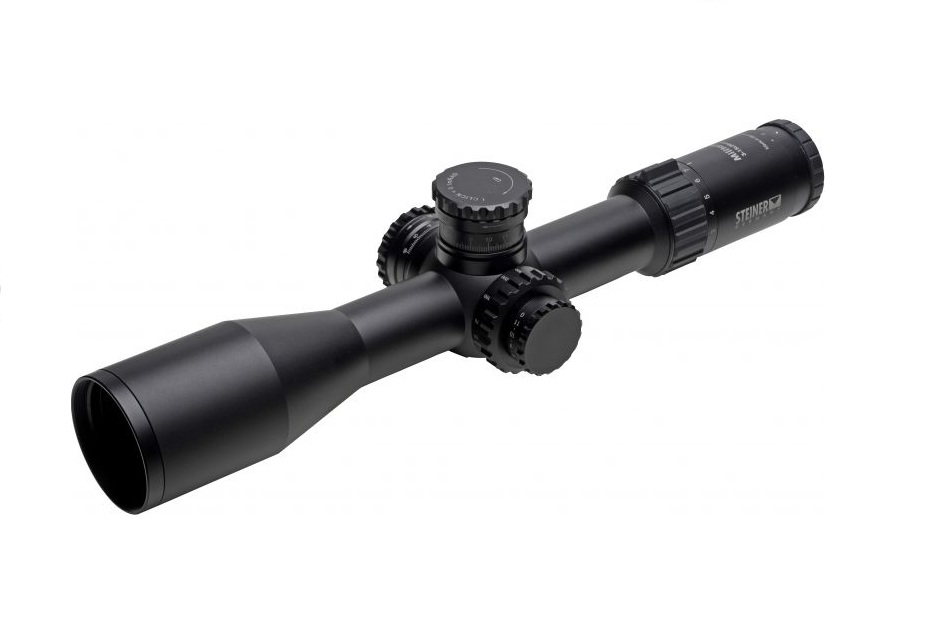 How much do I love Steiner? And how much do they love the GearExpert and OpticsPlanet team? A whole bunch, apparently, and for good reason – there's a lot to love from the new scopes we've got from Steiner. This includes their Military Tactical Rifle Scopes and a line of NightHunter Xtreme scopes, which OpticsPlanet has gotten an exclusive first look at. I want to give you the rundown on these new scopes because, as we've established, I love Steiner.
The Steiner Military 3-15×50 Tactical Scopes are packed with new features while still maintaining the quality that you've come to expect from Steiner – you know, rugged, durable, waterproof, just generally cool-looking. In general, everything the military demands in a package fit for the civilian market. What sets these Tactical Riflescopes apart are the superior optics. Everything from the lenses to the reticles have been honed to a T through sophisticated and complex engineering. And speaking of the reticles – they feature 11 different illumination settings, allowing you to fine-tune your shooting experience. Plus, these Steiner riflescopes are built for use in tactical situations, so the turrets are tactile and easy to adjust without fear of jogging your scope out of zero. Get your hands on one of these Steiner Tactical Riflescopes and you're going to see exactly what I mean.
And so we move from tactical applications to hunting, and I've got some great news – OpticsPlanet has gotten an exclusive look at Steiner's newest offering. Their NightHunter Xtreme Rifle Scope line will blow you away. Available in four zoom and objective choices, the NightHunter Xtreme series has plenty to love. From quality optics, Steiner NoNoise and ComfortUse operation, to Diamond-Night-Coating, you truly get amazing image quality with illuminated reticles that allow for low-light hunting (hence the NightHunter).
What sets the Steiner NightHunter Xtreme Riflescope line apart from the pack is an auto intelligent illumination system that can automatically adjust your reticle's brightness. This means you'll spend less time fiddling with your scope and more time eyeing that prize buck that just crossed the field. All four scopes have this feature and are packed with many more, so if you're thinking of hunting in the evening or even at night, you'll want to check out them out when they hit the shelves.
I'm excited for both of these scope lines. Whether you're looking for tactical or hunting applications, Steiner's got a scope for you. "But what's your favorite?" I hear you asking. How am I supposed to choose between such awesome scopes? I will say that I like to be able to take longer shots, but it's all personal preference. But why don't you let me know which scopes are the most appealing in the comments? I myself am having a hard time choosing between all these Steiner scopes, and I have been trying to plan a hunt for a while now…
Related Posts
« How do you Pick a Gun? Springfield Vs. Glock Debate! Gun Safes Big & Small – What do I need? »