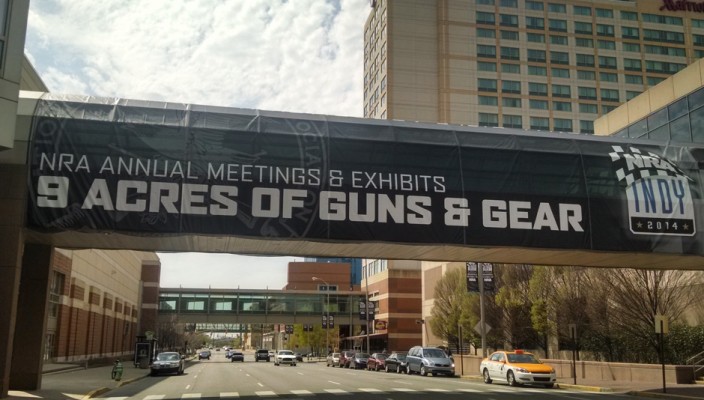 Majority of the folks that I've talked to head to the NRA Annual Meeting for the guns and gear. Heck why wouldn't you? There's probably more guns per square inch at the event than many get to see in a lifetime. I'm as gun crazy as it gets but after reflecting on what tickled my fancy the most about the show there was only one answer: the people. There's a good chance that you're thinking I'm crazy for believing that the people of the show are what was the coolest to see and you're probably right. What I'm really talking about is how people whom we normally praise and look up to in the industrywalk among us as equals. It is truly remarkable how the people that we hold on this pedestal, take the time to not only stop and have a conversation with the Average Joe but do it in a manner that exudes character.  I've been fortunate enough to meet and talk to over a dozen of A-list firearms community celebrities while at the show and here are a few that were truly great to meet.
Chris Costa- In the tactical community, he is one of the few men that needs no introduction. In case you don't know who this bearded wonder is, let me break it down for you. Mr. Costa started his career out in the U.S. Coast Guard conducting counter drug missions in the Middle East, Europe, and South America. After 12 years of faithful service he went to work in the private sector for Applied Marine Technologies Inc., teaching homeland security personnel how to defend critical infrastructure. When that was all said and done, he took a join with a little company by the name of Magpul. While there he became president of the Magpul Dynamics, the training DVDs that we know and love. He left them and started his own training company, Costa Ludus. Basically everything the guy touches turns to gold.
Matt Hughes- For a man that could kill me with his bare hands, he sure didn't act like it. He may have been one of the nicest guys I met at the show, that being said I still kept the jokes at a minimum. For those of you that don't know, Matt is a 9 time UFC Welterweight champion. I was shocked to find out that he is actually going to the be the host of a new show on the Sportsman Channel titled "Uncaged". The show airs this summer and will feature Matt giving viewers an inside look at some of the most challenging free range hunts in the world.
Kyle Lamb- To call this man an operator would be an understatement. With over 21 years of service in the Army and 15  of those years with U.S. Special Operations, he's spent a great deal of his life protecting this country. After conducting combat operations in Somalia (Blackhawk down incident), Desert Storm, Bosnia, as well as time in the current Iraqi war, he decided to start his own company Viking Tactics. Mr. Lamb is not only the president of the company which develops top of the line weapon accessories but also trains military, law enforcement and civilians the skills he's learned while serving. If that wasn't enough, he's also the author of two remarkable books "Green Eyes and Black Rifles" and his latest "Leadership in the Shadows". While at the show, Kyle was extremely active in not only taking the time to say hi to his many fans but along with that he gave a phenomenal presentation about his book Leadership in the Shadows. The once in a lifetime experience had people packed to the brim to listen to this hero talk about his experiences. According to a spokesman for the NRA "Kyle's presentation was a big hit and greatly appreciated".
Rob Pincus- I was fortunate enough to spend quite a bit of time with Rob at the Cannon Safe booth and I had a chance to dig a little deeper into the mind of this firearms training genius. Rob Pincus is the owner of I.C.E. training company, managing editor of Personal Defense Network, staff writer for S.W.A.T. magazine since 2001, developer of  the Personal Defense DVD series, author of The Training Log Book and Combat Focus Shooting: Intuitive Shooting Fundamentals.  While at the NRA Annual Meeting, Rob was a busy man giving several presentations on Home Defense Concepts and Defensive Shooting Skills Development. After bombarding Rob with questions from his favorite gun to best places to eat in Ohio, I was able to find out what he liked most about the show. According to Rob "It makes me happy to meet with the hundreds of responsible civilians and inform them about training and the mindset required." All I can say is keep this guy on your radar because he has plenty of big things in the works.
Colion Noir and Amy Robbins- Colion and Amy don't draw their expertise from kicking in doors overseas or years as firearms trainers, rather it comes from embodying the voice of the pro gun younger generation. Colion is about as gun crazy as it gets and likes to consider himself an urban gun enthusiast. Last year Colion became an NRA commentator and quickly proved his worth with viral well spoken updates on what the leftists are up to as well as extremely well made gun reviews. Colion and co-host Amy will debut in a series titled "NOIR" on the latest digital channel NRA Freestyle TV. Viewers can expect to see everything from fashion to firearms to be covered in this new show which airs April 30th on NRAFreestyle.tv.
Along with the firearms communities finest, I had the chance to meet Clifton "Ton" Jones from the popular TV show Auction Hunters, the lightning fast Jerry Miculek, and a certain senator from Pennsylvania, all of which were polite and more welcoming than you could ask for.   Am I crazy for heading to largest gun show in the world and getting more enjoyment out of the people? Without the people that attend the show and celebs that make up the industry, there is no NRA Annual Meeting.
I'd like to thank everyone mentioned in this post for taking time to speak with me even thought they were unbelievably busy at the show.
Related Posts
« Top 5 Firearms from the 2014 NRA Annual Meeting NRA 2014 – "RedRing… Me Up!" »