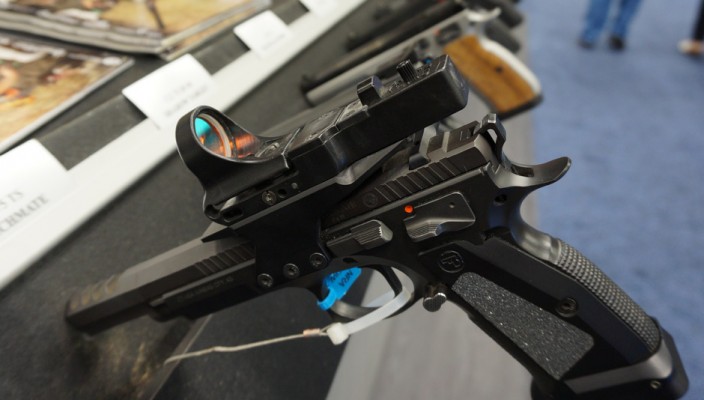 Every year, thousands of people make their way from destinations across the country to the NRA annual meeting and some of us are even lucky enough to be paid to attend this firearms industry Mecca. No matter where you come from or what your profession is, we're all giddy to see the latest offerings from the leading manufacturers. The 143rd NRA annual meeting went off without a hitch considering  the wide talk of potential anti-gun protests. After covering every square inch of the 9 acres of guns and gear the Indianapolis convention center had to offer, I've narrowed down my favorite firearms of the show.
SIG Sauer MPX-P – Who said us civilians couldn't own a submachine gun? SIG has high hopes for this wicked multi-caliber "pistol"(wink-wink). Not only does this pistol remind me of a mix between an H&K MP5 and UMP, but it features SIG's tried and true short stroke gas piston operating system. This means no matter what you're doing or where you're shooting this baby is going to function. What really excites me is the ability to quickly and easily change not only barrel length but caliber as well. SIG will be offering the MPX in 9mm NATO, 357 SIG, and 40 S&W. All this comes together to give you a small and nimble weapon system that is classified as pistol but readily takes advantage of SIG's very own SB15 forearm brace. I was told at the show that we can expect this exact model to hit stores soon with an initial street price under $2k.
SPHINX SDP Compact Duotone – After being unimpressed at guns coated in every color of the rainbow at the show, I was caught dead in my tracks by this beauty. In my opinion if the Jericho 941 baby eagle and CZ75 came together and had a kid, this pistol would be the end result. The SPHINX SDP compact isn't brand spanking new on the market but this Duotone model sure is. The SDP uses the same slide in frame and full guide rail design as the infamous CZ but is by no means a clone. You could say that this is a semi custom gun, seeing as how each slide is hand fit to rest perfectly in the metal frame. The folks at SPHINX couldn't provide me with an estimated date as to when we can see this attractive 9mm at gun stores but after seeing it, I can't wait to own one.
Faxon Firearms ARAK 21 Upper Receiver– Ok, so technically this isn't a firearm but it'll turn any AR-15 lower into a gun we AR guys have always wanted. The ARAK-21 by Faxon Firearms aims to blend all the best features of the AR-15 and AK47 into one unit.  There are other upper receivers on the market that try to make this happen, however with the ARAK-21 you don't have to change a single thing on your existing lower receiver. What instantly grabs my attention is that this system no longer requires a buffer assembly to function, so now you can finally have that folding stock you've always wanted. Another great selling point for me is the easily adjustable gas system, a simple click of a knob allows you to shoot subsonic ammo. Also if you're not satisfied with the ballistics of 5.56, this upper is available in the hard hitting 300 blackout round. With prices starting in the $1,100 range, you get quite a lot of versatility out of something that you can ship directly to your home.
SRM Arms Model 1216- Similar in size to some of the latest and greatest bull-pup shotguns on the market, The SRM Arms model 1216 is only 32.5 inches from muzzle to recoil pad. What that means for us shooters is an easily maneuverable semi-auto shotgun for clearing rooms or shooting out of a vehicle. Tired of cutting you thumb up when loading shells under pressure? Not a problem with the model 1216, this shotgun features a whopping 16 round detachable magazine. After blasting through the first 4 shells, you rotate the magazine one click over and go to town. Don't worry about shelling out the big bucks for slugs and buckshot to make this thing run, according to SRM Arms it'll function flawlessly with the lightest of target loads. Unfortunately picking up a unique semi-auto shotgun has it's drawbacks (list price is $2,400), however I do think it's worth it for what you're getting.
FNH FNS-9 Long Slide– Countless years of testing in various competitive shooting sports have spawned the FNS-9 Long Slide. The FNS-9 has been around for a while now and it only makes sense that FNH offer it in a long slide 5 inch barrel version. If you're split between an XD or M&P, this pistol is more or less a fusion of those firearms but does it with the impeccable quality that FN Herstal has been known for. I had the chance to talk with competitive shooter Pat Doyle about  the FNS-9, which he uses in USPSA. Pat pointed out several features that make the pistol one of a kind, like the front slide serrations, fully ambidextrous slide stop and magazine release, and the 3 included magazines that'll go to hell and back for you. I was also clued in that those of us looking to upgrade certain key components of this gun for faster follow up shots should expect to see new offerings from the aftermarket in the near future. Based on the time I spent manipulating this pistol and from the features Pat pointed out, this was my favorite gun of the show. And with a street price of $500, I have a feeling it's going to be extremely popular in the shooting sports community.
Every firearms manufacturer appears to be honed in to what we gun lovers want, and with the latest innovations as well as the reduction the MSRPs, it's truly a great time to be in the market for a new gun. Let me know what you think of my Top 5 firearms from the 2014 NRA Annual Meeting, as well as any additions you might make, in the comment box below. As always guys, shoot em straight and be safe!
Related Posts
« What's The Point? A Guide to Knife Blade Shapes NRA 2014 Annual Meeting Recap »