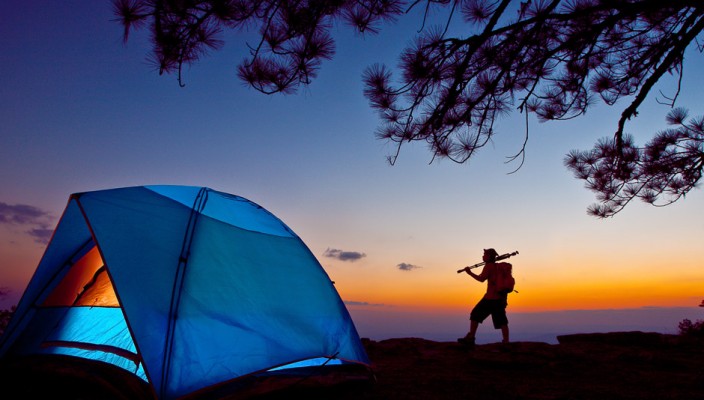 Nowhere in the camping handbook does it say that you need to buy a whole bunch of gear in order to have a great time in the outdoors. Some of you may enjoy leaving all technology behind and getting back to the basics. Others may like their campsite to feel like an extension of their home and that's fine too. The point is that you go out into the wild and gather experiences that you'll remember forever. But no one wants to have a bad time while taking in nature and these 7 pieces of gear will mean all the difference whether you're going with the minimalist or the "everything but the kitchen sink" approach.
1. Webbing or Accessory Cord- This might be one of the most overlooked products in the entire list, basically because its almost a no brainer. You put webbing or accessory cord in the right hands and they could build you the Taj Mahal in the woods. But if MacGyver isn't camping with you, just knowing a few basic knots is enough to not only help you lash down your gear on your car but also makes great hammock attachment points on trees. I'll fill you in on how beneficial webbing is,  Aron Ralston had mentioned that if he had 100 feet of webbing while stuck in that  Utah canyon, he probably would have been able to get himself out. Moral of the story is that this stuff is worth it's weight in gold.
 2. Kick A** Lantern- Let me start off by saying that I'm a total flashaholic (someone that's obsessed with flashlights). With that being said,  I think a flashlight should be on your person 24/7 no matter where you are but when you trek out into the great unknown, you're going to want additional light sources. While camping you'll need a light that can run for a long time because you'll probably be using it every night while on the trip. Hands down my favorite light for this task is the UCO Lumora latern. It may not be the brightest around but its got a sweet 180 lumen high mode and in the low mode it'll keep the boogie man away for 200 hours. Plus it has the added convenience of transitioning between a lantern or tighter beam flashlight.
3. Multi-Tool– You never know what may happen while you're camping miles away from civilization. You certainly aren't going to be dragging a tool box with you. Sticking a multi-tool in your pack to an extent is like doing the same thing. I can tell you firsthand that not all multi-tools are created equal, some try to win you over with a flashy new tool but I like to K.I.S.S. (Keep It Simple Stupid) so I always stick with my tried and true Leatherman Wave. The Wave is stainless steel so it cleans up nice no matter what brutal task  I require of it. In my opinion the 17 tools that it features are equipped best for the backcountry conditions like camping.
4. Good Tent Footprint- As a rule of thumb,  the insulation below you is worth twice as much as what's on top of you. If we follow that notion, then a tent footprint that not only keeps you protected from moisture but reflects your own body heat up back towards you is invaluable. The crazy thing is that most of the high end tent footprints out there are nearly twice the price if not more than my favorite improvised solution. I can attest from personal experience how well the SOL Sport Utility Blanket works.  To make a long story short, I was caught in a bad snow storm in western North Dakota and pulled over my van at night because of the severity of the snow. My Ford van wasn't the greatest at keeping me warm and I luckily had this reflective blanket and wrapped myself in it to keep warm. Now the temperatures there were getting down to the -30's, so without this thing I probably would have gotten severe frostbite . Point of the story is the blanket saved my butt and I've used it on many occasions, it has yet to fail me.
5. Hammock- Let's be honest, who doesn't like to relax in a hammock? Most of the hammocks we're familiar with are heavy and clunky, all of which doesn't aide well to traveling into the backcountry. Lucky for us, technology has made huge leaps and bounds, which has ultimately made way for super lightweight hammocks. The same materials used in parachutes are now being used to keep you off the forest floor and in utmost comfort. My pick is the ENO Singlenest Hammock, its lightweight and has proven to be reliable on my adventures. Fear not couples, they also make a Doublenest hammock so you both can relax together suspended in the air.
6. Tunes You Can Take Anywhere- Now music may not have the ability to keep your body safe and protected but we all can admit how nice it is to take your tunes with you anywhere. Most of the rechargeable radios on the market guzzle battery power and end up being more of an nuisance than enjoyment. I own and have nothing but favorable things to say about the ETON Rugged Ruckus. The unit is built to withstand pretty much anything but being run over and features a solar panel that charges not only the internal battery but your device as well. Oh did I mention that it utilizes Bluetooth connectivity? Yes you can stream your music all from the phone in your pocket which means you don't have to get up from that hammock I told you about!
7. Quality Stakes- If you've ever had your tent roll and tumble away while you weren't in it, then you know the importance of some good tent stakes. The more you get into camping and backpacking, the more you appreciate that every little ounce adds up. When given the opportunity to shave off the weight of gear, DO IT. This is why I like me a nice set of lightweight titanium stakes, not to mention they're really strong. In my experiences, I've grown quite fond of majority of the outdoors products by Vargo and their Titanium Nail Stakes are by far my favorite.
8. Amazing Socks- Ok okay, I know the title said 7 items but I just couldn't help but throw this last must have in there too. Unless you're Cody Lundin from the Discovery Channel show Dual Survival, then you're not walking into the outdoors barefoot. In fact, taking care of your feet while camping or hiking is one of the most important things you can do. Your feet would be the last place to skimp out on or leave neglected and because of this I've always shelled out more than I probably should have, on SmartWool socks. You're looking at about $15 a pair but man oh man is it night and day compared to the socks you're used to. The best way I like to describe their socks is it feels like you're walking on a pillow all day  and they leave you're feet cool and dry.
You don't have to run out and buy all eight of these things in order to have a good time on your next trip but believe me when I say it, just picking up even one or two of the items on list will be a huge improvement next time you're camping. Remember, you never want a piece of gear be the reason why you don't have a good time so buy right or buy twice. Now quit reading this and get to planning your next  camping trip or hit your local trails today!
Related Posts
« THYRM Switchback-EDC Ready, Costa Approved Ultimate Guide to OPMOD Bags »