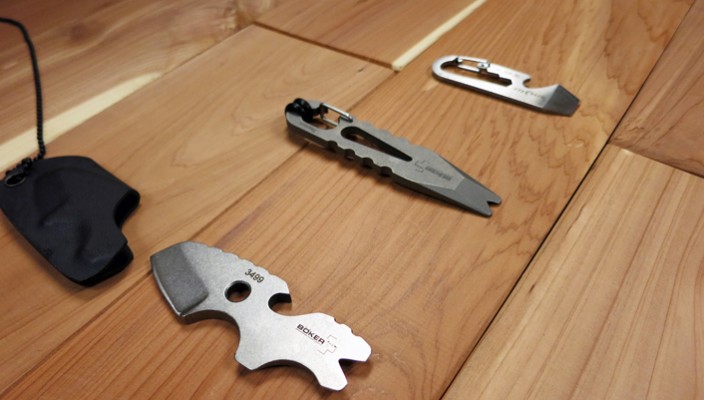 I read somewhere that a love for multi-tools is built into a man's DNA. Firmly planted in its ranking amongst other things like bacon, fast cars, and of course guns. Rarely have I met a person who isn't fond of multipurpose tools. What draws us to these useful gadgets of manhood? Your guess is as good as mine but what I do know is that there's some subconscious part of me that strives to do more with less.
While the whole concept of a mutli-tool is "doing more with less", lately  I've gravitated toward tools that are smaller and smaller while still providing enough utility for MY everyday tasks. What I've come up with are a few uber tiny tools that do just about everything that I need in my day-to-day life. Now your lifestyle may differ from mine and require that you carry a big Ol' full-size Leatherman on your hip all day, so please scale back on the haterade in the comments and understand that these were chosen by me for me.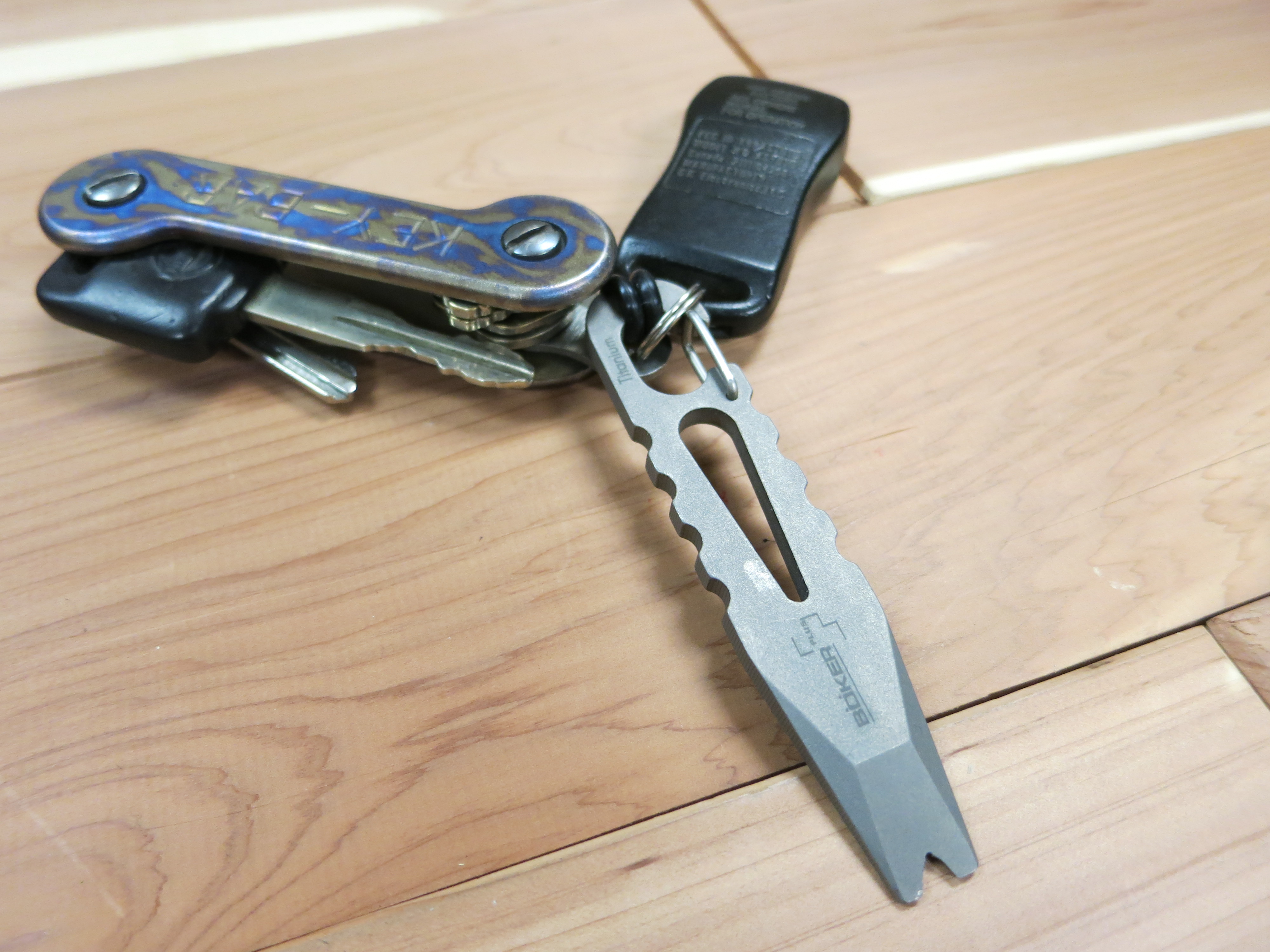 This unusual looking little tool is kind of in a category of its own. Crack a beer, bust out some glass, heck this tool makes you feel like you could do almost anything with it- almost. You're not going to get the luxury of a blade on this pint-size power house but then again that's why you accompany this tool with a full size knife.
The Good:
I have to say for under $30 you'd be hard pressed to find anything that gives you the exclusivity that the Vox access tool carries with it. Each one of these is serialized and comes in a pretty nice box with a magnetic closure. That may not mean that much to everyone but to me it really helps me justify the purchase. The quality of the tool itself is top notch. Upon closer inspection, you get the impression that a lot of care and time went in to its production. I tend to think that a good deal of what Boker makes has that same feel to it but this VOX Access tool seems to be just oh so much fancier.
-The glass breaker actually works! (Your broken car window wasn't me, I swear..)
-Great at small pry tasks
-The prongs on the pry end work surprisingly well as flat-head screwdrivers.
-Carry-on friendly. I personally took this with me on a flight out of Chicago, although an eyebrow or two were raised I still made it on the plane with it in tow.
-It's made of titanium. C'mon besides kryptonite there isn't a cooler element on that table that we had to memorize in junior high.
-The weight, at under an ounce you'll barely notice it.
The Bad:
-It's almost too nice for me to beat on. However if my life depended on it, you bet your ass I'd use the tool for anything.
-When it comes to opening a beer, Id rather use the pocket clip of my EDC knife then fumble around with the one on this.
-The weight. Yeah I know I put that as a positive but its so light that I end up not using it half the time because I forget its in my pocket.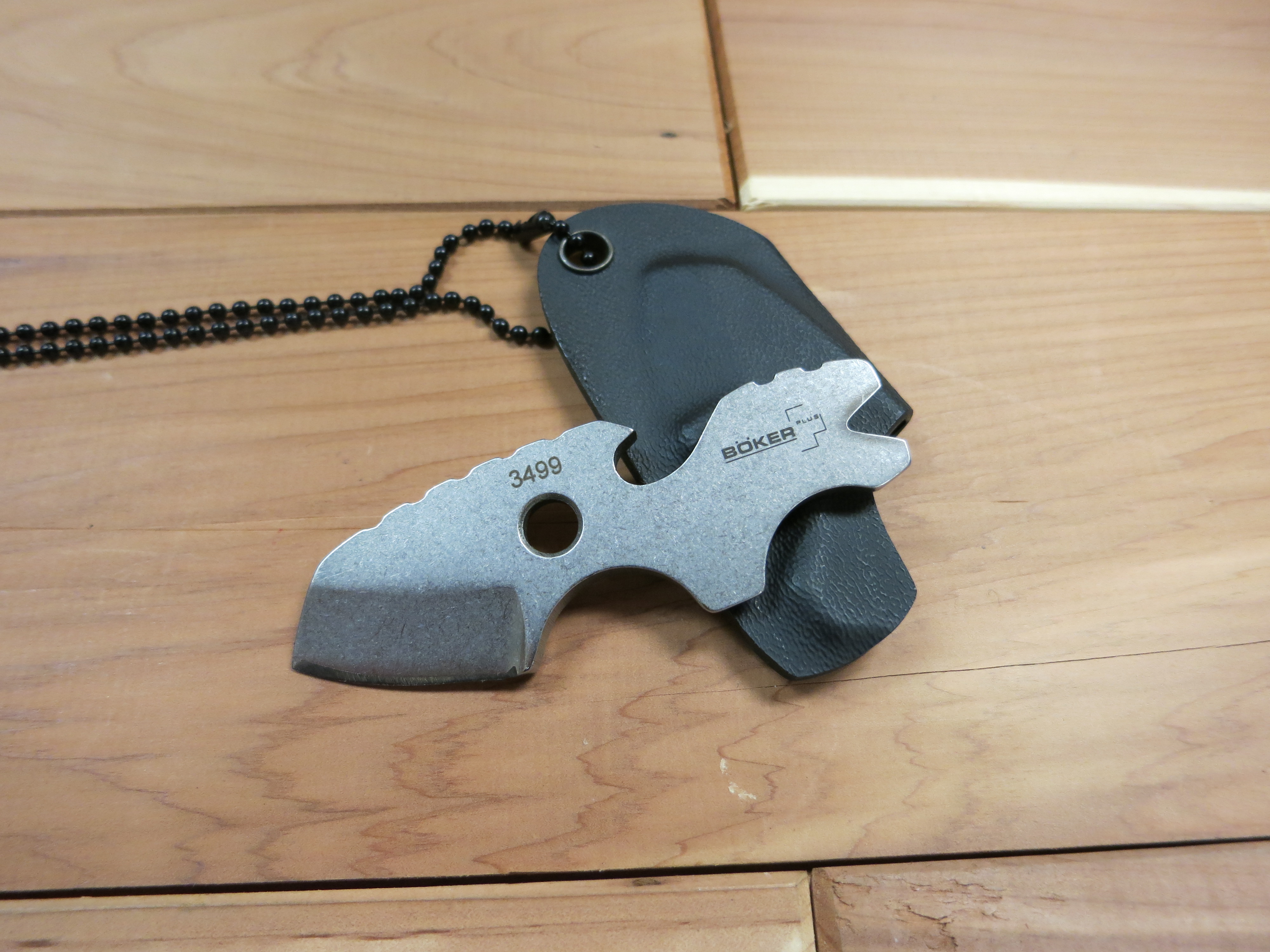 The Toucan is kind of a different animal than Boker's Vox access tool.  The 1″ blade is a nice addition to whoevers lucky enough to wrap their booger hooks around the pronounced two finger grooves. My hands are of average shape/size and I have no problem at all getting a good grip on the tool in such a way that would allow me use the knife efficiently. I like the fact that Boker includes a kydex sheath and necklace, however I've had one too many bad experiences with neck knives and chose not to run it as advertised. Another big deal for me is this tool is also serialized and comes with a nifty box.
The Good:
-Rust you say? Not with the Toucan, its crafted out of a chunk of 440c stainless steel.
-Comes with a kydex sheath and neck lanyard. Plus the retention on the sheath is perfect.
-The bottle opener works flawlessly.
-No blood in my beer.The forward thinking minds at Boker shaped the sheath so that you can use the opener while the blade is safely stowed.
-Three flat head screw drivers. I'm not exactly sure why you need that many but they're there if you do.
The Bad:
-Chubby hands stay away! While this tool is the perfect size for me, it would be somewhat useless in your big mitts.
-No way TSA. Thanks to the little blade on this, you can forget ever being able to carry it on a plane.
-Only one rivet in the sheath. With enough lateral force you could push the blade out. However I haven't had a real-world issue with this, something to note though.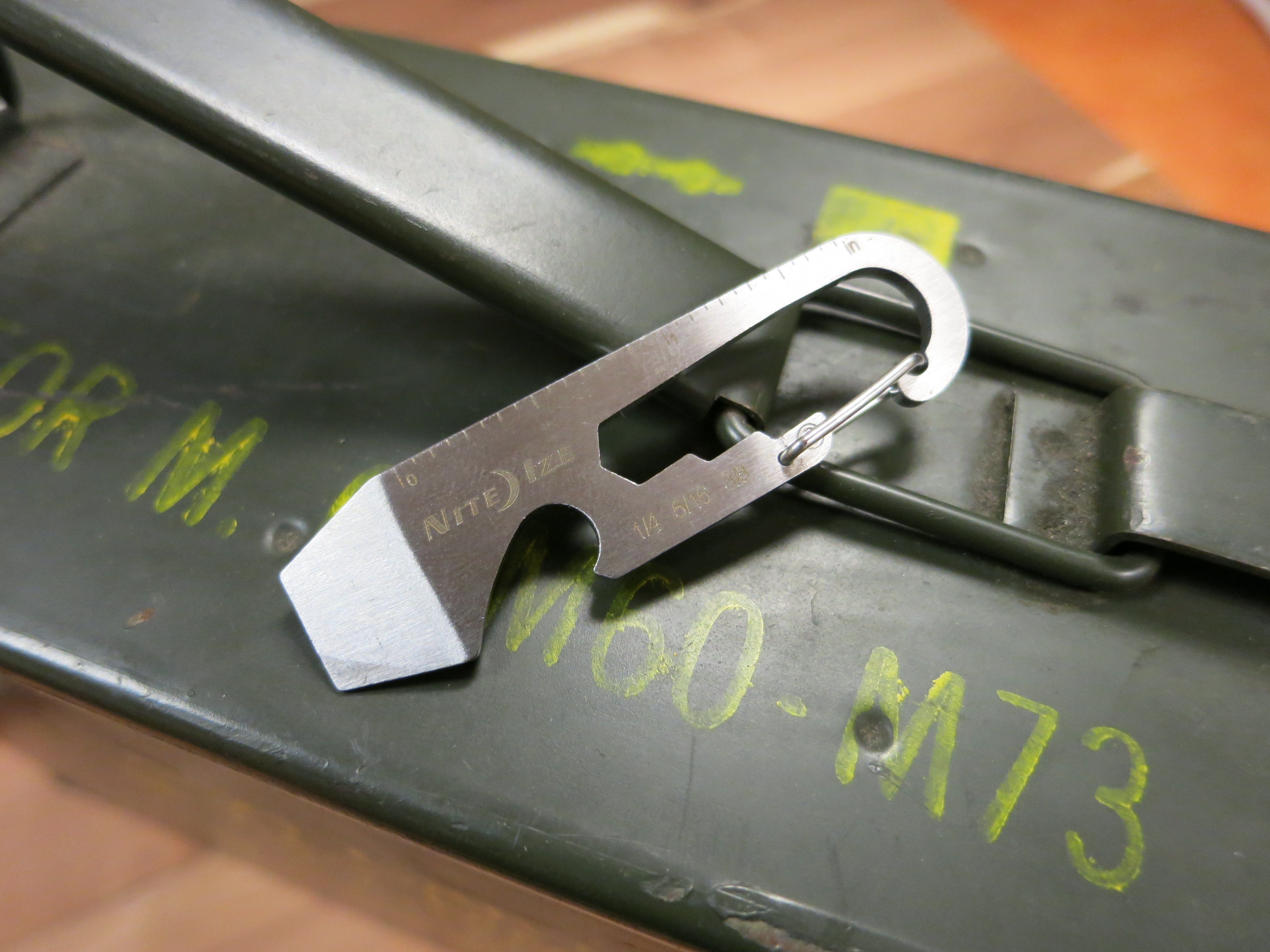 Yeah you read the name of this tool correctly. Like the rest of the tools I've shown, this one also falls into a class of its own. While you're not going to get a fancy serial number or titanium construction, this little guy is packing more uses than the other two. I've found this tool to be extremely helpful when mocking up optics on various guns, mostly in part to the extra wide flat head screwdriver. For  just under $5, there's no reason you shouldn't have one of these dangling off your key ring.
The Good:
-5, yes 5 very usable tools
-The price- $3.95
– Because of how cheap it is, I have no problem abusing the heck out of it.
The Bad:
-You don't get the same sense of exclusivity with this tool
-I wish they'd consider offering this in different materials i.e.. Damascus, titanium, etc.
-Its so utilitarian that it almost isn't cool. Kind of like walking around with a dictionary in your pocket or wearing a calculator watch.
The Madness Ensues
Going into this article I had my mind pretty much made up on which mini multi-tool I liked the most. After really thinking about each one, its evident that neither of the 3 are the same. And since they're so different I find it hard to say which is better than the other. For me I like them all equally because they all excel at different tasks. No matter what you need a tiny multi-tool for, you're sure to gravitate toward one of these compact powerhouses.
Let me know which one is your favorite in comments below! As always guys, shoot-em straight and be safe.
Related Posts
« Aimpoint Micro T-2 :The Evolution of Greatness Why You Never Want to Work In the Firearms Industry »