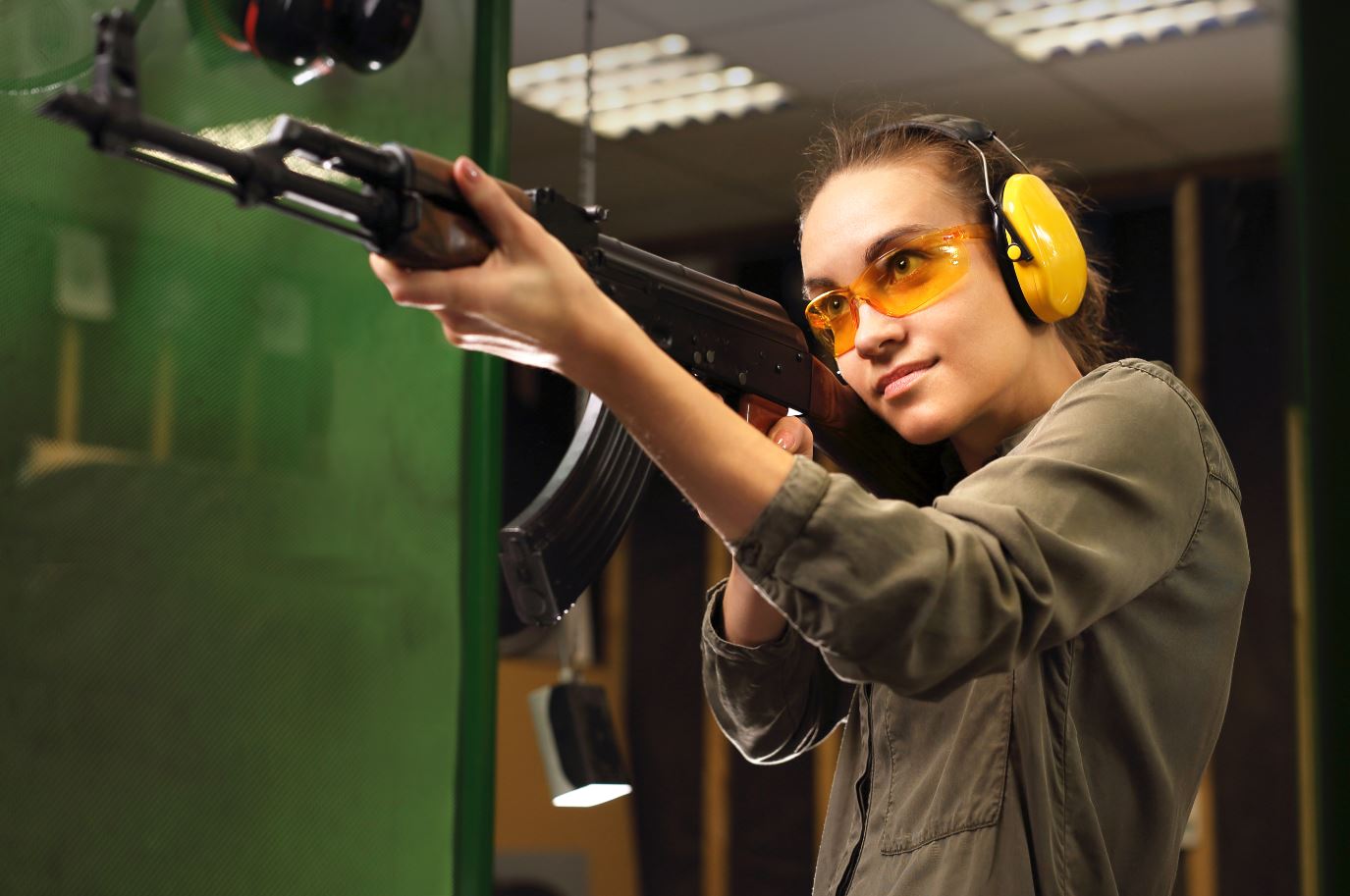 All shooting ranges are not created equal.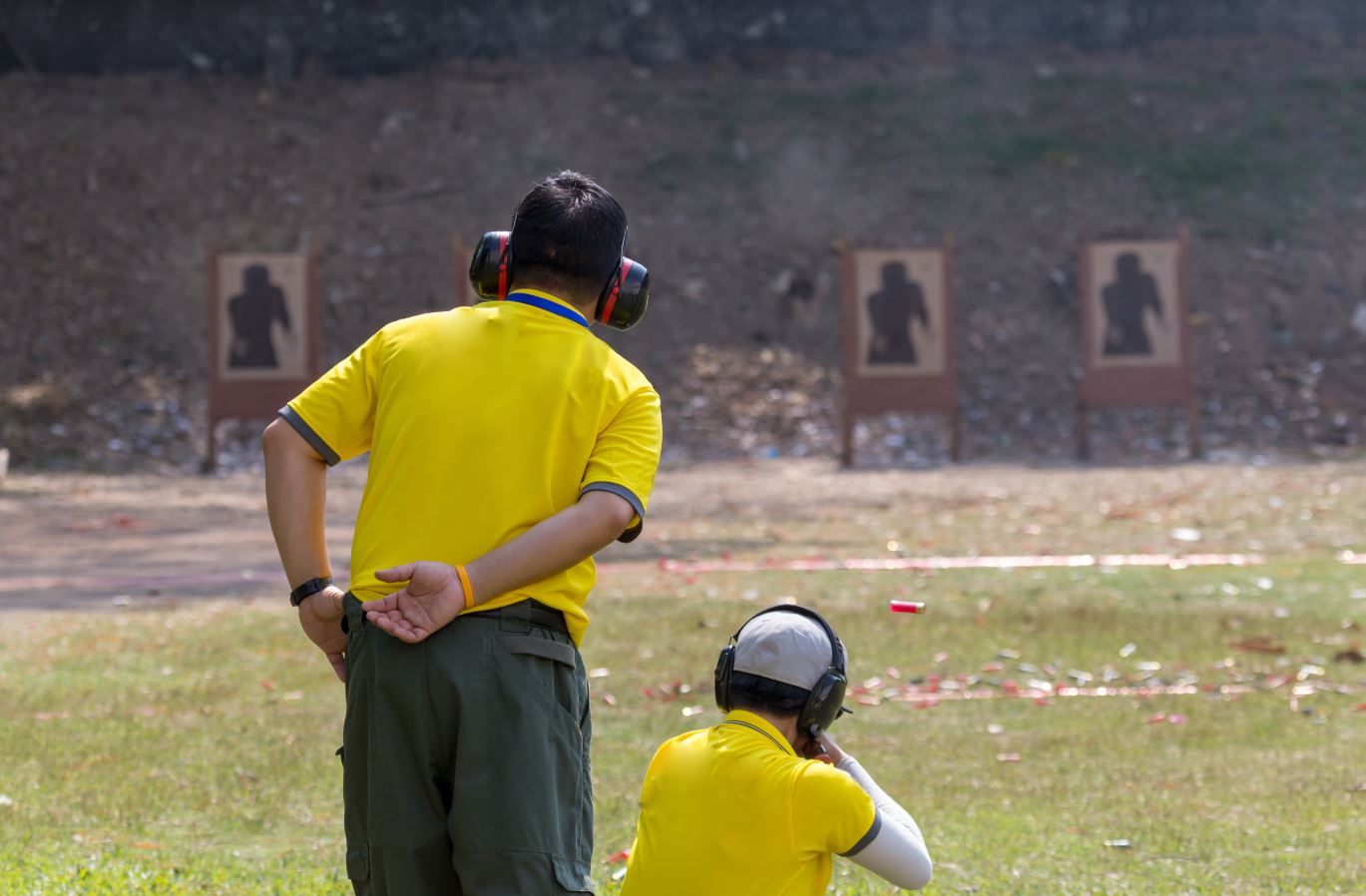 There are a lot of gun ranges in the US – in fact there are twice as many gun ranges in the US as any other country in the world.  And as most avid gun enthusiasts are aware, there are a huge mixture of quality of gun ranges – there are definitely a lot of 5 star ones, but there are more often than not a lot of sub-par to average ones.  That is why we took hundreds of hours of combing over what we have found to be the best of the best ranges in terms of size, targets, technology, and offerings, and created this list of top gun ranges in the US.
7) Knob Creek Gun Range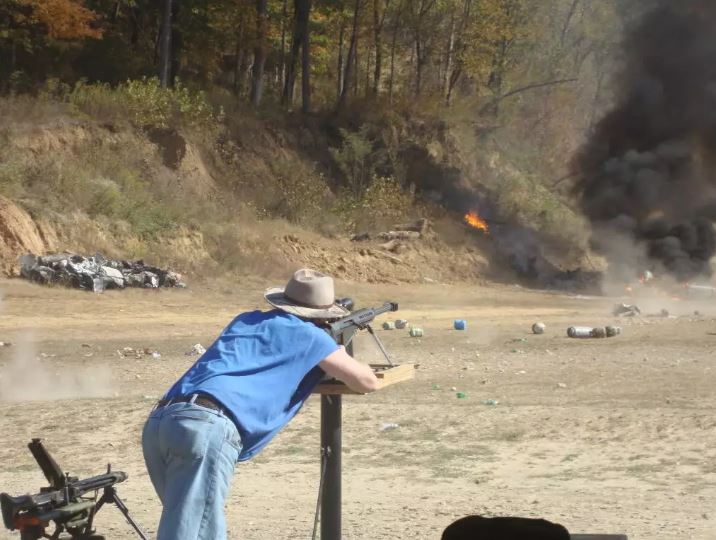 Location: West Point, KY
You'd be hard pressed to find another gun range that has gotten so much media coverage.  Featured in Rolling Stone magazine, Pawn Brokers TV show, and on the CMT channel, Knob Creek Gun range has set itself apart from the rest.   The main attraction is the biannual machine gun shoot event that is famous the world round.  The event includes blowing up barrels, blasting appliances, disintegrating old cars, and pretty much have everything you've dreamed about lighting up during the shoot.  It lasts 3 days with non-stop machine gun action and competitions, it includes an antique gun show and a food court style dining setup.
On top of the machine gun mayhem, Knob Creek sports a huge supply of almost every gun you can imagine to buy, or you can rent any of their used guns to test out or just have fun with.  They have covered shooting bays and target distances of up to 300-yards, so honing your long range skills in comfort is not a problem.  The $10 all day pass also makes this a great deal.
Don't let the lax rules on what you can shoot fool you though, they take their gun safety very seriously.  They offer several concealed carry classes each month that cost only $75 and the class lasts about 8 hours.  They also have Hunter Education Classes several times a year starting in the spring.  This class is free and is put on by the Kentucky Department of Fish and Wildlife.
6) The Silver Eagle Group

Location: Ashburn, VA
Already a state of the art facility, Silver Eagle shutdown for several months this year to revamp and move into an even bigger and better building that is one part high tech range, one part training center, and one part VIP lounge.
One of the very interesting additions that SEG made at this range is a 10,000 sq ft scenario area where there will soon to be a multi-level scenario house, a two story townhouse, vehicle bay, and over 65 home, school, and office rooms.  The scenario area uses Universal Training Munitions where it trains in tactical, self-dense, and force on force techniques.
At the range itself they added a $3 million multistage filtration and ventilation system that gets that metallic smell out of the air that most are all too familiar with.  And, not only does it make the smell less repugnant it also makes the hazardous metal dust less dangerous for the shooters lungs.  The new noise dampening system is another cool engineering design of the SEG range that takes that constant pinging sound and reverb and makes it pretty much non-existent.
On top of the latest in technology gun range they also have a ton of non-shooting range stuff.  They have a hand to hand combat training room with a large matted surfaces where the Israel defense technique of Krav Maga is taught for both fitness and unarmed self-dense.  There is a VIP style lounge where members are treated to leather couches, a gas fireplace, vaulted ceilings, a private entrance, and a huge wall of windows.
5) Athena Gun Club
Location: Houston, TX
Right when you walk in the door you get an incredibly high-end feel that has the atmosphere of an upscale hotel lobby.  There is a large open foyer with a large modern desk where everyone is greeted and made to feel at home.
The high-end feel though doesn't end at the entryway, the entire 39,000+ sq ft of ranges, retail space, class rooms, and amenities is set out to give you the same impression that is to give the visitor a world class experience.
The gun club has 26 state-of-the-art lanes equipped with an advanced ventilation system as well as the Action Target Total Containment Trap and the digital pulley system that combine to provide a seamless shooting experience.
The TI Training Simulator they have is pretty mind blowing and is the same system that is used by military special Ops teams and federal law enforcement.  It has 300 different HD scenarios.  It allows for total training customization including the use of wide range of firearms and even non-lethal defense tactics, such as pepper spray and Taser.
4) Colonial Shooting Academy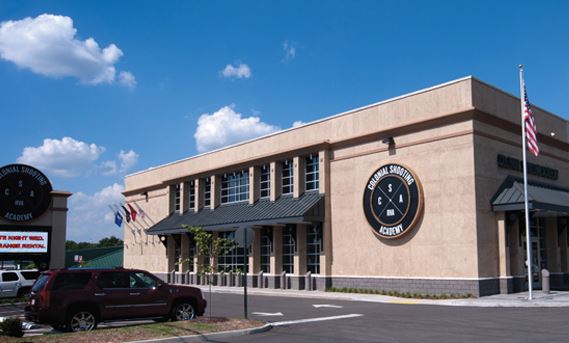 Location: Richmond, VA
Named as a SHOT Business Range of the Year and a National Shooting Sports Foundation 5-Star Range,  Colonial Shooting Academy is the largest indoor shooting range in the United States at over 60,000sq ft.
This epic 51-lane facility, known as "shooters paradise," offers public shooting, a tactical range, firearm education, membership, and a 5,000 square-foot retail store with every firearm under the sun (for rental, purchase, or both). The family-friendly environment makes fun, a welcoming atmosphere, and above all safety its guiding principle and hosts a range of educational courses for every experience level, from a top tier shooting program for new shooters as well as experienced shooters, to training courses for law enforcement as well.
The nicely sized live fire shoot house is a section of the facility that you are hard pressed to find at any other public range.  It gives you great dynamic scenarios for training as well as skill building.  It's used by both the general public and law enforcement.
For frequent guests, Colonial Shooting Academy offers multiple membership options: the basic Academy Membership provides general range access, while the premium Constitution Membership offers members access to a private range and swanky lounge. The Corporate Constitution Membership provides four executive passes providing full access to the private Constitution range and lounge.
3) TNT Guns and Range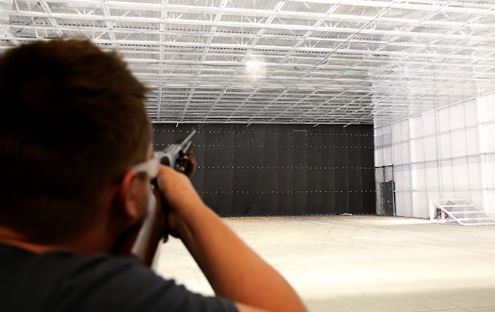 Location: Murray, UT
Have you ever heard of any range in the US having an indoor clay pigeon range? Neither have we, and that's because they don't exist, except for at TNT Guns and Range. The indoor clay pigeon shotgun range consists of 6 x 100 sq ft private booths. So practice your skills during rain, sleet, or snow.
All of the shooting lanes here are all high-end top technology shooting experiences. There are 15 25-yard traditional lanes that are located in 75 sq ft booths. There are also 5 100-yard lanes with 85 sq ft private booths and Action Target's AWD retrieval system that offers 27 different scenarios and games.
On top of the clay pigeon range and state of the art shooting lanes, TNT also has built a simulator room that has a Virta 300 degree Simulator Shooting System. The V-300 is the higher standard for decision-making simulation and tactical firearms training. Five screens and a 300-degree immersive training environment ensures that time in the simulator translates into real world survival skills.
Last, but not least is the selection of guns available to rent at the gun range, they have every dream gun you can imagine, including a bevy of full autos. Some of the full auto rentals available are the: Uzi, Sten G36, MP5, AK47, M4, P90, and Browning 1919.  With all of this it's easy to see why TNT Guns and Range has been called the "Disneyland of gun ranges."
2) Battlefield Vegas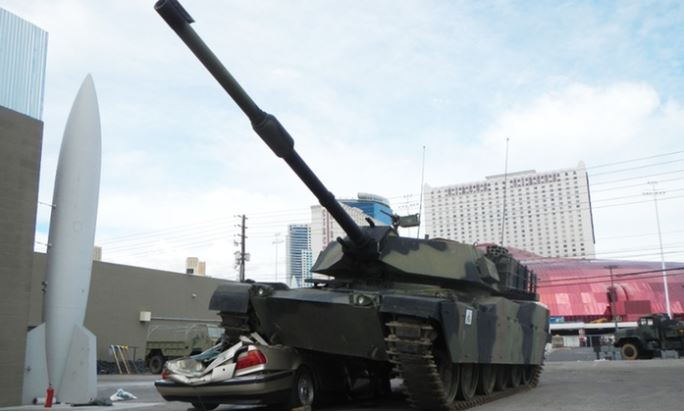 Location: Las Vegas, NV
In Las Vegas you can expect everything to be done over the top, Battlefield Vegas is no exception to this. Firstly, getting to the facility shouldn't be a problem as they have a free authentic battle Humvee pickup from your hotel.
These Humvee's were actually provided as armored vehicles to protect police during a situation where the precinct called them in for help during a shooting and were immediately put into action.
The facility itself is a 5 acre military style complex that sports a huge selection of army vehicles and machinery that guests can tour and be a part of. One impressive experience that you can take part of there is the opportunity to crush a real car with a real Abrams tank.
Most significantly of all, Battlefield Vegas also boasts a giant armory of weapons available for everyone to shoot. They have over 350 automatic weapons from all eras of modern military warfare. They have the standard autos such as the AK47 and M4, but also have AUG Assault Rifle, FN F2000, and if you really want to get nuts they have a MINI-GUN that shoots over 4,0000 in one minute.
1) Talladega Marksmanship Park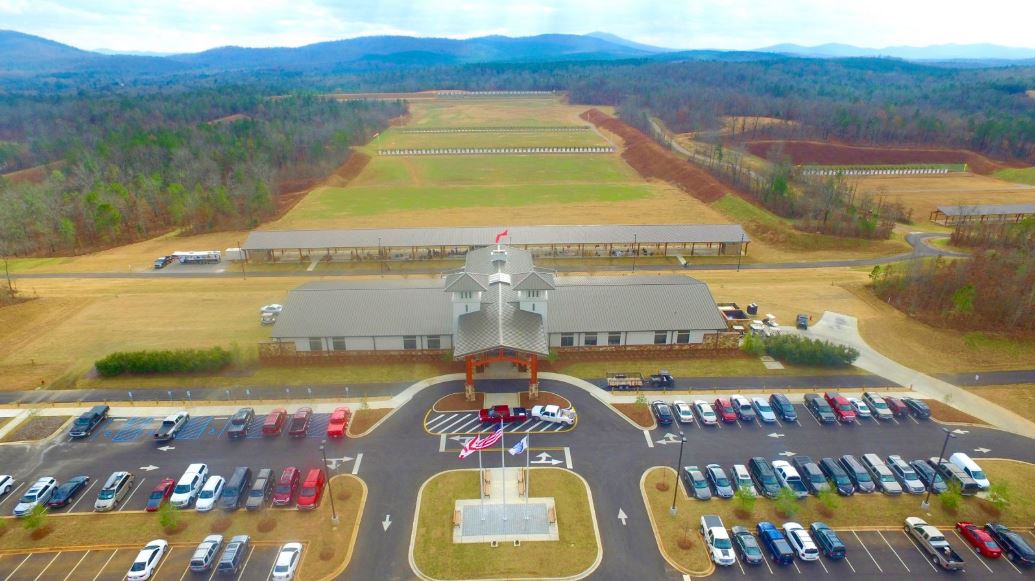 Location: Talladega, AL
This place is gigantic…the facility takes up 500 acres of pristine Alabama land surrounded by lush forests and majestic mountains. It has become a destination for people from around the US to come, see, and shoot at this epic range. It doesn't hurt that it has a great location too, just 2 miles from the famous Talladega Superspeedway.
The Park offers a 600-yard rifle range with targets at 200, 300, and 600 yards. It also has a 100-yard multi-purpose range, and a 50-yard pistol range. On top of these it has 15 action pistol bays and a trap field, 5-stand field and a 15-station sporting clays field. With automated trap machines of course.
The size of Talladega Marksmanship Park doesn't take away from the high-end technology employed there either. The ranges come equipped with versatile target faces, that are made of a rubberized material, have the ability to be reused thousands of times – meaning no need to paste new faces between relays in the pits. In fact, there will be NO pit duty required at the CMP Talladega Marksmanship Park, dramatically cutting down the time typically demanded by a single match.
Finally, there is an awesome 13,000 square foot CMP Park Club that has huge glass windows that overlook the 600-yard range and the beautiful Alabama mountain views. The building has classrooms, lounge areas and a well-stocked pro shop to handle its guests' firearms supplies, memorabilia and equipment needs.
Related Posts