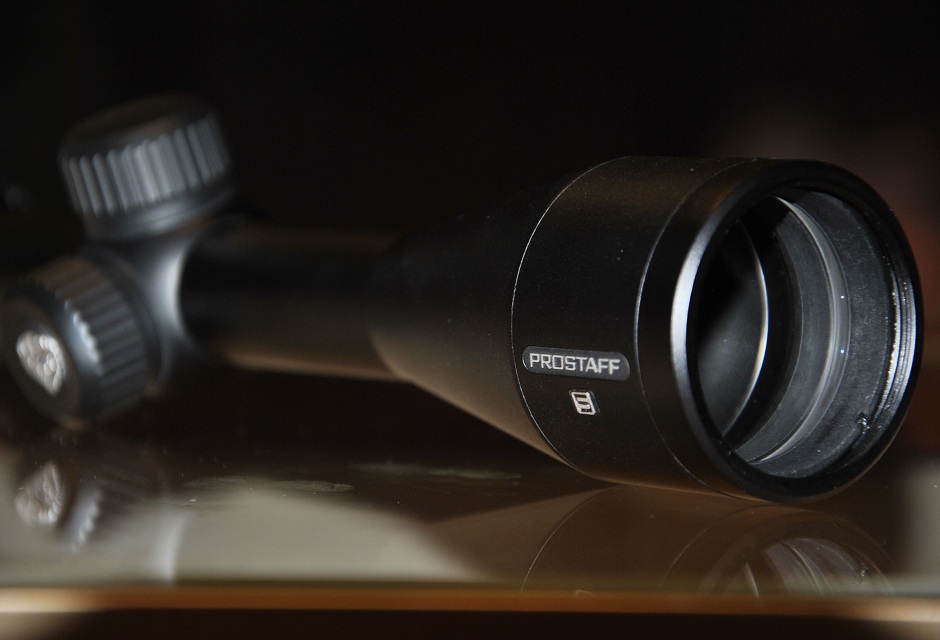 Last year, we got to take a look at the Nikon P223 and more, and our post on that great scope proved to be one of the most popular of the year!  With this in mind, you can imagine how excited we were to visit Nikon for SHOT Show 2013! They didn't disappoint.  Nikon is making some major extensions to the popular ProStaff line.
The ProStaff line of rifle scopes have been an extremely popular choice with hunters for year now and 2013 will see the brand new ProStaff 5 line of rifle scopes. The line is expected to be available starting in March of 2013 with the following models:
3.5-14×50
4.5-18×40
3.5-14×40
I can't wait to get more time with a ProStaff 5 rifle scope.  There are a ton of great features.  One thing that I'm really happy to see is that it'll have the full support of Nikon's Spot On Technology.  We actually took a trip out to Utah back in July for the Nikon Spot On Championship, and shortly thereafter I was able to do fuller write-up on the Spot On Tech.  It's really cool stuff.  You can enter your ballistic info, scope and more into their website (or mobile app), print out a ballistic chart, and it'll give you holdovers!  I explained it in more depth in that post, so check it out!
The other features in the ProStaff 5 line are pretty impressive as well, especially when you consider the quality Nikon brings to all of their optics.  You'll have:
Spring-Loaded Zero-Reset Turrets – Very helpful for any shooter.
A Quick Focus Eyepiece
Fully Multi-Coated Optics – And Nikon knows their lens coatings
A choice of reticle – Nikoplex and an Illuminated BDC.  We're not sure if every model will have every reticle style available from the start, but they should all be available soon!
Choice of Silver or Black Matte Finish
There's no way the ProStaff 5 disappoints when it's released this March.
We also got a chance to check out the Aculon 10×42 Binoculars, a new budget binocular from Nikon. With an MSRP of $99, it's obvious Nikon looking to finally expand into the low priced binocular line that it has not really given much attention to in the past. A variety of magnification and lens sizes will be available (including the other most popular setup – an 8×42 variety.)
The Nikon Aculon 10×42 Binoculars feature a Bak4 Porro Prism, and are lightweight and ergonomical designed. The picture quality is impressive for the price, and while we unfortunately couldn't test the brightness outdoors, it was quite good indoors. We'll have to see how it holds up in future tests once we receive them in the office.
Nikon also introduced the ProStaff 3 16-48x60mm Spotting Scope (or FieldScope, as Nikon refers to them.) We'll have a short video with more info early next week, but Nikon is aiming these primarily at hunters (not target shooters or outdoorsmen) and offering the product complete with a case and tripod with an MSRP of $329.
In the rangefinder category, Nikon is introducing the ProStaff 7 6×21 Rangefinder and the new Archer's Choice 6×21 Rangefinder. The Archer's Choice line has been one of the top picks for bow-hunters due to the low 5 yard minimum distance and measurements in tenths of a yard. Both are aimed at the hunting community and will be great additions to the already popular lines.
Finally, we did talk to Nikon about their popular P-223 line of rifle scopes. They are planning to make some updates to the line this year, and they are working extremely hard to try and keep up with the incredible demand they saw in 2012. We've heard from plenty of people how frustrating the wait has been, and Nikon fully understands. We all hope we can start seeing more of those scopes get out into customer's hands as soon as possible.
Latest posts by OpticsPlanet
(see all)
Related Posts
« The NightForce ATACR AMAZES at SHOT Show, Plus a Giveaway! Want to know more about Crimson Trace Green Lasers? »