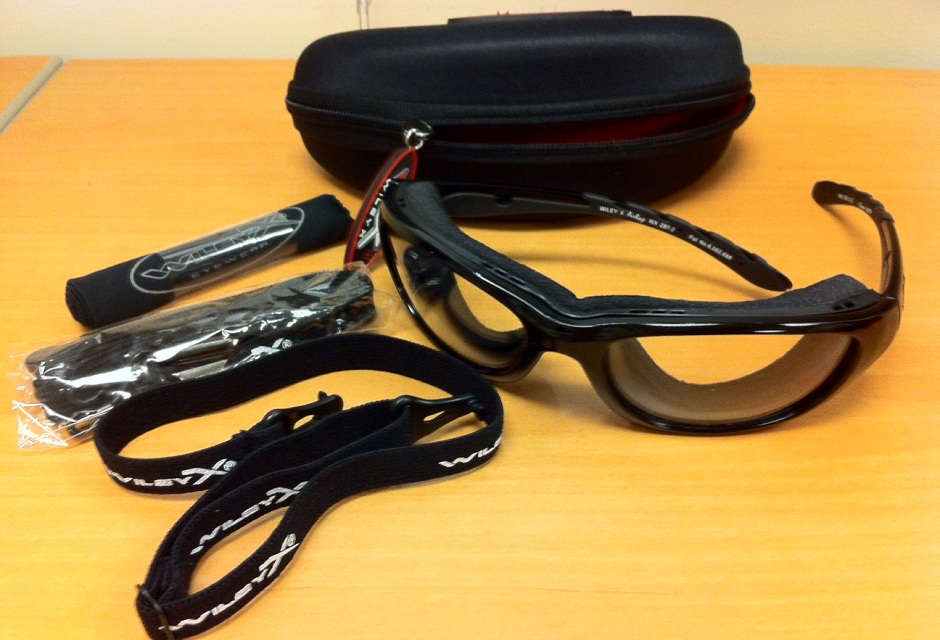 Today I'd like to tell you a story of my recent LASIK procedure and how Wiley X made it a much smoother and more enjoyable experience.
To begin, I should let you know a bit of my vision history.  I come from a very near-sighted family.  I've worn glasses since second grade, and I wore sports goggles through Little League Baseball and Junior High Basketball, after which I started wearing contacts.  I loved my contacts and wore them everyday, without fail, until last September.  I'd been working here at OpticsPlanet for a few months and my eyes were getting tired almost everyday to the point that I was using eye drops frequently.
I started wearing glasses regularly again for the first time in 15 years.  It definitely helped with eye fatigue, but glasses have their drawbacks.  I like to run, and jogging with glasses is a pain.  They bounce up and down, sweat coats the lenses, and they make running a far less enjoyable experience overall.  Coming home from work and putting in contacts for a short period of time seemed like a waste of lens solution, so there were days that I simply didn't run.
Plus, while my glasses were fairly stylish and gave me a smarter, more scholarly appearance, they didn't exactly help me when talking to girls.  Something had to be done.  The time had come.  I needed to get LASIK.
I'd wanted laser vision correction for years, but money has always been a problem.  Fortunately, with my awesome job here at OpticsPlanet I was able to start saving, and after a few months I had squirreled away enough money to pay for the procedure.  I checked out a few different LASIK centers in the area and settled on one that is known to be exceptional.
My first appointment was quick and painless.  I was deemed a good candidate, though my prescription was rather high and I would need more extensive correction than most people.  One thing the doctor mentioned is that I need to keep my eyes well protected for a few weeks after the surgery.  Anytime I go outside I should wear some sort of eye protection to keep wind, dust and other contaminants out of my eyes.  While a tiny grain of sand most likely wouldn't seriously affect my eyes, my risk for complications would be far greater if I don't take recovery seriously and I was not willing to let laziness screw up my eyesight.
But what type of eyewear should I use after Lasik?  We carry a number of different types of motorcycle sunglasses and shooting goggles, but I wasn't sure which would be right for my specific needs.  Some would be overkill, as I don't need to wear full snowboarding goggles, but others might not give me the kind of protection necessary.  Like many of you who find yourself lost in the myriad of choices, I decided to ask an expert.  I walked over to our eyewear department and spoke with Larum, who is one of our top specialists.
I  always knew our product specialists were smart, but Larum still impressed me with his exceptional knowledge of eyewear.  I told him what I was looking for, and he looked at me for a moment, considering the shape of my head, which is a bit narrow (still handsome, but narrow), and he asked me a few more questions.  Once Larum could see that I was interested in top quality and that I was willing to invest in the right sunglasses or goggles, he said I needed Wiley X.
He quickly and easily helped get me a few pairs of Wiley X Motorcycle Glasses and Shooting Glasses to try on.  All the options would provide ample protection, but the look, feel and fit would vary from one to another.  I was happy to have so many choices to try out.
First up I tried on the Wiley X Brick Sunglasses/Goggles.  These were a really fantastic pair of motorcycle goggles because they are super tough.  They meet ANSI Z81.7-2003 standards, so they'd be great as shooting glasses as well, but the comfort and style were what really impressed me.  An included T-Peg docking system lets you quickly and easily attach an elastic strap to keep them in place when running or jumping.  The facial cavity seal is removable, so I could use the Brick Sunglasses for normal use after my need for eye protection ended.  Unfortunately, the fit wasn't perfect.  Like I said, I have a fairly narrow head, and even with the facial cavity seal the Bricks were a bit wide.  If you have a bit rounder head than I these would be phenomenal.
Next I tried on the Wiley-X SG-1 Tactical Goggles.  Again, I really liked these, but the fit was just barely too big for my head.  I could really see the durability of these goggles, and they transitioned nicely between goggles and sunglasses.  As proof of their strength and protective abilities, check out the product page.  We've received emails from from soldiers on the front lines who were really glad to be wearing the SG-1s when under attack.  Be warned that some of the images are graphic.  Still, it's stunning to see how tough these goggles are.
I moved on to the Wiley X Saber Advanced Eyeshields.  I'll admit that I wasn't as impressed by the Sabers as I was by the SG-1s and the Bricks, but I could still see they were capable of protecting from larger projectiles.  The problem I had with the Sabers is they didn't have the facial cavity seal, which I felt would be THE thing to protect my eyes from wind or dust.  I just couldn't bring myself go with a pair of sunglasses that didn't have that removable gasket.
The final pair of sunglasses I tried on were the Wiley X Air Rage Goggles/Sunglasses.  Wow.  Like the Bricks and the SG-1s, the Air Rages have a facial cavity seal and an elastic strap for keeping the glasses firmly in place.  But the fit was perfect.  Perfect comfort.  Perfect seal all around my eye for total protection.  Perfect.   I imagine it was similar to Goldilocks trying different beds and bowls of porridge.  I finally found a pair that was just right.  The picture at the top of the page shows all the cool stuff you get with your Wiley X Air Rages.  The case, cleaning cloth (it's still rolled up), elastic temple strap, leash strap (for hanging them around your neck when not using), the facial cavity seals and the sunglasses are all in the box.  I really like that you get everything you need when you buy the Air Rage Sunglasses.
One thing I still needed to decide was which particular model of Air Rages I wanted.  I knew I'd prefer the gloss black finish for the frames, but there are a few different types of lenses to choose from.  Normally I'd go with a polarized lens, as I am fortunate enough to go boating most summers, and polarized lenses really help with glare, but I often walk my dogs and jog at night.  I can't wear a dark lens and navigate the night.  At the same time I planned to use these sunglasses during the day, so I wouldn't mind some degree of shading.  Plus I prefer the look of darker lenses.  The obvious choice was photochromic lenses.  These light adjusting lenses will darken when in direct sunlight and lighten at night to a nearly clear view.  I probably look a bit silly wearing goggles at night while walking my dogs, but at least I'm well protected.
Once I'd selected my safety glasses, it was time to get on with the surgery.  I won't run through every step of LASIK, but I had the procedure last Friday, March 23, at about 9:00am.  They gave me a light sedative which didn't knock me out completely but did relax me so that I was pretty chill on the operating table.  The whole procedure took only 10 minutes.  I barely knew what was happening before it was over.
As I've mentioned, I had pretty bad eyesight, so my results would be more immediately dramatic than for most people.  My vision was still a bit blurry when I sat up, but the technician asked me to tell me the time on the wall.  Before the surgery, there's little chance I would have seen the clock, let alone be able to make out the hands and numbers.  I almost laughed at the technician when he asked me the time, but then I looked.  It was 9:20!  I could actually see the time!  I had hardly started healing and I could already see better than I have for most of my life.
I went home after the surgery and slept for a few hours.  This was by design, as the first few hours after surgery are the most uncomfortable.  I woke up at about 3:00 and looked around.  My vision wasn't quite at 20/20 yet, but it was getting better by the minute.  I took some eye drops and lounged around for the rest of the day while listening to audiobooks.  It was actually a pretty relaxing day overall, and I went to bed early.
Saturday was a whole new world.  My vision was clear.  I could see! I still had to take drops to deal with dryness and minimize the chances of infection, but I could see!!!!!
I knew it wouldn't do to be overconfident.  I still had to take care of my eyes.  I had a one day checkup to make sure there were no issues, and anytime I'm outside I need to wear eye protection.  Fortunately, I had my Wiley X Air Rage Sunglasses.  This was the first time I was able to wear them and actually see through the lenses.  Awesome!  Totally clear, with just a bit of tint outside (it was overcast).
I showed the Air Rages to my doctor, and he really liked them and told me I'd be fine to walk my dogs that day, and I could start running the next day as long as I was wearing them.  I couldn't be happier!
I actually took my dogs Samson and Mickey on two walks that day, one in the afternoon and one at night.  The Air Rages performed brilliantly on both walks.  I was worried I might have trouble seeing at night, but the lenses didn't obscure my new 20/20 vision!
On Sunday I decided to go for a jog.  I was a bit concerned about how the Air Rages would perform, especially because I've had experience running with glasses before and never enjoyed it.  I attached the elastic strap to the easy-to-use T-Peg Docking System and adjusted for my head.  The fit was snug yet comfortable.
I strapped my phone to my arm, played some music (Buddy Guy – Some people don't think the Blues are appropriate for exercise, but Buddy has so much passion that you can't help but feel energized every time he plays a solo) and off I went!  I haven't been running as consistently as I'd like, so the run was a struggle at first, but not because of my Wiley X Sunglasses.  They stayed perfectly in place without sliding up and down the least as I went mile after mile.
The one issue I experienced was with the lenses.  Yesterday was a beautiful day.  Bright, sunny and nary a cloud in the sky.  I was running at about 2:00pm, so the sun was almost directly overhead, and I didn't feel the lenses were darkening very much.  There was no problem with my vision, as the lenses darkened enough to shade my eyes from light, but I didn't feel they were dark enough to hide my eyes, which I prefer when wearing sunglasses.  I was jogging on my own, so I didn't have anyone to ask about how I looked.  Or, at least, I didn't at first.
About two miles into my run I needed to slow to a walk and catch my breath.  I had a cramp in my side and was taking a lot of deep breaths.  I'm on the same bike path jogging or walking my dogs all the time, and in the warmer months I almost always see a particular girl jogging.  She has curly brown and blonde hair, and she never seems to slow down.  I've smiled and waved a few times, but I've never had the chance, or the nerve, to say hello.  I've always hoped she would stop to pet my dogs, but she seems pretty serious about her exercise.
About thirty seconds after I slowed to a walk she ran by.  I don't know if my sudden boost in confidence was due to my new vision or the sweet Wiley X Shades I was wearing, but I ran up next to her and asked her opinion about the sunglasses.  She said she could still see my eyes through the lenses, but she didn't mind.
We ran alongside one another for at least two miles, talking the whole way.  The knot in my side which would normally take a few minutes to subside was completely gone within moments.  I was fortunate enough to get her phone number.
Was it the Wiley X Air Rages?  I can't say.  But I can tell you my eyes felt great when I got home, and the Air Rage Sunglasses gave me more than enough protection on a 5 mile run.  My eyesight has never been better, and I don't think my eye protection could get any better, as the the combination of safety, value and style are so high in the Air Rages that I wouldn't trade them for any other pair of sunglasses.  In my opinion they're the perfect eyewear for after LASIK.
Latest posts by OpticsPlanet
(see all)
Related Posts
« Complement your Grand Slam Rifle Scope with a Grand Slam Binocular by Weaver! The Crimson Trace Rail Master – From SHOT Show to Your Door! »