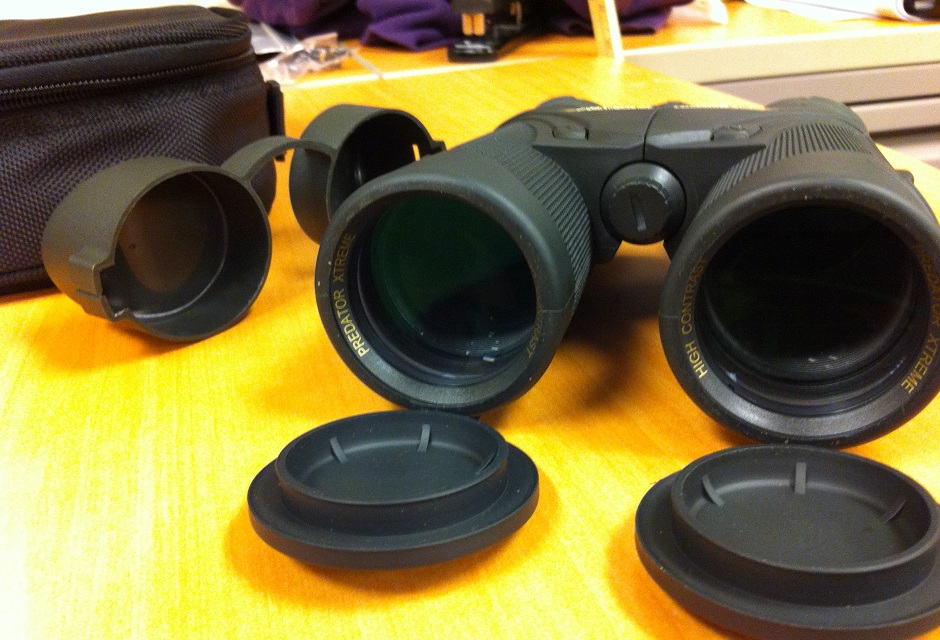 I recently got to take a closer look at some of Steiner's best Binoculars, the Predator Xtremes.  There are a few different models in this line of hunting binoculars, with various magnifications and objective lens sizes, but I checked out the 10X42mm Predator Xtreme Binoculars.  There are a ton of features about these binos that are worth mentioning, so I'm going to do my best to break them down point by point.
Ergonomic Binoculars for Long Term Comfort
To be fair, I wasn't able to spend hours glassing the field for game with the Predator Xtremes, but I hardly needed to hold them to know they're comfortable.  Check out the pic below of the thumb grooves on the bottom of these binoculars.  They're nice and wide and soft enough that you won't mind holding these up for hours on end.  The rubber-armored body is easily to grip and feels both strong and soft at the same time.
To make the Predator Xtremes all the more comfortable to use, the center focus wheel is nice and big.  I was able to easily reach it with either hand.  I've tried out a lot of binoculars that have a ton of fantastic features and smart designs yet still have a small and hard to reach focus wheel that truly diminishes their comfort and usability.  I'm really happy with the big focus wheel on the Xtremes.
Tough?  Oh, These Steiner Binoculars are Definitely Tough
I already mentioned the comfort level you'll get from the rubber armor of the Predator Xtremes, but the cushioning this gives the binoculars is really outstanding and will keep them from damage due to a majority of the bumps and jostles they might go through.  But toughness comes from a lot of things, not just the rubber body, and the Steiner Predator Xtremes have some other great features that provide strength.
I really liked the simple yet effective lens caps.  There are two sets of caps, one for the ocular lenses (the ones held up to your eyes) and some flip down caps for the objective lenses (the lenses aimed at the target, their size is the '42mm').  The ocular caps were nice and sturdy and would definitely keep the lenses clean and safe.  They remove completely though, so you have to be careful where you put them.  The flip down objective lens caps were a little better, though while they flip down easily, they take a bit more effort to put back in place.  You can see both sets at the top of the page, and the objective lenses in place below.
Goodness Gracious that Great Glass!
Last but not least, I found the image the Steiner Predator Xtreme Binoculars produced was very good.  I was using them in very bright lighting conditions though, so while the image was nice and clear, I can't tell you how well they'll perform in low lighting conditions.  They're meant to be hunting binoculars though, so I think you'll have an easy time spotting your game so you can take a quick shot.
All in all the Steiner Predator Xtreme Binoculars impressed me.  I'll admit the feature that stuck in my mind the most was the quality of the construction and their durability.  These feel like binoculars that will last for years and years without deteriorating in quality or performance.  Try to find that in many other binocular.
Latest posts by OpticsPlanet
(see all)
Related Posts
« Nikon Shooting Competition Wrap Up Video with Trevor and Kate! SureFire Tactical Flashlights Are Also Great For Fourth of July Camping! »