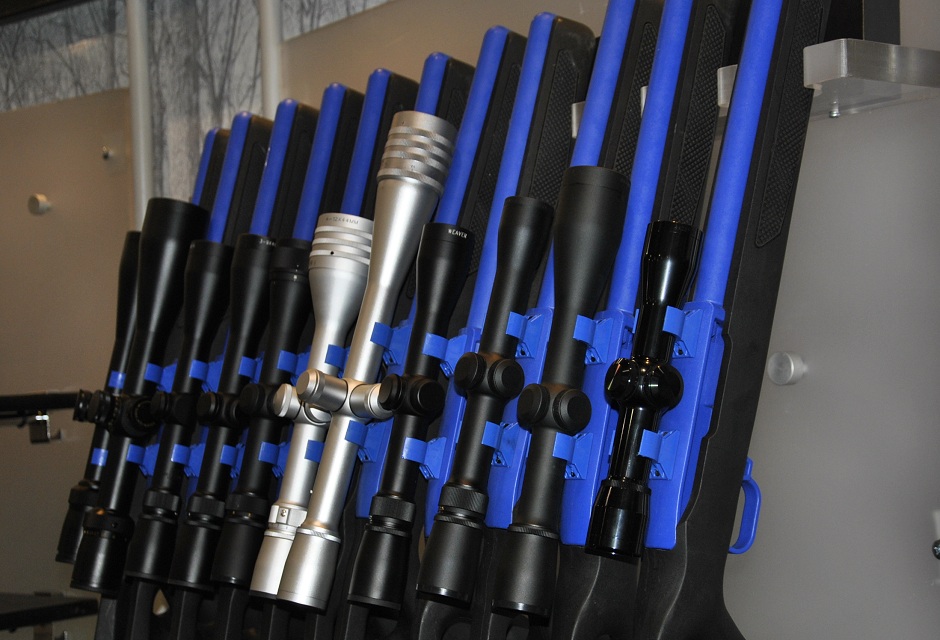 BlackHawk, Weaver, RCBS, Champion Traps & Targets, Federal Premium and many other brands all occupied the same area of the show on the second floor, and we head over to get the low-down on new gear from BlackHawk and Weaver.
BLACKHAWK! at SHOT Show
BlackHawk is finally debuting their new line of watches in 2013. We spent most of the second half of 2012 eagerly anticipating these watches, but BlackHawk had to delay them to ensure the highest quality possible. It looks like it'll be worth the wait, as the watches looked very refined and polished. There are many tactical watches on the market that, well, you wouldn't want to wear them to a nice restaurant. But BlackHawk has balanced function with style, and these watches will likely be a big hit with the military and law enforcement communities. Some are available now, others will be shipped in the coming weeks.
We also got a chance to see the new rifle rests coming out from BlackHawk. We had heard BlackHawk was planning on entering the rifle rest/shooting rest market this year, and learned they intended to do so under the BlackHawk Sportster Label. Five different models will be offered, from the premium level BlackHawk Sportster Titan FXS to the simple BlackHawk Sportster Titan VR Shooting Rest, intended for ARs and varmint hunting. The construction, weight, and solidness was impressive, and it looks like the shooting rest market just became a bit more competitive in 2013.
It wouldn't be a stop at the BlackHawk booth if we didn't check out apparel, bags, or holsters, and while we did spend some time with the watches we also made time for BlackHawk's new holsters and rigs. First up was the new Epic Series. Put extremely simply, it's a SERPA that has additional room for a weapon light. You'll get that same snug fit you get from a SERPA, but now you have a holster to use with your mounted light. This looks like it'll especially useful for police officers, as the Epic Series will support the Streamlight TLR-1 and TLR-2 and also the Surefire X300 and X400. Looks like we should expect the first versions for full-size Glocks by the end of March, with 1911s, XD's and more to come soon after.
We also took a look at the Grip Rig, a smooth, fast draw holster that will be available in both leather and nylon versions in late March.
Before leaving, we got a hands-on demonstration of the new Versa Harness. BlackHawk made this simple harness for a variety of purposes, from harnessing in your binoculars or rangefinder to attaching your Blackhawk holster and keeping your firearm close to your person. The possibilities are nearly endless, and no doubt this item will be popular with both professionals and hunters who need to carry a lot of gear as securely as possible.
Weaver's SHOT Show Gear
Weaver was our next stop, and we learned that the popular Grand Slam series was being completely updated in and out this year. Available in June, the refreshed Grand Slam line will feature new improved glass, new lens coatings, finer adjustments, and a much sleeker and polished look than the previous model. The Grand Slam Riflescope line definitely needed the attention, and I expect a lot of deer hunters will be utilizing these scopes this fall. With an MSRP of around $550, they won't be cheap, but there are a major contender in the mid-level market.
We also learned that the Kaspa series of entry-level hunting rifle scopes (which we covered last year right from the SHOT Show floor) will be getting a new Turkey Scope this year. This Mossy Oak scope will have an MSRP of around $259.99 and be available in June. The most interesting part of the scope is the new reticle Weaver is developing. What we saw was a prototype, but the reticle is specifically designed to highlight the vertical kill-zone on your gobbling target. It makes a lot of sense that this new reticle will help improve accuracy. I would certainly love to try it out!
Latest posts by OpticsPlanet
(see all)
Related Posts
« GunVault TacVault & RadioVault, and Cannon Commander & Armory at SHOT Show! SightMark Photon Night Vision Scopes and Pulsar DFA 75 Co-Witness NV! »