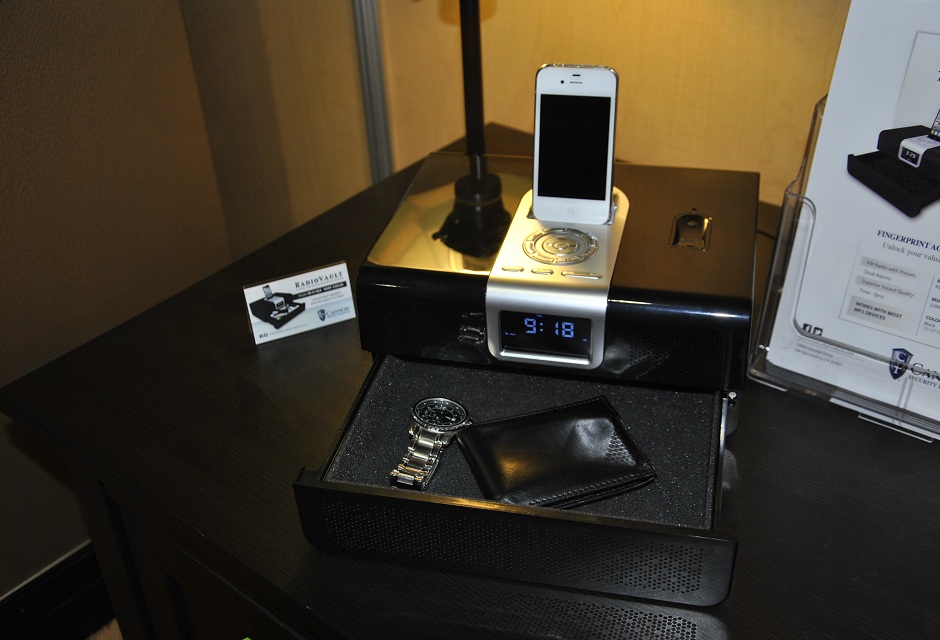 After Barska, we headed upstairs to stop by the GunVault, Cannon, and Cannon Security Products booth. Wow.  Some very cool and innovative safe options this year
The first thing we checked out was the GunVault RadioVault (pictured at top). This FM radio/alarm clock/iPod dock has a biometric lock on a slide-out compartment at the bottom of the unit. You can store up to 120 fingerprints and the compartment is completely inconspicuous. The unit looks like one of those alarm clocks you'd find at a mall – you wouldn't suspect a pistol, wallet, jewelry or valuables were stored inside. The MSRP is right around $350 and it should be available extremely soon.
After that we filmed a bit on the GunVault TacVault. The TacVault is a AR safe, with room for 2 long guns and also has a shelf on top to place a pistol for quick and easy access. The lock is biometric can store 15 fingerprints.
I'm not sure why nobody had thought it of it before, but Cannon finally addressed a major issue for the full-size home safe market. As unlikely is it might be, an EMP would render electronic-locking safes useless, and with the extensive steel reinforcement on locking mechanisms it would be almost impossible to find a way to get that safe open, leaving you without your firearms and valuable supplies. Cannon will now offer EMP Lock options for both the Commander Series and the Armory series. This EMP lock offers both an electronic lock and a simple combination lock, meaning you have the day to day ease of use of the electronic but the combination lock if something like an EMP ever happens. Very, very cool!
Latest posts by OpticsPlanet
(see all)
Related Posts
« Barska Contour, GLX Green Laser & More from SHOT Show Day 3! BLACKHAWK! Sportster Titan Rests, NEW Watches and Weaver Grand Slam Scopes! »