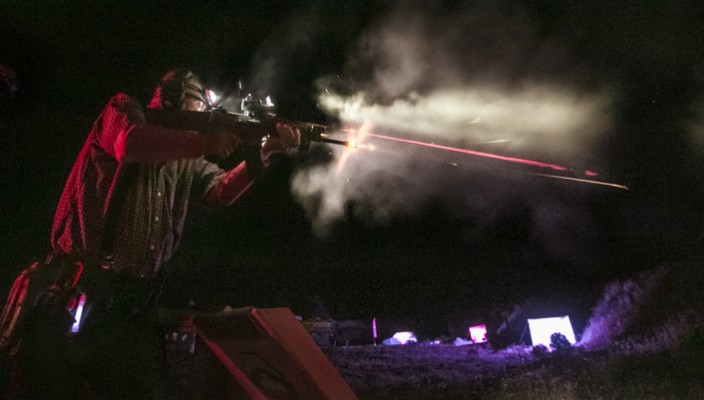 Lights, Cameras, Night Vision, Lasers, Suppressed Full-Autos, Grenade Launchers, Belt-Fed SAWs…
While this may sound like a summary of a behind-the-scenes tour of the latest Schwarzenegger movie set, in actuality, this is a short but accurate description of my time at the 2014 Crimson Trace Midnight 3 Gun Invitational. Located in the high-desert of Bend, Oregon, the 3rd annual Midnight 3 Gun Invitational (M3GI) took place over the course of four long days and nights, and brought in hundreds of shooters, manufacturers and media personnel from all over the country. And as a top-level sponsor of the event, OpticsPlanet and GearExpert had the pleasure of taking everything in firsthand.
After deplaning our pre-dawn flight in beautiful central Oregon, we were greeted with a very unseasonable downpour. While Dave and Chase, my partners from the team here at GearExpert (and M3GI rookies), expressed concern at spending the next week soaking wet, as a veteran of the event I was still brimming with excitement, because I knew we were in for loads of fun, rain or shine. Weather be dammed, we grabbed our gear and made our way to Sunriver Resort, which was going to be our home for the week.
After maxing out on sleep Tuesday night (again, as a M3GI vet I knew sleep would be hard to come by the next few nights), we awoke Wednesday ready for a full day at the range. We took a scenic 45 minute drive out of Bend, and arrived at the vast COSSA range, located in the Oregon desert. This range has it all: 1000 yard targets, countless bays, shoot houses, props and so much more. The team dropped our gear, and after a quick introduction from Kent Thomas, Marketing Director for Crimson Trace, and Top Shot alum Chris Cerino, the media group was off to learn 3 gun tactics and drills from the greats. First up was pistol training from Mr. Cerino and his son Colton. Armed with a Smith & Wesson 9mm M&P pistol, a Crimson Trace Rail Master Pro, and Blade-Tech belts, holster and mag pouches, I took the line for our first drill, which focused on drawing from the holster and finding your sight picture.
As soon as we were comfortable acquiring sight picture, Cerino explained that this was going to be of little use to us that evening, as traditional iron sights are all but impossible to find and use accurately when facing pitch-black conditions. This is where the Crimson Trace Rail Master Pros came into play. Even in bright daylight, the solid green beam was clearly visible on our 10 yard paper targets. Cerino and his son worked through the line, showing each shooter how their laser beam could be used as an visual enhancement of a proper sight picture, allowing the shooter to take those shots when the sun went down.
From pistol training, we walked over to Bay #3 for a lesson in shotgun reloading from the immensely talented Lena Miculek. Many of you may be thinking: "Why do you need a lesson in shotgun reloading? It's so easy!". While that may be true while at the range shooting clays or in the deer blind waiting for that buck, in 3-gun, shotgun reloading can cost you valuable seconds, and seconds can often mean the difference between the podium and the bottom of the score sheet.
A relatively recent introduction to the sport, quad-load shell caddies have become the go-to ammo pouch for nearly all major competitors. I've seen the speed at which these can be used to load shotguns by watching YouTube videos of OpticsPlanet Pro Shooter Jesse Tischauser, however seeing it in the flesh was an entirely different experience. The stance, the flip of the gun, the grip on the shells, the placement of your thumb – it's all an intricate dance of speed and skill, and Lena was a perfect instructor. While the class certainly was not ready to quad-load by the end, nearly everyone felt comfortable with the use of the shell caddy and the grip of the shells. After taking a few practice shots for good measure, it was off to our final class of the day…
Enter Jerry. For those of you who don't know, Jerry Miculek is the fastest gun in the West. And the East. And probably the North and South too…pretty much anywhere you go, online or in person, you'll have someone telling you about Jerry's trigger speed or shot placement. The man hit a balloon at 1000 yards with a 9mm! You heard me right – a 9mm! Don't believe me? Take a look at the video yourself:
With such an amazing skill set and pedigree, our group was appropriately in awe when approaching Jerry and his rifle training course. But this was no time for autographs, as Jerry was ready to put us through the paces with our Smith & Wesson M&P rifles with modified triggers and Crimson Trace MVF515 vertical forgrip with integrated lights and lasers. "Close only counts in horseshoes and hand grenades" – this was Jerry's first lesson in 3-gun target neutralization. For those of you new to the sport, 3-gun uses a variety of target styles, with the most common being steel plates, clay pigeons, and paper silhouettes. To avoid penalties on any given stage, the shooter must neutralize the target in the form of knocking over the steel, shattering the clay and/or placing two shots on the paper (or one shot if it falls into the "A" zone of the target – AKA dead center).
Working in pairs, Jerry ran us through a drill designed to test the shooter's ability to effectively move from different size and style targets at varying distances, while still effectively neutralizing them in the minimum shots required. It's hard to fully explain what happened when it was my turn to shoot, but it a matter of moments Jerry completely changed the way I shot a rifle. "Move your hand here, your foot here, stand up a little taller, squeeze here" – his short and simple list of commands turned that 30 yard plate rack from foe to friend. Needless to say, Jerry is and always will be a legend for a reason.
With our 3-gun training officially in the books, it was time to grab a bite to eat and wait for the sun to go down so that we could get night one started. While I'm sure you're all dying to know how I fared in the Media Match after all this great training, I'll refrain from boring you to death, and instead get to the exciting part: the Pros!
Friday night kicked off the two nights of pro shooting, and boy was it something special to watch. All the contenders from 3 Gun Nation were there, including OpticsPlanet Pro Shooters Kalani Laker and Jesse Tischauser. This video we shot of them should provide you with just a little taste of how exciting M3GI can really be:
While Jesse and Kalani shot the match incredibly well, after 10 stages of lasers, lights, night vision, and a variety of incredible stage guns (including the off-road mounted beast below), top honors went to Daniel Horner of the Army Marksmanship Unit – his third straight M3GI win.
What's truly special about the Crimson Trace Midnight 3 Gun Invitational is the spirit of the competitors. Though there's no doubt everyone in the room at Sunday's closing ceremony would have loved to take home that giant $10,000 check, all of Horner's competitors were wearing a big (albeit tired) smile on their face. Because honestly, who wouldn't be happy after spending several nights up until 4am throwing lead downrange? It's an experience like none other, and OpticsPlanet and GearExpert were thrilled to play a part in this year's event.
Have you ever shot at night? What tips would you have for those heading to next year's M3GI (or any other night match)?
Related Posts
« Going the Distance with Nikon OPMOD and Zeiss created a BEAST and I got to let it out of the cage!!!! »