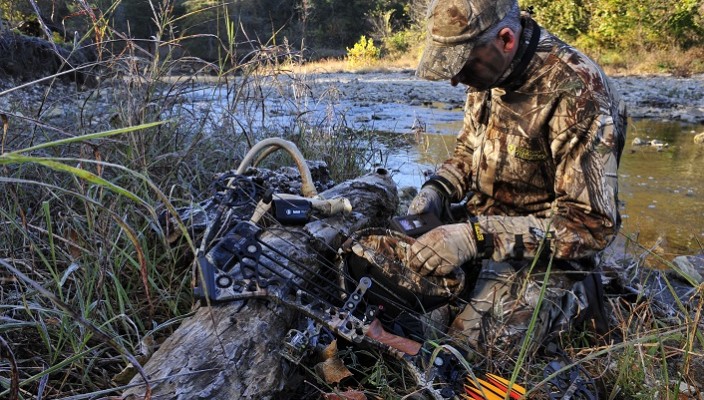 Whether you're out hoofing it through the bush with your bow or hunkered up on a tree stand hunting, a rangefinder is an invaluable tool. But you'd be foolish to think that all rangefinders are the same. No. No. No. There's a heck of a lot of technological intricacies that go into rangefinders. I'll save you all the jargon and cut straight to the point. The following Bushnell rangefinders have been created from the ground up to be equally as accurate at helping you place long range rifle shots as they are at give you the most accurate of accurate distances to put an arrow exactly where you want it.
Being a serious hunter means spending a lot of time and more importantly money when going on a hunt. The last thing you want to do besides getting skunked, is take a shot and miss. In order to eliminate as many "mess up" factors as possible, having the best tool for the job is paramount. The Bushnell 6×21 G Force DX 1300 rangefinder is that perfect tool, giving you a wide assortment of features that are sure to please any hunter. Top of the line glass gives the user excellent contrast when panning across an area to easily spot game. Along with that, my favorite feature is the ARC or angle range technology with allows you to get precise distances especially when shooting from hilltops and valleys.
Now the Bushnell G Force DX may be out of some people's budget but another excellent high value option is the 4×20 "The Truth" Rangefinder. Coming in at $100 cheaper than the previous rangefinder, it does pretty much everything the G Force DX does. However those of you who are looking to reach out to crazy distances, wont have the same 6x magnification and only get 4x. In my opinion for hunting, I've never really needed more than 4x magnification but older eyes could definitely see the 6x as an advantage.
Which ever rangefinder you decide to go with, make sure its a Bushnell and secondly make sure you take advantage of the instant rebates we're running right now on these rangefinders!
Related Posts
« Why You Never Want to Work In the Firearms Industry One Scope to Rule Them All…. Not Really but Close »