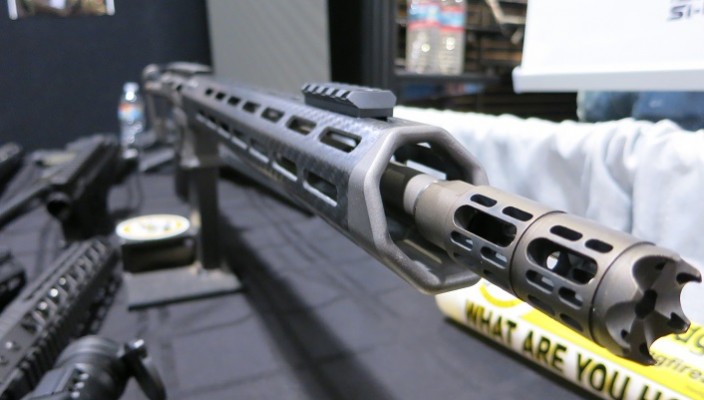 Seeing as how America's Rifle, aka the AR-15, is hands down thee most popular rifle in the United States, there's certainly no shortage of do-dads and add-ons to morph it into the perfect fit for your application. Up in the rarified air that is SHOT Show, we're exposed to hundreds of new AR accessories, some good, some pointless and some just flat out weird. And while weird is my middle name, I'll stick to breaking down the "gotta have it" accessories that'll turn your AR into something fierce.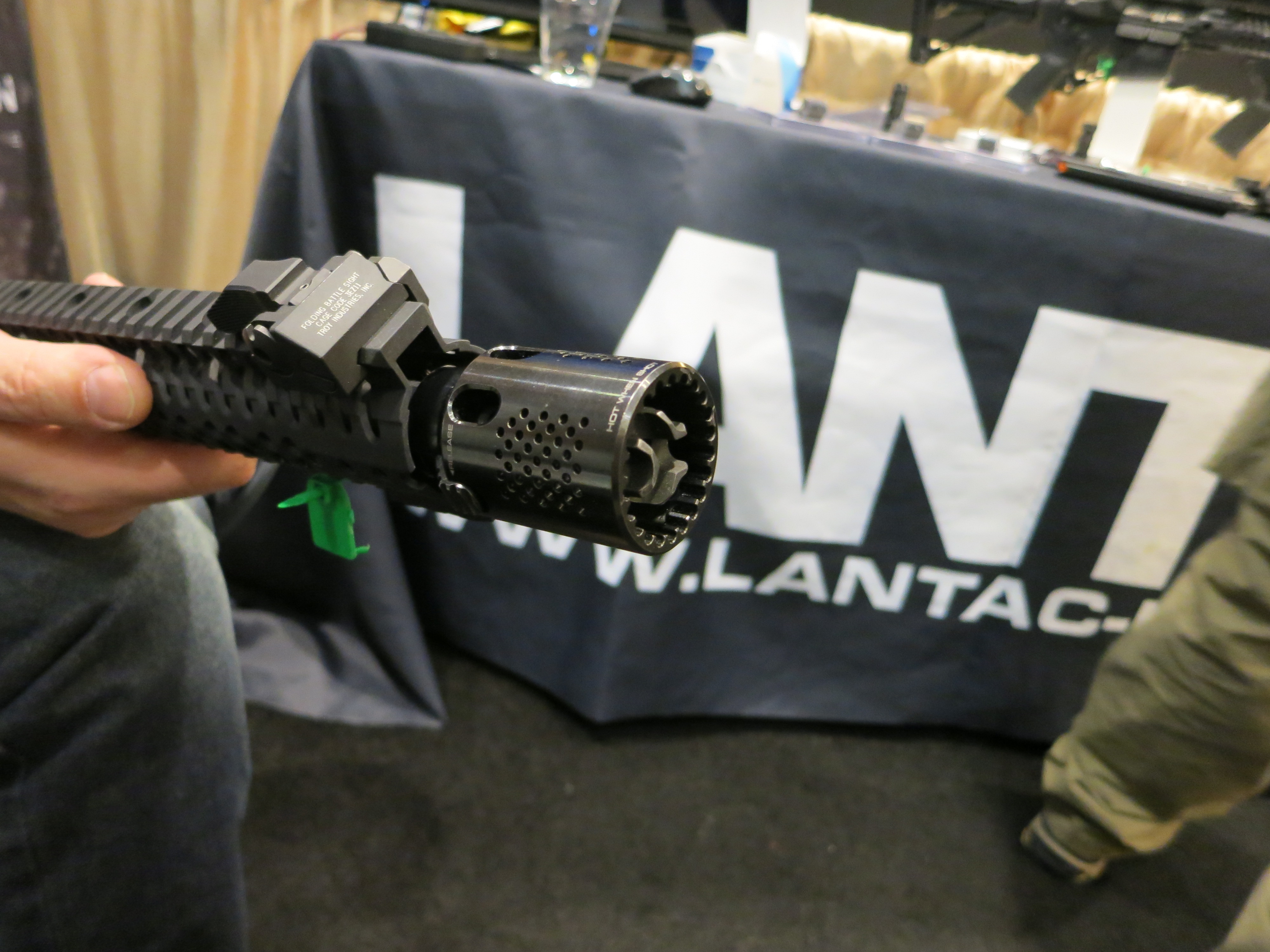 -If you're building a rifle or sbr that's meant for close quarters fighting or even shooting out of a vehicle, then a muzzle brake that shields the guy next to you is mandatory. If you've ever been subjected to someone popping off high pressure 5.56 right next to you, you know exactly why a blast shield type muzzle device is so beneficial. The AR magicians over at Lantac came up with what they call the "blast mitigation device" or BMD for short.  Not only does it work flawlessly with their highly regarded Dragon muzzle brake but it also does one hell of a job at downright eliminating muzzle blast. It also features a quick on/off attachment and looks stupidly sexy on even a bone stock gun.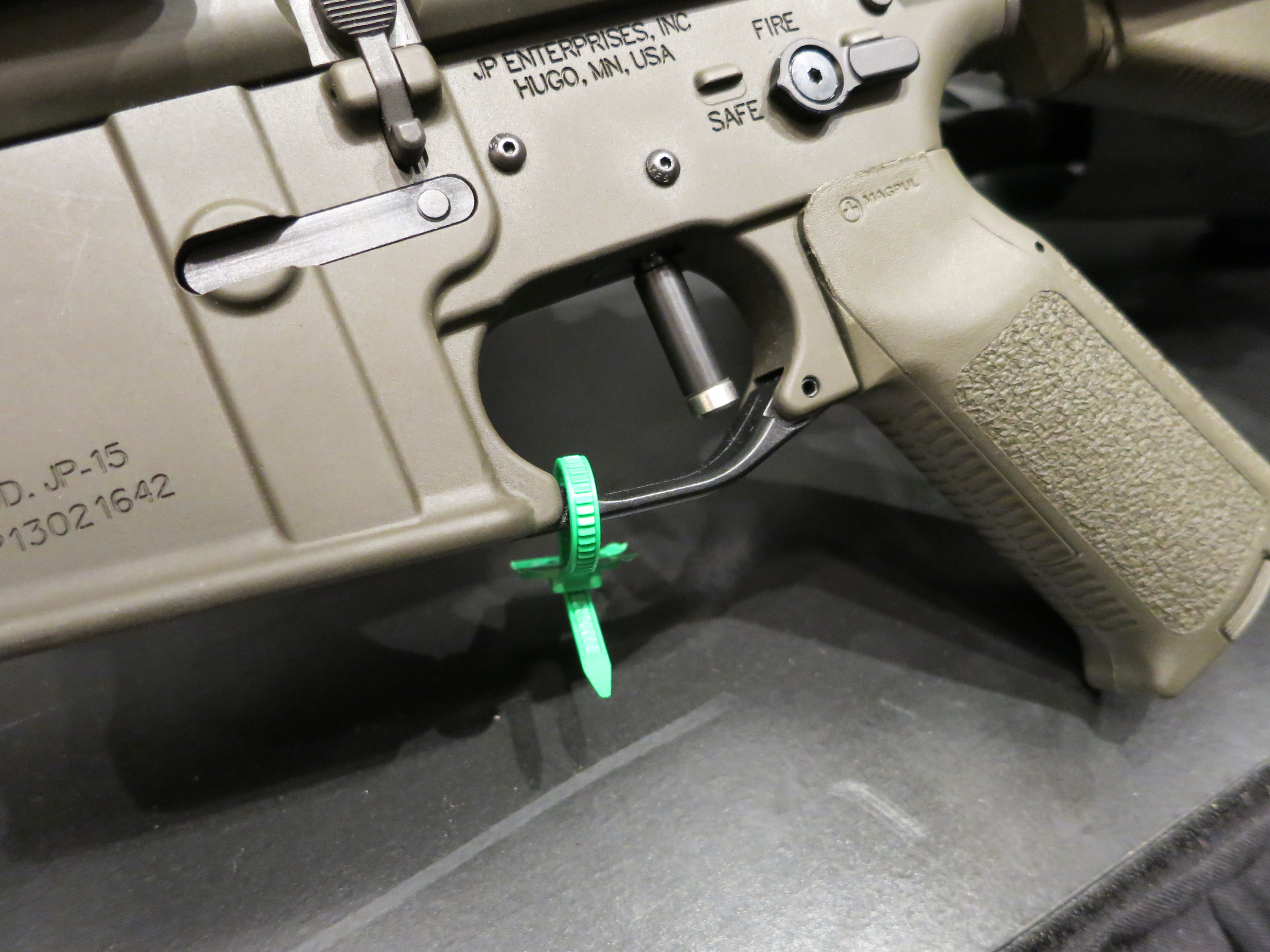 -With a name like "Armageddon Revolution" you'd think it was the sequel to an action movie that went straight to DVD. Putting aside the goofy name and after further inspection with my trigger finger, I walked away from the JP booth utterly amazed. The trigger rolls on a ball bearing of sorts and takes away any chance of you pushing shots by jerking it laterally one way or the other. I promise you, it's anything but gimmicky and although I can't guarantee this, I'm sold on the fact that it'll allow me to shoot faster and more accurate than ever before.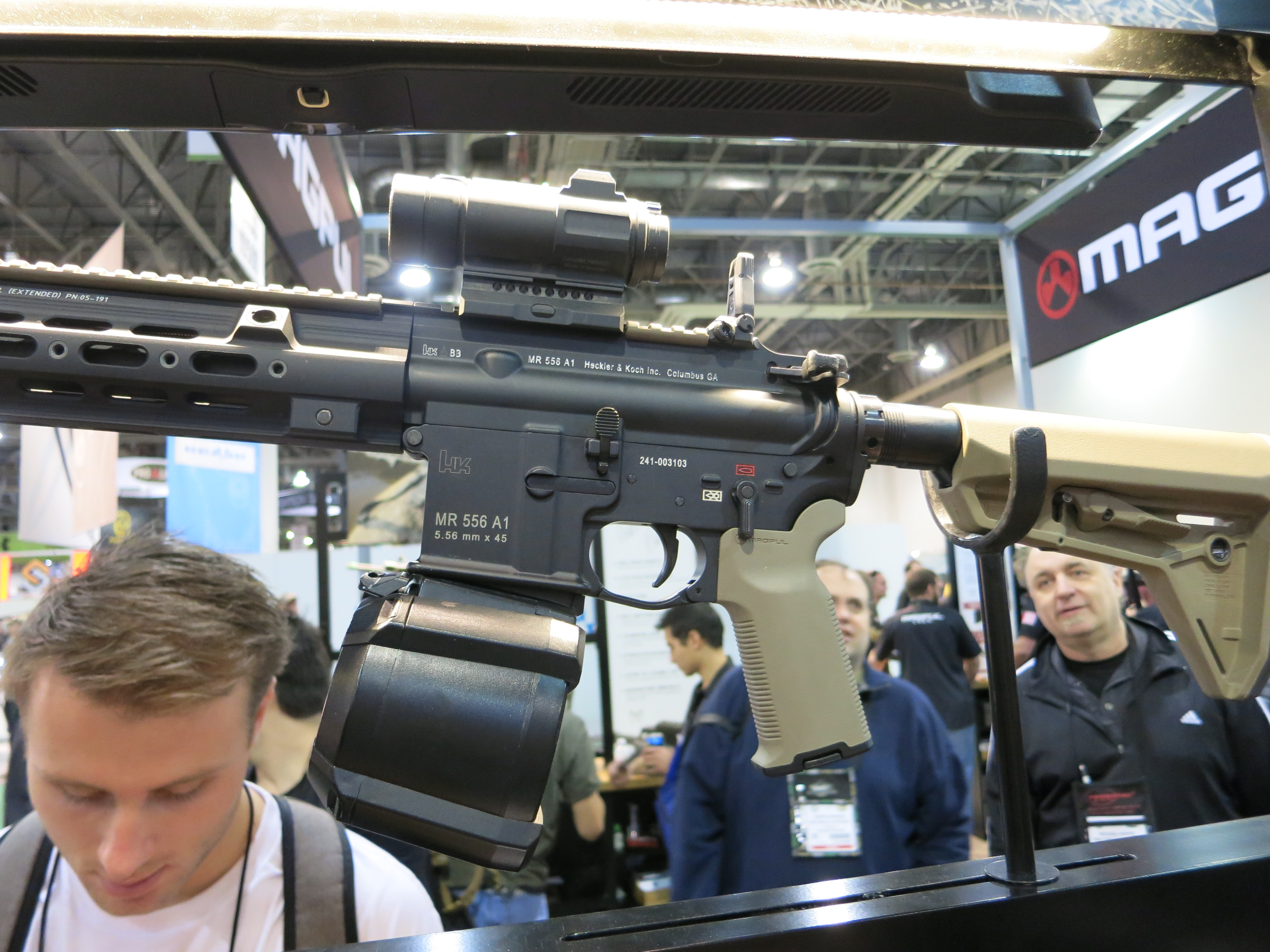 -In case you weren't fortunate enough to see Magpul turn the industry upside down the week before SHOT show, their latest sixty (yes 6-0) round PMAG is absolutely positively kickass. Unlike other drum magazines that fail to feed when you need them the most, Magpul has tested the bejesus out of it in pretty much any gun that accepts AR mags. The finished product is compact enough so you can still plop to the ground in prone, also feeds flawlessly, and has a round indication window on the back. Basically anything and everything you could ever want out of a drum magazine, besides the obvious need for more capacity.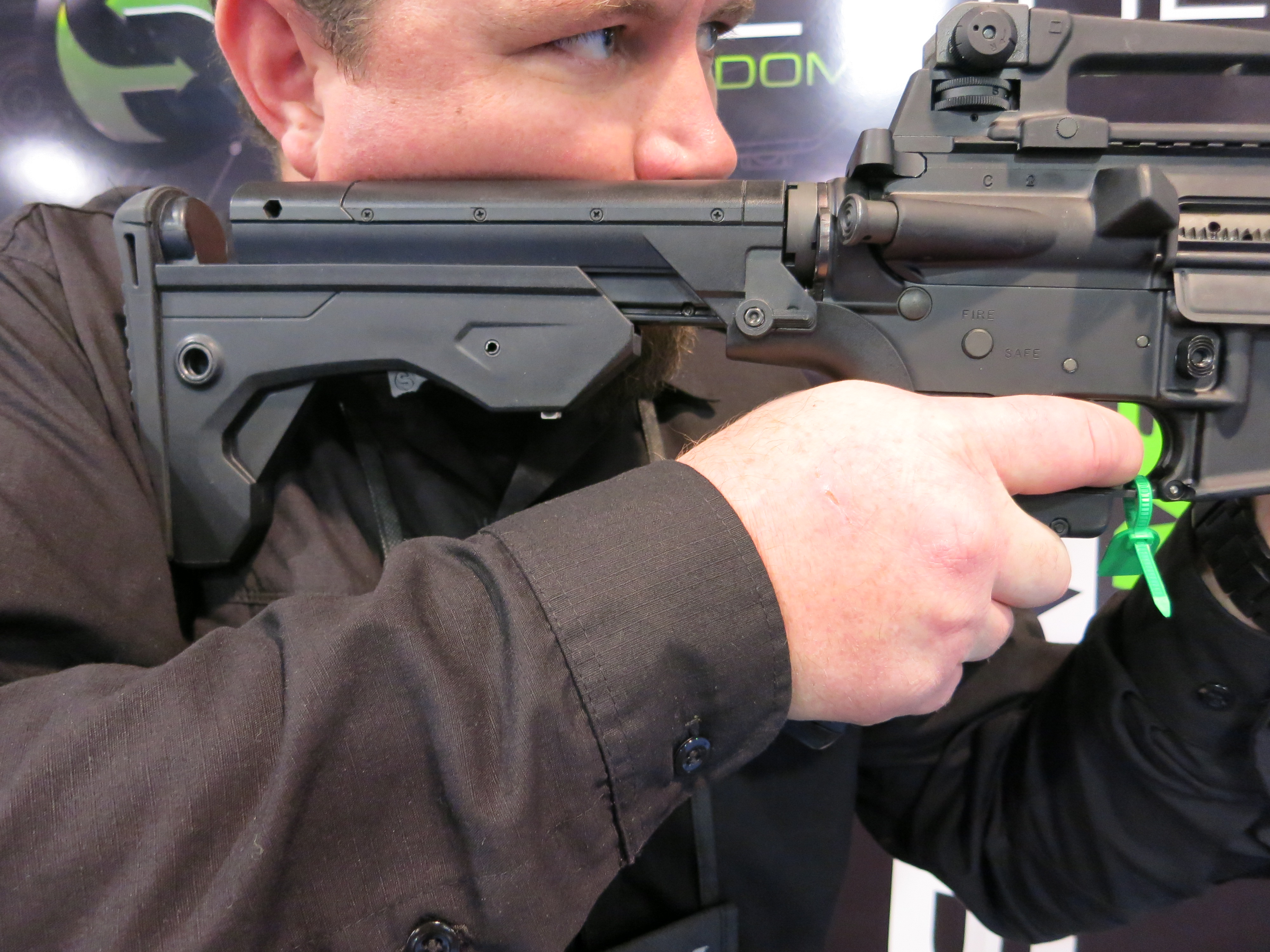 -If you took my advice and picked up the Magpul D-60 PMAG, the only sensible next accessory would be something that lets you spew lead as quickly as possible. If you didn't know, a Slidefire stock allows the user to simulate firing in automatic. Well they took the feedback from their first models of the stock and launched the new SSAR-15 "MOD" stock, giving you the same ease and adjustability of any other standard stock but with the quick turn of the base of the pistol grip you're firing mind-blowingly fast.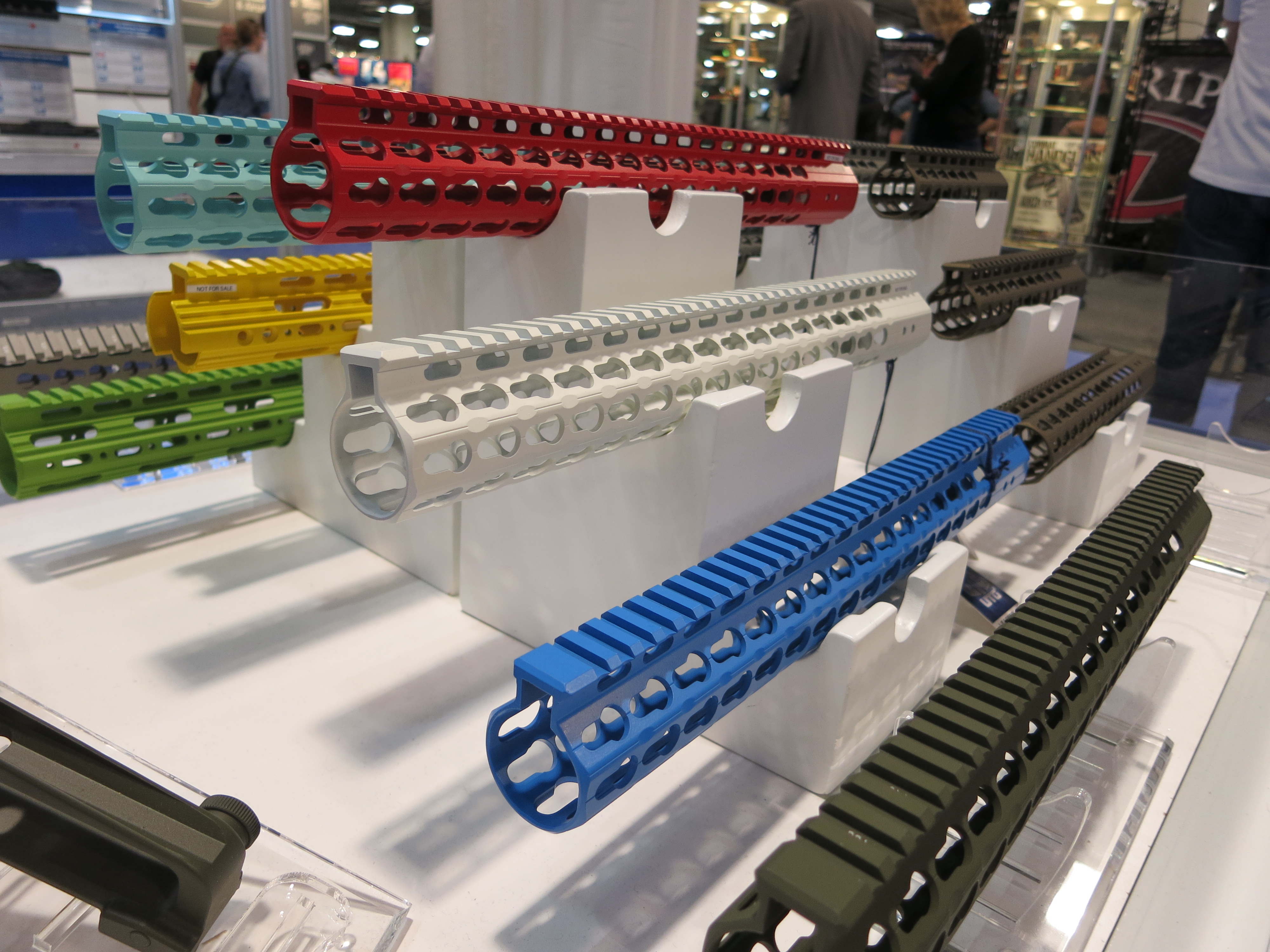 -Made in the USA, this fifteen inch free floating forend from UTG has beat out similar models from other brands costing at least $50 more. Also included are two keymod rail sections and a barrel nut tool with a torque wrench attachment, which I highly suggest you use so nothing blows up in your face. Overall I particularly like how slim the forend is, something you Costa "C-clampers" will really enjoy.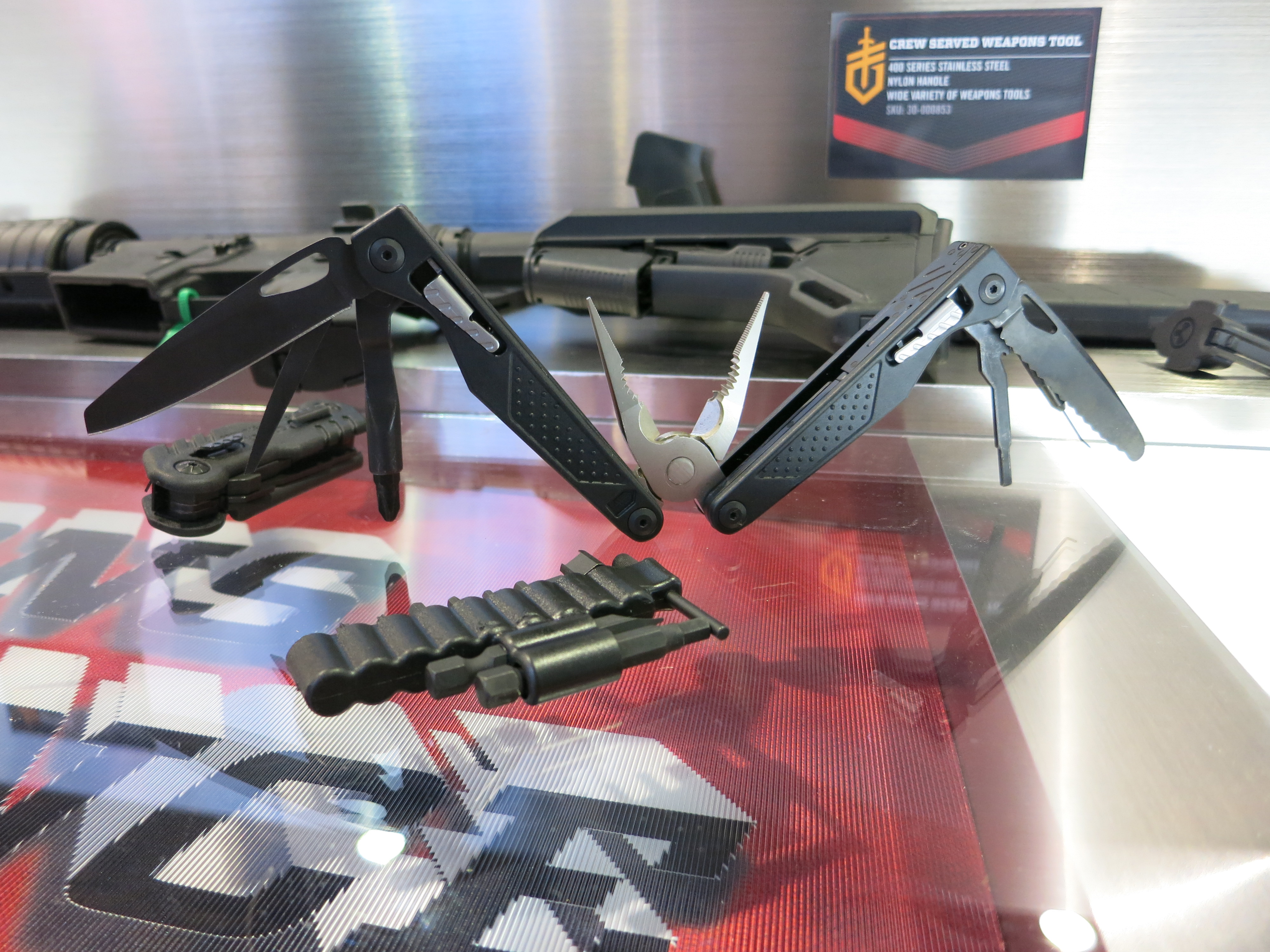 -Without being able to clean and maintain your AR15 what you have is an 8lb hunk of mixed metals in your hands. Built from the ground up with tools specifically designed to keep your rifle running, MP1-AR is one serious multitool.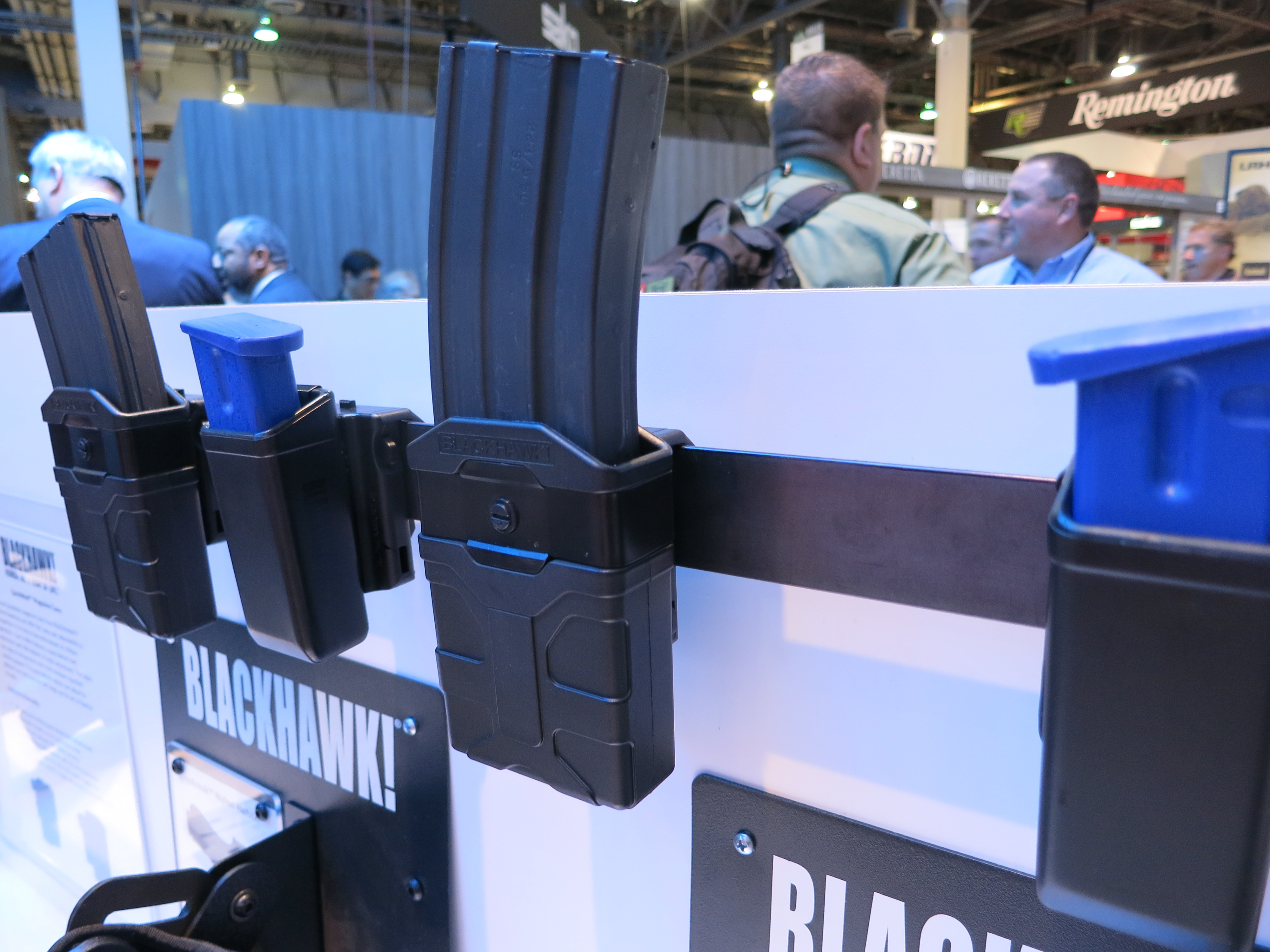 -Normally you'd have to be half insane to get excited about a mag pouch but Blackhawk has knocked one out of the park with this one. The QuickMod mag pouch adjusts almost instantly to belts from 1.5" to 2.25", so essentially every belt you could possibly think of.  On top of that you can fine tune the orientation of the pouch in sixteen different postitions. But wait there's more! According to a rep from Blackhawk it'll ship with three different inserts to dial in the perfect retention of your magazine. Stay tuned, we'll be testing the heck out of this soon.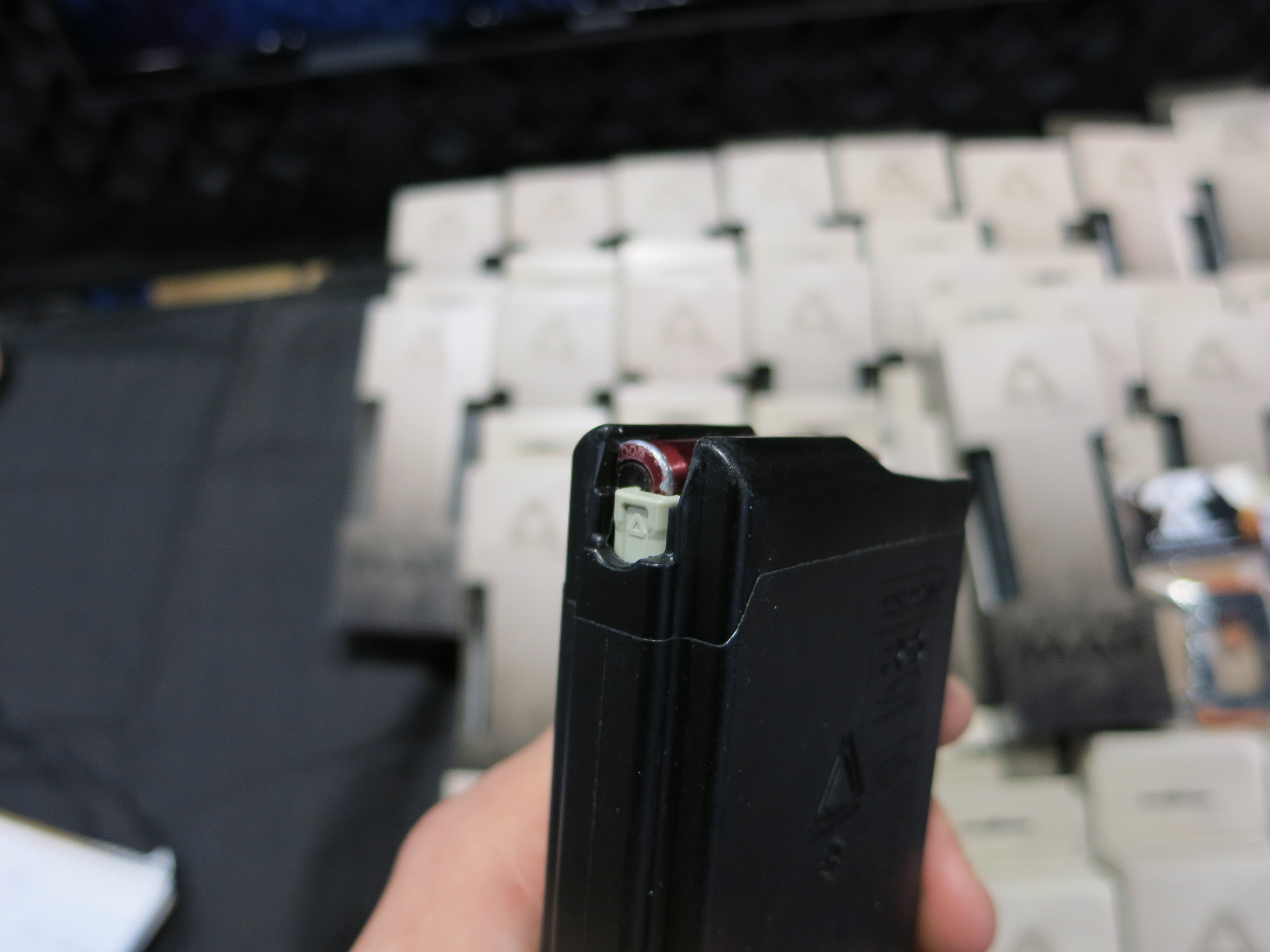 -When you run empty with your AR, it usually results in an "Oh Crap" moment followed by a mandatory reload. What Maklarbak did was reinvent the follower in your magazine with one that trips the bolt when there's only one round left. You may be asking why? I hate to steal their analogy but when driving a car, you have a low fuel light. It should be the same thing with your AR. With their follower installed, with one last round in the mag the bolt locks back, you instantly slam the bolt release then perform the reload. What you've done is given yourself one last round which can mean all the difference in a firefight or self-defense scenario.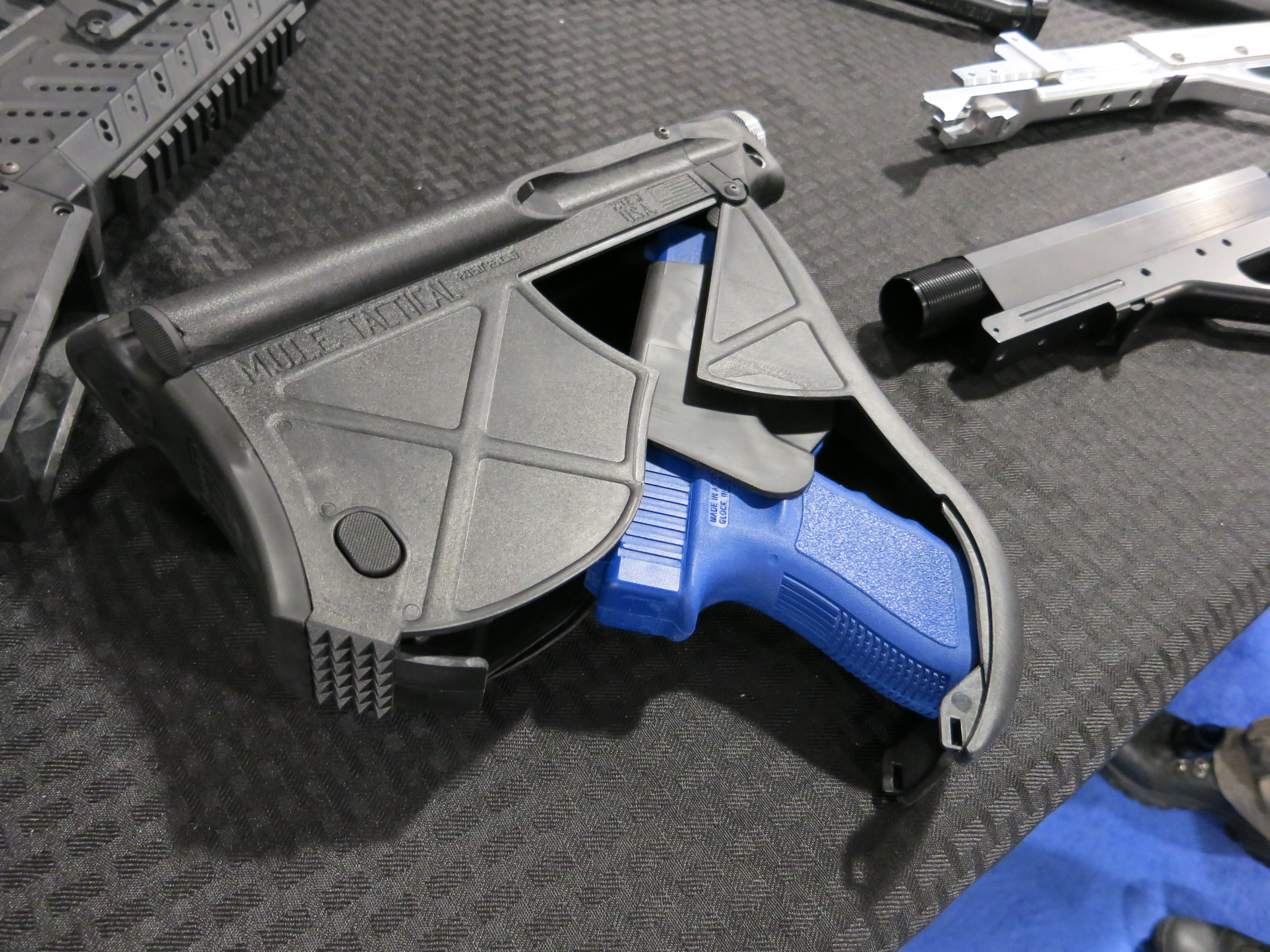 -I've seen some cool stuff being stored in AR grips but never another gun in the stock, until now that is. Going off the old adage "one is none and two is one" the Mule tactical stock allows the shooters to store either a compact/subcompact Glock or M&P in a hinged quick-access compartment. Why? Why not! I haven't been able to test it out as it is still in production but the concept of drawing your pistol from the buttstock seems interesting to me. I can almost bet that you'll see this in a movie at some point.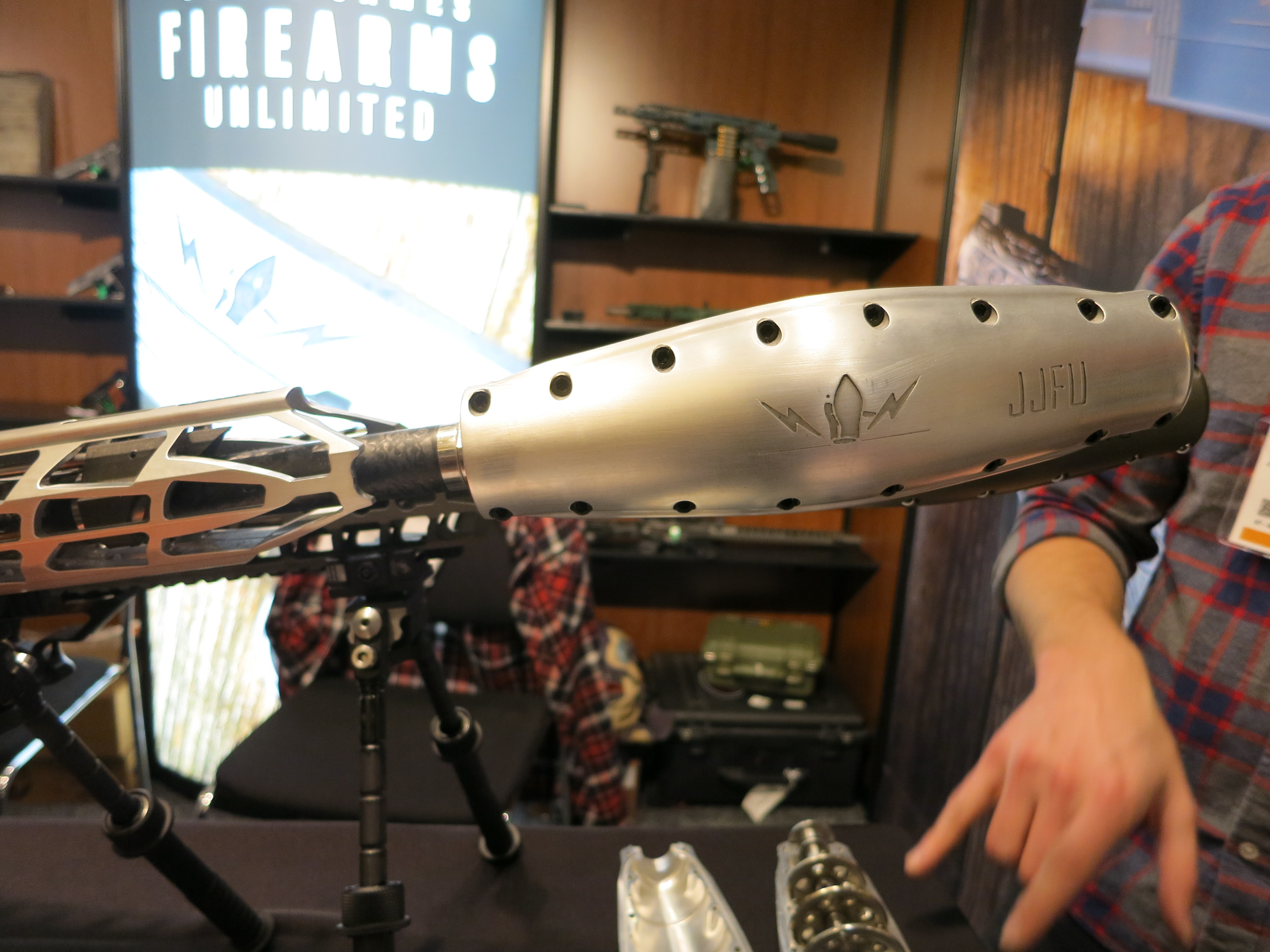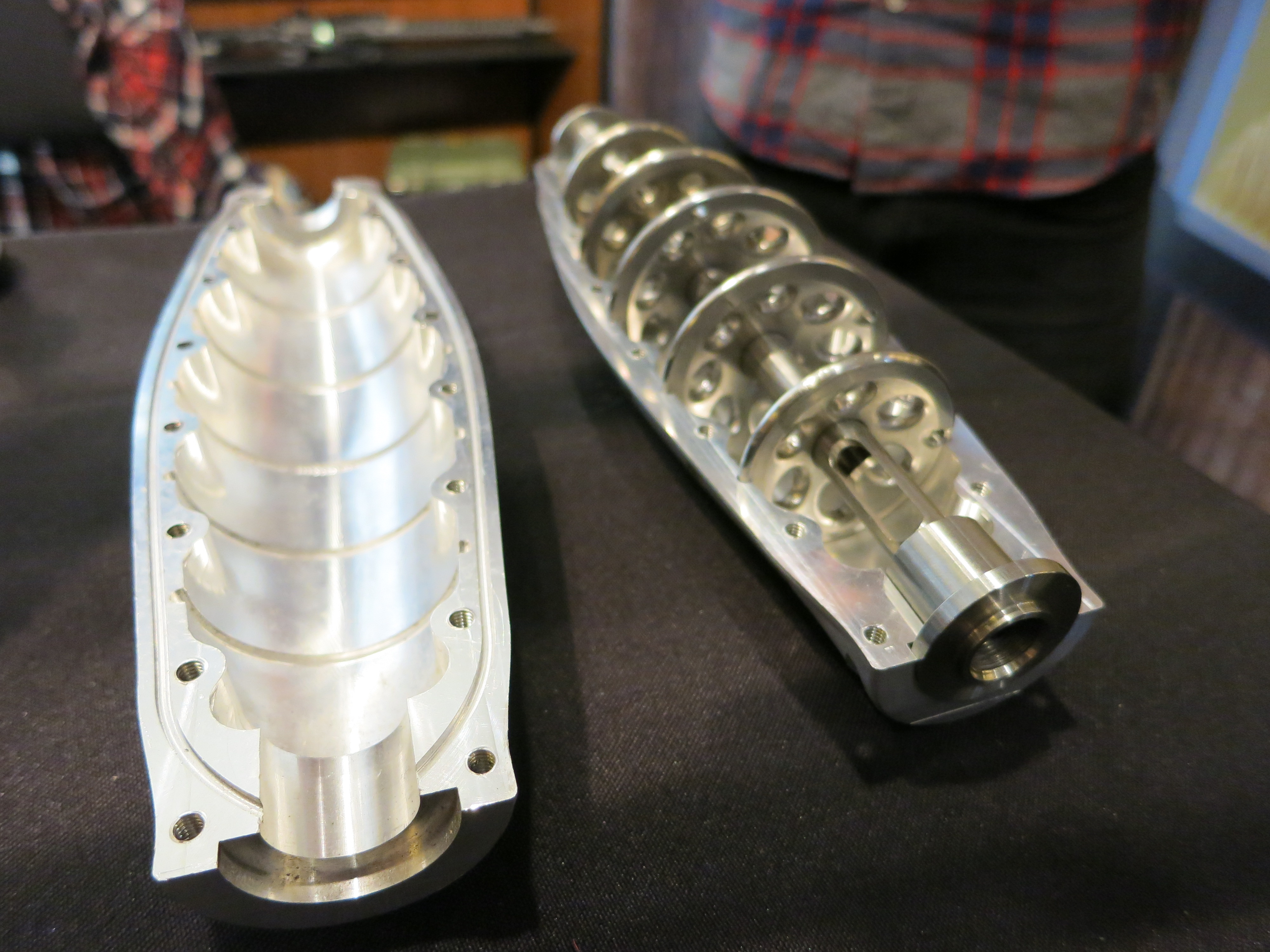 -Lastly we have what can only be described as the strangest looking yet unassailably awesome suppressor to date. It's made by world renowned metal craftsmen Jesse James and features some crazy detailed internal baffles as shown above. With a price tag of …..wait for it…..$4,500 it's not exactly pocket change but if you want a hand crafted, made in the USA suppressor and the bragging rights that you have a Jesse James made anything, you need to be willing to pay the piper.
If you haven't found one thing on this list that you want for your AR, then you probably shouldn't even own one in the first place! Let me know what's your favorite accessory in the comments below.
As always guys, shoot-em straight and be safe.
Related Posts
« Top 5 Guns Under $500 at SHOT Show 2015 6 Pistols You Cant Live Without From SHOT Show 2015 »