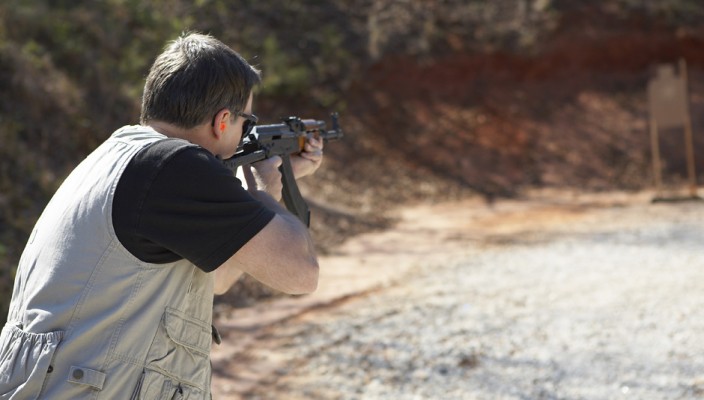 It may feel as though these cold temperatures are never going to release their grip, but spring is right around the corner. This means its time to dust off your guns and grab that ammo that you've been reloading all winter, because the gun range is calling your name. If you're like me than you always like to "reward" yourself with a few pieces of gear every once in a while. Their really is no better time to do that then when you're clawing at the walls in late winter.
Do you spend countless time reloading round after round by hand into your thrity round AR-15 magazines? Those days of sore, lead covered thumbs are over. The Caldwell AR-15 Mag Charger can literally charge your thirty round mag in seconds. Let me say that again: in seconds. This is brand spanking new for 2014 and will no doubt be a popular item. The Caldwell AR-15 Magazine Charger is so effortless to use, you'll actually enjoy reloading AR-15 mags.
I don't know about you but I've been jonesing to get my hands on  the LaserMax Green Laser Guide Rod.It is super easy to install on a Glock. It replaces your stock guide rod, so it is all internal. This means you dont need to get a new holster to use it. The Picatinny rail is also left alone, in case you have a favorite weapon light you want to keep attached. The on switch is right where you're trained to put your finger when shooting, which makes activating it uber fast. If you own a glock, there's no reason you shouldn't own one of these as well.
Now that you've got the easiest way to load your ammo, you don't want to neglect the easiest parts of your body to damage. The number one injury when using firearms is hearing and eye damage. Do earplugs hurt your ears or limit what you can hear? The Walkers Alpha Power Muffs fit like a glove on any shape head. They are electronic, which allow you to have normal conversations with them on and automatically muffle the sound of a shot. I know from firsthand experience that these earmuffs are invaluable when taking a class or shooting matches.
You cannot forget about protecting those round things that sit to the left and right of your nose. Sure you could pick up a $5 pair of safety glasses at your local hardwarde store, but I like quality options. The Browning Claymaster Shooting Glasses are chalk full of options. They come with more lenses than you can imagine. You get five different colorerd high grade lenses, three storage bags, and a comfortable neck strap. Whether you're shooting steel plates outside or paper targets indoors, the different lenses give you the ability to choose the lens that best fits your conditions.
One the best ways to the haul of this new stuff along with your ammo and handguns is the OPMOD P.R.B Proffesional Range Bag. I personally own this bag and bring it with me to every IDPA match. The heavy duty denier nylon construction has protected my glock and gear from many accidental falls. Like I said earlier, I love options when it comes to gear I spend my hard earned money on. The OPMOD range bag is the swiss army knife of bags, it has it all: removable inner organizer, two removable spent brass bags, tons of pockets to put spare magazines in, and inner sleeves to keep pistols protected.
No matter what firearms you own, there is something in this gift guide for everybody. Let me know what you think about the gear in this list and any questions you have. As always guys, shoot em straight and be safe!
Related Posts
« Streamlight TLR's- Blinded By The Light! Steiner Nighthunter Xtreme: German Perfection, Hunter Approved »