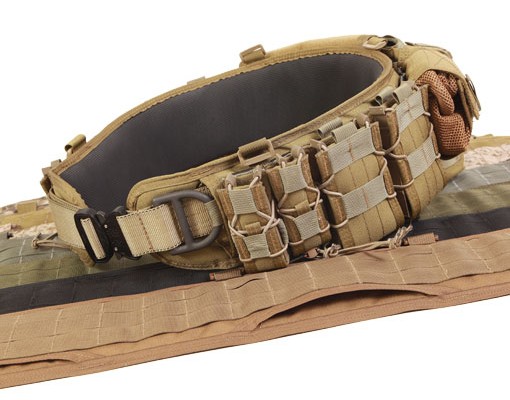 More often than not, a "good gun belt" is one of the first recommendations that you hear when you start a conversation about beginning to carry, or even when discussing getting a holster in general. It is the "foundation" that you build your setup upon.
For shooting events or training classes, I prefer a "battle belt" for my foundation. Essentially a tactical cummerbund, a battle belt wraps around the waist to provide a more comfortable, accessible, and configurable foundation for your gear. They are often used either in conjunction with a vest/plate carrier, or even instead of one, since they provide additional mounting space and allow a greater reconfiguration of gear. Usually they are made from Cordura and are designed to be compatible with both MOLLE and standard belt attachments. The extra width and padding that they typically provide is great for addressing any potential weight issues you may encounter when loading out your typical gun belt.
What I love most about using a battle belt though is that is separates your gun belt from your pants. By that I mean you can put on or remove your belt without needing to thread it through the belt loops on your pants. Similarly, you can change the gear on the battle belt much easier than the normal process involved with using just a gun belt. I can configure the battle belt for whatever I need and throw it in the range bag, then put it on or take it off during an event as needed. My holster, mag pouches, dump pouch, etc. will always be in the same spot and I don't have to waste time threading my belt through each item.
Battle belts can come in a variety of configurations depending on your application and preference. Most belts are roughly the same width, but HSGI has a Slim Sure Grip belt for a lower profile look and feel while the Element Gear Alto belt has a raised back for additional support and greater mounting space. While most belts are Cordura nylon, some can be polyester or other materials.
Even the Cordura ones can differ in material weight (1000 denier vs 500 denier for example). Also, many battle belts do not include the actual belt which allows the user to use a gun belt that they already have or they can select the specific belt that best meets their application/budget. Some battle belts can be attached to a vest or chest harness which increases their max load capacity.
Depending on the features you are going for, a battle belt can be setup for a reasonable price or it can be another significant gear investment. Whether you go top of the line or just grab a basic setup, I highly recommend a battle belt for anyone looking to get more involved in shooting sports or skills training classes. Once you realize the benefits, it's a good bet that you will consider getting a second.
Related Posts
« Laser Trainer Plinking Party! Be Ready For Those Spring Storm Power Outages! »