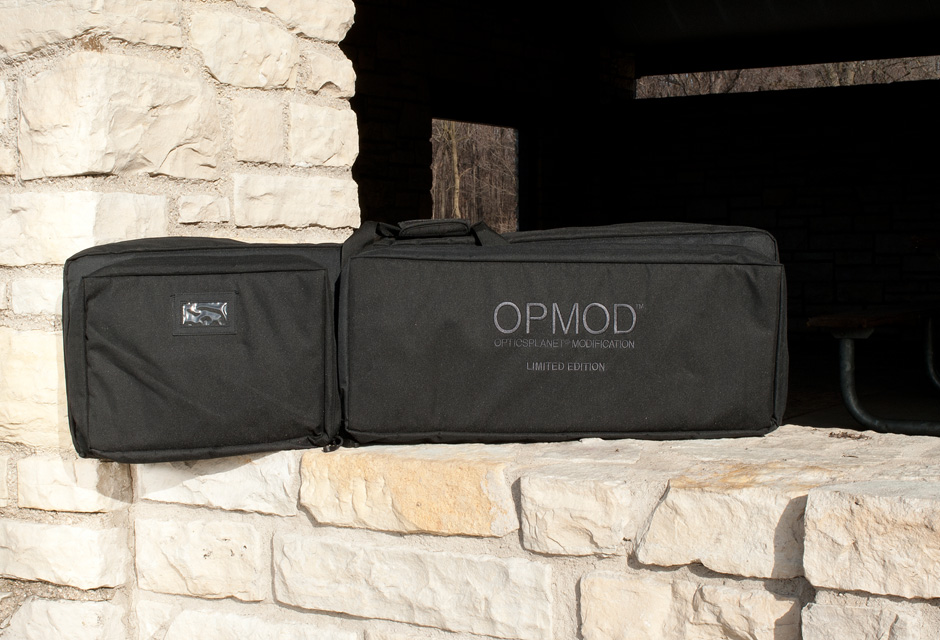 Having personally run through countless backpacks, range bags, and rifle cases, I will never again purchase a bag without knowing if it's going to stand up to lots of abuse. OPMOD really hit the nail on the head with this line of bags. OPMOD bags are designed to stand up to any abuse or situation you might find yourself in.
The rifle, range, and backpacks are engineered to the same standards as all OPMOD products. Durability is the first thing you will notice when you grab one of these bags. Heavy duty fabric lets you know that fence line or thorn thicket might cut you, but your bag will be fine.
The OPMOD TAC PACK  is a wonderful backpack built to take lots of weight without adding more to the users back. It's heavy duty but also very light. The OPMOD TAC PAC backpack has pockets and tons of pouches, and P.A.L.S webbing system to allow easy customization and arrangement. Customizing a backpack is something that I really look into before purchasing. Immediate access to gear for bow hunting is totally different from the setup I have for my rifle. Being able to arrange and move things securely really allows me to have everything I might need within an arms reach.
Shooting gear is heavy business, lots of items and accessories need to be packed away. The PRB Professional Range Bag by OPMOD has extra heavy duty zippers and seems that appear as almost overkill! This bag regardless of how many rounds, cleaning instruments, or guns you have in it will not tear open, and the zippers will not break. With tons of compartments staying organized is a breeze allowing you to spend more time practicing, rather than digging through the bottom of a bag. This bag has a divider system inside of the bag allowing you to easily organize. The really awesome feature of this bag is the fact the the whole inner divider system pulls out of the bag with handles. This allows you to take one section of the bag with you to that other shooting spot instead of lugging the whole thing. Something that's great if multiple shooters are operating out of the same range bag.
The OPMOD AARC 3.0 Double Rifle Case is more like a full on duffle bag made just for your rifle(s). This bag will hold everything that you could ever need for your rifle, from scopes, magazines, bipods, rangefinders, etc. I personally got some good use out of this bag, as I can load 2 rifles – and if traveling distances, I simply place the entire bag inside of a hard traveling case. Ontop of all that, this beauty is designed to be a drag bag and a shooting mat as well! Multi-purposed and designed literally to be dragged on the ground – this is one great quality product offered at an even better price.
Make sure you check out the full line of OPMOD products from OpticsPlanet.com. These bags have been tested and durable enough to withstand my abuse and have earned themselves a spot in my gear inventory!
Related Posts
« Spark a New Way of Shooting: The Vortex SPARC Red Dot Save Instantly on Nikon Coyote Special Scopes »