Yesterday was crazy.  We saw a ton of awesome new products, and there's a lot of exciting things to talk about.  SHOT Show has been a major success so far, and I can't believe I'm going to get to see more of many of these products at OpticsPlanet over the next year!  But enough about what I want; let's get to the New Products from SHOT Show Day 2!
Weaver Launches High Quality Scopes for Every Budget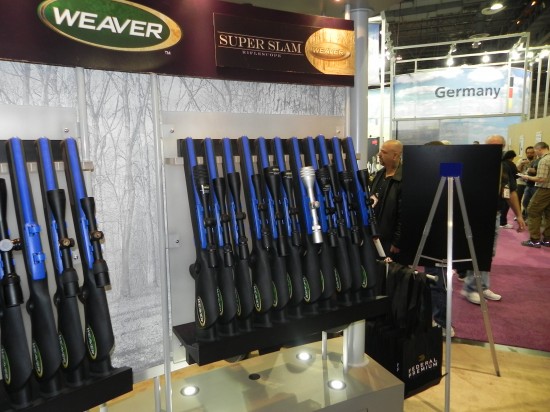 Weaver loves to give a great value, and one of the ways they do that is by offering a full set of features for a reasonable price.  Their latest offering is the Weaver Kaspa series.  We actually already have some of these great riflescopes and binoculars available at OpticsPlanet!  They're great for hunting and tactical situations, and there are a number of different magnification options, so you can find the version that's perfect for your needs.
If you find yourself shooting in low light situations you'll want an illuminated reticle.  For this, I like the Weaver Kaspa ILL Mil Dot 10×50 Riflescope.  The reticle is super easy to see, and the windage and elevation adjustment turrets are high-set for ease of use. The turrets also reset to zero so you can customize it to your specifications.  Weaver has kept the quality high by making the scope waterproof, fogproof and shock proof, so you can count on the Weaver Kaspa to perform in tough conditions.
We also have the Weaver Kaspa Open Hinged Binoculars that were shown off at SHOT Show.  They're just as tough as the Kaspa riflescopes, but they have an ergonomic design to make them more comfortable for holding in your hands for hours of glassing.  The eyecups twist out to make them easier to adjust and help eyeglass-wearers (me!) use them more comfortably.
All these great features, and Weaver is keeping the cost down!  These new Weaver Optics are sure to be popular for hunters, birders and outdoors enthusiasts in 2012!
BLACKHAWK Brings a Little Feminine Style to Tactical Pants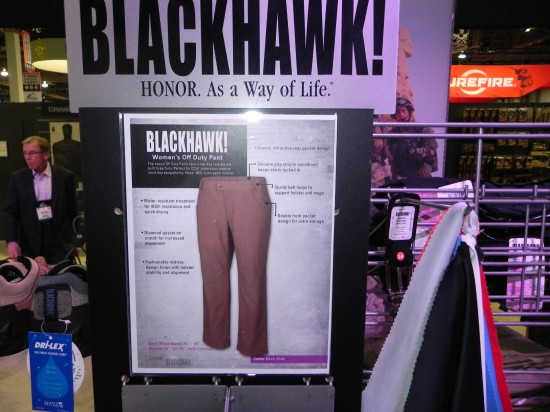 BLACKHAWK has some seriously tough apparel for military personnel, shooting enthusiasts and anyone else who wants their clothes to be tough as nails.  The company was started by a former Navy SEAL, and he knew that quality had to come first.  It always has, but while their gear performs amazingly well and looks great, there haven't been a lot of quality clothing options for women.
Enter the new BLACKHAWK Women's Off Duty Pant.  Are they tough?  Oh yeah.  These pants have been treated for water resistance, and the material will keep up with whatever stresses are thrown their way.  The belt loops are extra sturdy to accommodate heavy duty belts and holsters, and the pockets have been designed to add storage without ruining the aesthetic of the pants.  These BLACKHAWK pants are great for concealed carry, undercover operations and everyday use.  BLACKHAWK has really given ladies a great new tactical clothing option.  No longer are they limited to smaller versions of men's clothing.  These pants were designed with the female body in mind.  Comfort and style has been combined for optimal performance.  They look great.
5.11 Tactical Innovated Tactical Clothing with Flex-Tac Fabric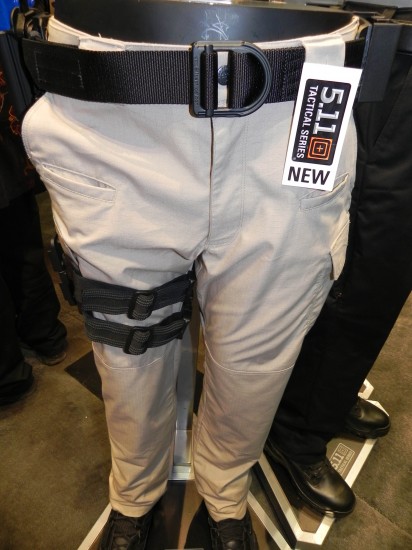 Trevor was pretty excited about the new pants shown off by 5.11 Tactical.  The 5.11 Tactical Stryke Pant features the all-new Flex-Tac material, which is extra durable and will give you a performance boost as soon as you put them on.  5.11 Tactical saw that users need both a snug fit and great range of motion, but achieving this can be difficult with traditional materials.  Tighter pants won't get caught up as often as baggy pants, but you won't be able to bend and twist as easily.  That's where Flex-Tac comes in.  This new material is very strong while also being lightweight and breathable.  Usually you have to accept extra heat when you add strength.  Not here.  And the Flex-Tac fabric stretches about 20% more than traditional materials.  This means that you can have a snug fit without excess fabric hanging off the sides while still being able to squat, run, jump and twist without hindrance.  My pants are always getting ripped, so I can't wait to try out a pair of these 5.11 Tactical Stryke Pants!
We also spoke with 5.11 Tactical about the new bags they premiered, and they're really cool, but I'm going to let our upcoming video give you all the details.  Stay tuned.
SOG Knives Prove you can Cast No Shadow!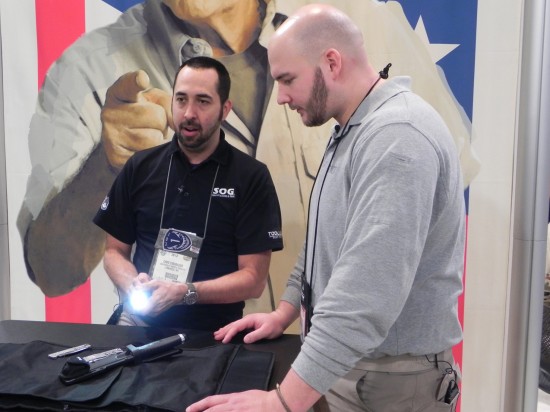 SOG makes a number of great specialty knives that add functionality to an already top notch blade.  One thing I really like about some of their knives is the included LED light.  This is incredibly useful for seeing what you're cutting.  It's a great addition, but when precision is crucial, having the knife cast a shadow on your target can be problematic.  With this in mind, SOG has developed the BladeLight, which comes in both a fixed blade and folding blade.  What makes this light cool is that instead of having a single LED light on the side of the handle (which would cause a shadow on the opposite side), there are TWO LEDs, one on each side.  This is pretty cool.  If you're out camping and need to see a little better, you'll be glad you have one of these great SOG BladeLights.
GunVault makes Accessing Your Pistol Quick and Easy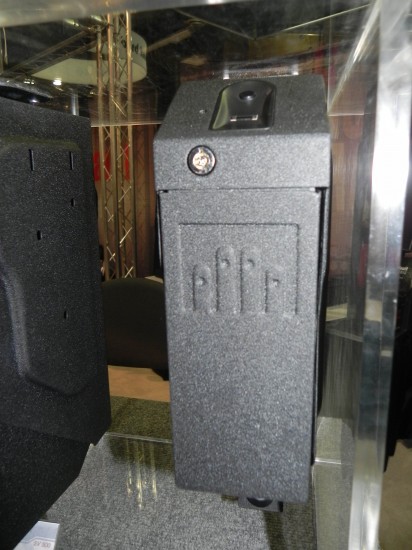 Many people want to have their firearm close at hand in case of emergency, but at the same time they don't want it left casually out where the wrong person might get hold of it.  GunVault has a number of great handgun safes that are perfect for your bedside table, closet or under the bed.  While these safes are easy to use and you can speedily get to your firearm, it can take a couple extra seconds that you might not always have.  For this reason they've developed the SpeedVault.  It's a vertically mounted gun safe that can be accessed either with a punch-in code or a touch of a finger with the biometric fingerprint reader.  Once opened, the vault pops the handgun out at a 45 degree angle, perfect for quickly grabbing in emergency situations.  I'm inserting two pics so you can see the safe both closed and open.  This should give you a better idea of how it works.  Definitely a very innovative and useful product that I can't wait to try out!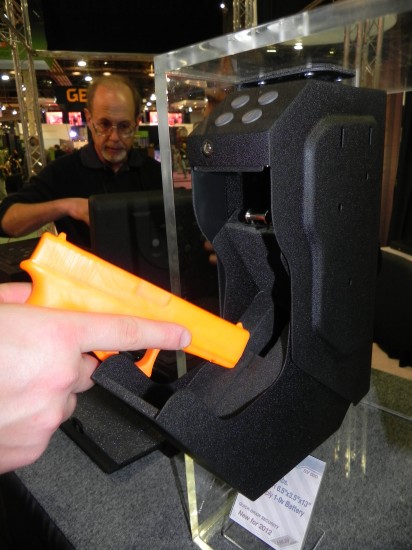 Our GearExpert team saw a few more products yesterday, but the upcoming videos for the Trijicon, Galco and Armalite booths will give you a better idea of what they brought to SHOT Show.  Very cool stuff that you'll need to see, especially the Trijicon SRS, which is an ACOG Riflescope that uses just one AA battery!  You can see it in the picture at the top, but we have a full interview with Trijicon on both the SRS and the TARS that'll be up in the near future, so stay tuned for more news on the latest products straight from the floor of SHOT Show!
Latest posts by OpticsPlanet
(see all)
Related Posts