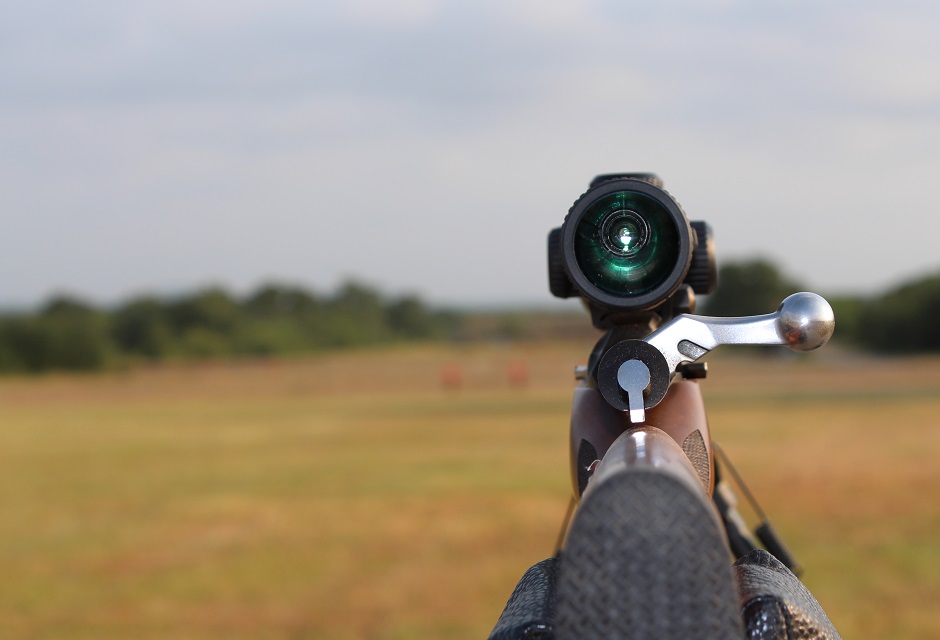 I was fortunate enough to be invited to the 2013 Nikon Spot On Championships in Dallas, Texas.  Three of us from OpticsPlanet went last year as well, but I wasn't able to go along.  You can read my write-up on last year's competition here.  No doubt you'll notice a subtle, but clear indication of jealously in my post.  I definitely wanted to go.  Luckily, 2013 was my year.
The Championship is for dealers who work with Nikon to promote their Spot On Technology and BDC Reticles.  I wrote about this fantastic tech last year as well, but that was purely academic for me.  I hadn't gotten a chance to try it out until now.
WOW.
After just 5 shots I was a believer.
I've never really been a long range shooter.  Most of my experience has been limited to 200 yards to less.  Not bad, but nothing spectacular.  I figured I'd struggle with the 500 yard targets.  Nope.  Easy as can be.  Not only that, but I was ringing gongs at 400 and 500 yards on my first try.  That's incredible!
As you can read from my previous post on Spot On Technology, Nikon gives you the chance to setup and print out ballistic charts so you can input your exact firearm, caliber, scope and more and get exact results.  It even allows you to adjust for atmospheric conditions!  Every station at the Spot On Championship had chart already printed out, so you could take a quick look between shots to see exactly where to line up your shot.  Pretty cool, but that's not the only thing that makes Nikon BDC Scopes so capable.
It's the reticles themselves.  Check out the reticle on the BDC 600 reticle on the Nikon M223 above.  The circles and lines give you a TON of different points to gauge your distance from.  When you see a lot of other BDC reticles you just see a few dots along the bottom line, but those are only so helpful.  With the circles and lines you get a ton of different places to figure out your distance.  I took a pic of one of the ballistic charts from the championship below.  The top of each circle gives one range, then you get the middle, then the bottom and then the lines.  With other BDC reticles you get one line at 250, the next at 350 and so on.  If your target is 311 yards away, you need to go just over halfway between the two lines to hit your target.  With a Nikon BDC reticle you'll have a point of reference far closer to your range.  That's a huge help.
Important: TRUST THE SPOT ON TECHNOLOGY.
One thing I noticed from some shooters, especially those with some more experience, is that they overcompensated, thinking they had to adjust more than the ballistic chart indicated.  Don't.  Nikon calls it "Spot On" for a reason.  It makes long distance shots MUCH easier.  I'd go from a .22 AR to a .308 bolt action rifle and not miss a beat.  I didn't need to calculate the difference between the two guns and calibers.  I looked at the chart, found the perfect place on the reticle to line up my target, and squeezed the trigger.  All I had to do after that is smile when my spotter called, "HIT."
Another REALLY important factor to keep in mind with many Nikon BDC reticles is how easy it is to see the target with the circles.  Nothing is in the way of what you want to hit.  This gave me a much better chance to pick the placement of my shots.  Think of it this way: when you with a conventional reticle you have to look around the cross hairs to look at your target.  Is the exact center of the line over the vitals of the deer you're trying to hit or just to the left?  You have to look at the rest of the deer to see.  With the circles on a Nikon Scope you don't have to look around the reticle.  You look through it.  I found this to be both faster and easier than with a traditional reticle.
If you've never tried out these reticles, give it a shot as soon as possible.  I bet you'll be a believer in no time.
But back to the championships!  We had two teams going this year.  Our Bending brothers, Chase and Trevor, teamed up with Tom, our Nikon Rep.  Tom got us into the Championship and is a pretty darn good shooter, so they had a very strong team.  Our second team consisted of Kate, Elena and our other Nikon Rep Mike.  Kate and Elena were two of the only ladies in the competition, and I'm pretty sure they set out on day one to shame a couple 'tough guys' by out shooting them at every turn.
I'm not going to admit they out shot me.  Infer what you want from that.
The Nikon Spot On Championships were held at the TacPro Shooting Center, which is located a little ways outside of Dallas, Texas.  It's a beautiful place, with plenty of different ranges for different distances.  If you ever need to get in some practice and you're in the area it's an absolutely fantastic range.  Be sure to check it out.
Day one went very well for the championship.  Kate and Elena were hitting targets left and right, and Trevor and Chase proved they were more than capable by coming in fifth place for the day.  That qualified them for the second day competition.  From long range shots out to 500 yards to shooting spinners, there was a fair amount of variety to the shooting.  Add in the different guns we got to shoot, with a muzzleloader and a couple crossbows for a fun change of pace, and no doubt you can tell we had a great day.
It was especially fun to try out the Nikon crossbow scopes.  You really need to pay attention to your distances with a bow, and we didn't have any trouble hitting a variety of targets.  I'm confident I could take down a bear with a well placed shot.  (Provided it stood still and was facing the side)
Day two was also great, with a few stations reworked to make them more challenging for those who moved on after the first day.  Chase and Trevor really stepped up their game for the day two competition, and after all was said and done they were in first place!  We were really stoked.  Some teams dominated on day one, but it was versatility with firearms that made the biggest difference.  Some of the other competitors were a bit better with the bolt actions, but Trevor and Chase were unstoppable with ARs.
The first and second place teams had a final shootout, and I was pretty confident we'd take the prize.  Trevor, Chase and Tom sat down and had everything set up in no time while the other team seemed to take an extra minute.  The finals were the most intense part of the competition.  Tom started by hitting all the gongs on a target tree, setting down his gun and tagging Trevor and Chase to get a spinner going.  That proved more difficult, as we had a spinner with one arm slightly bent.  We were just a single shot from spinning it (it took two guns working in tandem to get the thing going), but a single mistimed shot slowed us down enough for the other team to get the lead.  After they spun theirs, their last player shot a target at 500 yards filled with tannerite.  The explosion was a great way to close out the day, though I'd have liked it if it was ours instead.
Still, we won the two days of challenges; we just came up short in that final match up.  Darn spinner.
Regardless, the Spot On Championships were a huge success.  We had a lot of fun, and I can't imagine anyone left feeling any less then confident in Nikon's Spot On Technology and BDC reticles.  Whether you're an experienced shooter or beginner they'll help you get on target at long distances with ease.
Latest posts by OpticsPlanet
(see all)
Related Posts
« Bushnell Speedster III Radar Gun and Speed Screen ATN Night and Thermal Vision Wins A Reader's Choice Award »