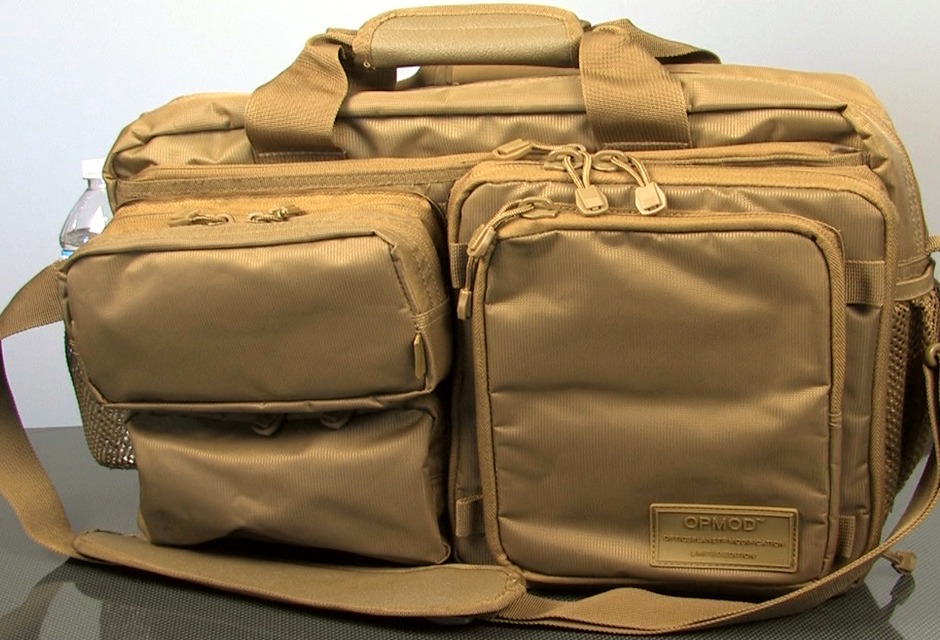 I'm adding my latest in what's proving to be a long line of "New OPMOD Product" articles here on GearExpert.  We just debuted some new OPMOD Modular Bags that will satisfy a number of different types of users.  And that's pretty cool.  I've had a chance to check out these bags a few times now, and they've impressed me thus far.  The #1 thing we focused on when developing these bags was quality.  Sure, they have a lot of bells and whistles, but it was quality first and foremost.
Probably the toughest of the bunch is the MCS 1.0 Modular Brief Case.  As it's designed to carry your most important documents and electronics, it's not a surprise we added a water repellent Micro-Ballistic Nylon outer shell.  It'll keep the bag's contents nice and dry, even if you get caught in a bit of rain.  The other bags are no slouches though, with tough zippers and straps that can take a beating.
But the toughness and quality of the craftsmanship is what makes these bags a good buy.  What makes them a COOL buy is their modular nature.  I know, it's in the name of the bags, but it's still a big deal.  It's not as simple as finding different uses for the bags, or them having versatile performance.  These bags are the like the Transformers of bags.  They have plenty of pouches, but also zippers and straps that allow you to use just a part of the bag when you need it.  The Modular Brief Case is like having three bags in one!  There's a laptop pouch, fanny pack and padded iPad case that can all be detached for more uses. This actually makes it perfect for people who are on the run, need a lot of different things throughout the day, but don't necessarily want to carry everything all the time.
Imagine you're heading to the office, and you need your laptop, a tablet, some documents and other office essentials (pens, paper, etc.).  You get to the office and you have to go to a meeting with a client and you're presenting something on your laptop.  You don't need your tablet or any papers, just the laptop, but you don't want to run around town with it in the open.  You might drop it, get it wet, or just provoke an unsavory fellow to steal it.  Well, it takes just a couple seconds to unzip and detach the laptop pouch, which is well padded and will keep your computer safe.  One zipper pull and you're on your way!  The rest of your stuff can sit comfortably in your office until you return for it later in the day!  The Modular Brief Case also has a padded iPad or tablet case, and a fanny pack.  There's a ton of various pouches to let you carry your gear the way you want to.
And check out the tablet case.  The three photos show it attached to the main brief case, where it gives a nice amount of protection because of the padding and firm hold from the straps, and it opens fully so you can quickly get to and put away your tablet.  A second zipper allows you to take the tablet pouch completely off, and the straps give you a nice and comfortable carrying option.
The fanny pack is another nice option to have handy.  Much like the tablet pouch and laptop pouch it detaches quickly and easily.  And like the other cases it has its own strap and great durability.
But there are two other modular bags that I've hardly touched on thus far.  They both offer similar flexibility as the brief case.
First, the Tri-Modular Sling Bag gives you quite a bit of space for hauling your gear in a quick, on-the-go style.  I can definitely see a lot of folks riding their bike or going for a hike with the Tri-Mod bag.  It has an iPad case, fanny pack and cell phone case, so there's three options here as well, but when you put them all together you'll be able to carry a whole lot.  I really like that even with the amount of gear you can carry this bag it's still extraordinarily portable.  Properly adjusted it fits snugly yet comfortably.
The picture above shows the three different detachable pouches.  The main two on the bag come off fairly easily, and the cell phone pouch on the strap comes off in next to no time.  I love having the cell phone case on my chest where I can get to it at a moment's notice.  After all, if someone calls you don't want to be fiddling with the bag and miss the call, do you?
The third of our new bags is the Bi-Modular Sling Bag.  This is the most portable option.  It gives you room for a little more than the essentials, but it'll keep you nice and light when you're running around.  This is a single strap backpack with both a detachable cell phone case and a fanny pack.  This bag is all about helping you when you're active, so it's lightweight, has a padded strap and bottom side for keeping you comfortable, and has a breathable mesh backing to keep you cool.  I see this as an ideal bag for a day at the beach, or you could use it to store some emergency equipment in your car.
The cell phone pouch is like the one on the Tri-Modular bag, and the fanny pack is a breeze to take off as well.  I really like the strap too, which can be adjusted to slip over either shoulder.  Check it out in the video!
You'll find a ton of great options for these bags.  In fact, I'm certain you can come up with more than even I'm able to.  Let us know in the comments below.  We'd love to hear what ideas you have for your next modular OPMOD bag!  And you can always get the bag that suits your style, with a couple colors for each bag that each look great, from a classic black to a coyote tan or a grey (grey is only for the brief case at present).
Related Posts
« 4 Quick Tips for Buying a Handgun Bushnell Speedster III Radar Gun and Speed Screen »